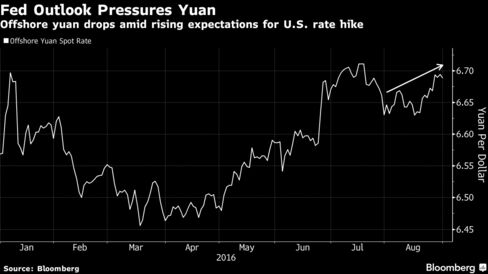 The offshore yuan headed for a monthly decline, with depreciation bets mounting as the Federal Reserve prepares to increase borrowing costs and Chinas economy shows signs of cooling.
Derivative markets are pointing to further declines, with a three-month measure of expected price swings headed for the biggest monthly increase since a set of weaker central bank fixings ignited turmoil in January. The increased pessimism comes amid speculation that policy makers will pull back support for the currency after a two-day Group of 20 meeting that will end Monday.
The yuan traded in Hong Kong, which is outside of the mainlands capital controls, fell 0.9 percent this month to trade at 6.6899 a dollar as of 9:52 a.m. local time on Wednesday. It was up 0.06 percent for the day. The onshore currency advanced 0.07 percent in Shanghai, trimming its decline for August to 0.6 percent. The rates rose Wednesday after the central bank weakened its daily fixing less than predicted.
The whole markets focus is on Fed rate hikes, said Aaron Chan, head of retail sales at ADS Securities Hong Kong Ltd. Theres consensus that there will be at least one increase this year, so the dollar is stronger and all other currencies are facing depreciation pressure.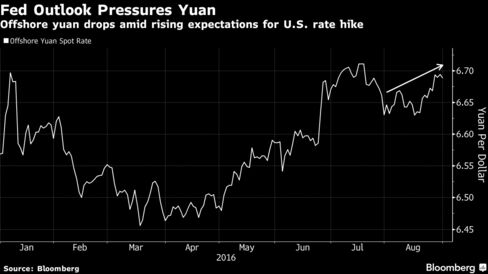 Asias exchange rates have closely tracked the Feds signals this month because higher U.S. interest rates will curtail the flow of funds to emerging markets. The Bloomberg Dollar Spot Index is poised for its first monthly advance since May amid comments from Fed Chair Janet Yellen that the case for monetary tightening is getting stronger. Fed funds futures are pricing in a 34 percent chance of tightening in September, and 59 percent for an increase by year-end.
In China, economic data released this month from exports to industrial production have missed estimates, adding pressure on the yuan. Figures due Thursday will probably show the nations official manufacturing gauge slipped to the lowest level since February, while a similar private measure will also indicate a slowdown, according to median estimates in Bloomberg surveys.
The yuans declines in the past year have made global funds wary of Chinese bonds in Hong Kong, slashing corporate issuance of the notes to three this year from a record 73 two years ago. While China has hastened steps to open its onshore market, the diminishing fortunes offshore are a blow to its ambitions of expanding the yuans global role.
Global Use
China has been trying to boost the yuans global usage as the currency prepares to enter the International Monetary Funds Special Drawing Rights on Oct. 1. The Peoples Bank of China said this month that the World Bank is set to sell bonds denominated in SDR in the first such issuance in three decades. The three-year notes have a price guidance of 0.4 to 0.7 percent, according to a person familiar with the matter, for an offering of 500 million units on Wednesday.
One-year interest rate swaps rose nine basis points this month, the most since April, to 2.53 percent as the re-introduction of a 14-day PBOC lending tool fueled speculation the central bank was going to tighten shorter-term, cheaper funding. The yield on 10-year government notes has climbed two basis points in August to 2.80 percent. A gauge of the yuans three-month volatility that is used to price options rose 58 basis points in August, the most since January.
Read more: www.bloomberg.com