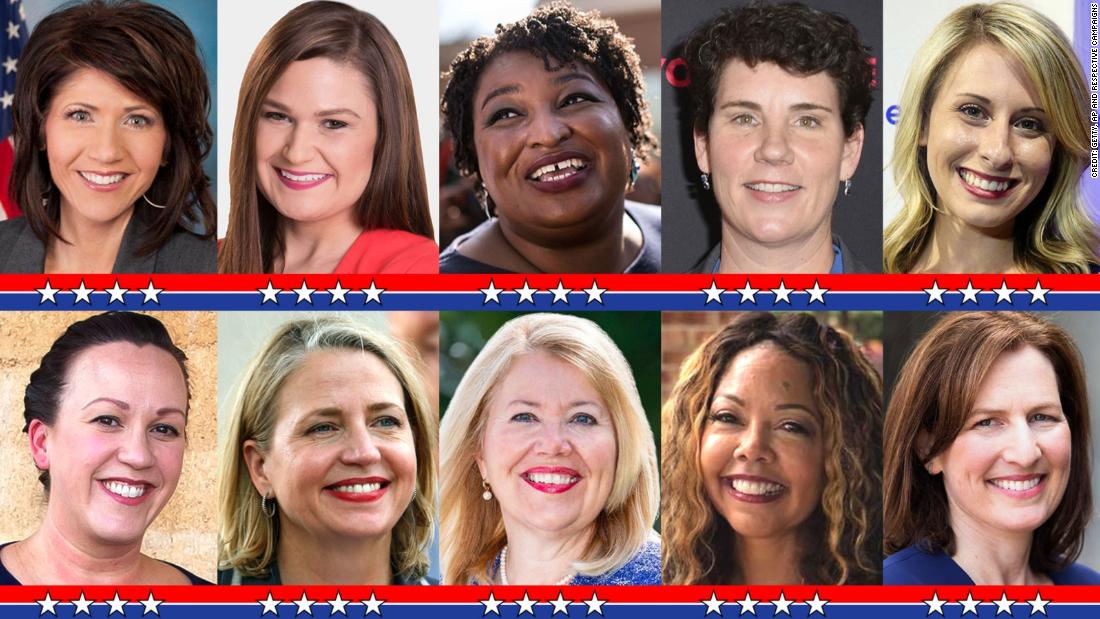 (CNN)Kristi Noem stepped on the clutch and shifted gear. The old John Deere tractor lurched forward, bouncing over the uneven frozen ground of the Noem family ranch. It's in the single digits on a February day in rural northeastern South Dakota, and squeezed in the tractor cab next to her, I shiver and am reminded how long ago I shed my childhood Chicago weather resilience.
Like many who were born and raised in this rural area, a tractor was the first thing she learned to drive, when she was just 7 or 8.
At other times during my visit, I see Noem sling bags of horse feed over her shoulder and climb over frigid fences on her ranch. At 5 a.m. one morning, she is at her local CrossFit gym, and I watch her deadlift, row and do squats for an hour.
She is undoubtedly physically strong, and her resume carries even more heft. A four-term US congresswoman, former state representative, small businessowner, farmer and mother of three surely seems qualified to be a gubernatorial candidate. That's why you can hear the shock in my voice during the interview when Noem shared what men told her as she prepared to announce her candidacy.
Politically, Democrat Abby Finkenauer has little in common with Kristi Noem. She is a millennial and at age 29 is still paying off her college student loans. But she also shares connections with her community, as the daughter of a teacher and union pipefitter/welder. There's a "she's one of us" understanding as I watch her address a crowd in the UAW hall in Waterloo, Iowa — blue collar values from an Iowa-born-and-raised woman.
Finkenauer won her second term as an Iowa state representative the night Trump won the presidency. Four months after his inauguration, angered by what she saw as Republican policies hurting working families, she declared she was running for Congress to represent Iowa's 1st district.
And people laughed.
Again, I was shocked, and wondered how many men are laughed at when they show ambition, especially in the public sector.
"Yeah, they laughed. They thought, 'Okay she's paying off student loans, comes from a working class family, no money of her own to put into this,'" Finkenauer told me. "'How is she going to take on a guy who can write himself $500,000 personal checks to his campaign?""
The message to Finkenauer was clear: too young, too broke. She needed to grow up. Wait.
It's a message many women have heard in some form across socio-economic backgrounds. What I found so startling is how many of the candidates said they heard it, regardless of experience.
State Democrats split on who to support — a white woman running a more moderate campaign, or Abrams, who pledged to run a different type of campaign in the South. "The attempt is usually to convince Republican, suburban women to vote Democratic. And that's not a bad thing. The problem is when you do so to the exclusion of women of color, of people of color, of progressive whites, communities that have not heard themselves in our politics. We cannot win by pretending to be something we are not," said Abrams, who intentionally notes her natural, untreated hair. "I have to run an authentic campaign that is grounded in who I am and what I've done."
I followed Abrams to a Mexican taqueria, a gospel service in a primarily black community, and a rural town in the heart of Georgia's Trump country, as her campaign underscored her outreach to those communities. In the Republican stronghold of Dahlonega, Georgia, I snapped a picture of Abrams next to an older white man, whose long beard reminded me of the '80s band ZZ Top. "Everyone is a part of my coalition," remarked Abrams. "That's how you win Georgia."
"The reality is, having a right to be places does not always mean that you'll gain admission — it's part of the challenge of our country," said Abrams. With a knowing smile, she added, "And I'm a very determined person."
The air is thick and humid in Nicholasville, Kentucky. I'm in what's called the "Blue Building" in the county park, and it's packed tonight for Democrat Amy McGrath. It's a political rally, but it feels at times like a church revival. "The Democratic national party didn't really want me, if you haven't noticed," she said, to laughter in the crowd. "The cool thing about that is, I don't owe them anything. I just owe you guys."
The applause is loud and sustained. The Democratic party rejection is a shared joke here among McGrath's supporters in Kentucky's 6th congressional district.
For all McGrath's assets — military service, a mom, Kentucky roots — the Democratic Congressional Campaign Committee didn't want her, instead backing the mayor of Lexington to take on incumbent Rep. Andy Barr.
The message resonated with Kentucky's rural Democrats, and McGrath won the primary, shocking the establishment. She's now in an uphill climb to unseat the incumbent.
"For my country right now, I feel like I'm doing my part," McGrath said to the crowd in Nicholasville, invoking her years of military service. "I'm doing the best that I can and I'm gonna work my ass off for you!"
While disrupting the political system seems appealing to some voters, perhaps not surprisingly it's not something national Democrats have supported, even as they seek to upend the Republican Congress and change the policies of the White House.
Across the country in California, Katie Hill felt she could be an effective challenger to incumbent Steve Knight in the state's 25th district. But the state party wanted to give another chance to a man who had run against and lost to Knight the last time around.
Using her organizing skills from running a nonprofit, Hill amassed a team of millennials and got out the vote to win the primary.
She's also good at fundraising, so far collecting more than $6 million.
Her campaign office north of Los Angeles feels like a college campus. Volunteers and staffers are overwhelmingly young, wearing hoodies and flip-flops as they make calls to raise money. That staffing move is intentional.
"Hopefully this campaign can be something that's inspiring to people to say, it's not just another politician, it's not just another 60-year-old white man," said Hill, as we drove around the district where she was born and raised.
Hill, 31, who is openly bisexual and a survivor of sexual assault, has seen her age and gender come under attack in political ads. One Republican SuperPAC ad calls her "too immature" for the district.
She rolls her eyes and says there is a "who do you think you are" undertone that her campaign has had to overcome, adding that extends to Rep. Knight. "I think it's got to really bother him that 'this girl' who could be his daughter is going to unseat him."
But each is running against an incumbent, and that makes them the underdogs.
"I feel confident that we will see a gain for women in Congress overall, and women in the House specifically," said Dittmar. "The question is how large of a jump we will see in women's representation. As of today, I think all stars would have to align for women to reach 25% in Congress, though we could certainly get much closer than we are today (20%)."
That's right, read it again. The Year of the Woman 2018, if all stars align, would end up with women making up 1 out of 4 members of Congress. Given that women make up more than half the US population, that's hardly a government of the people.
But don't get bogged down in the numbers, reminds Dittmar, which she again says will show progress. The energy, enthusiasm, and "translating it into a decision to run for office and a sense of urgency to have women at the policymaking table is distinctive in this year."
Sometimes I ask my interview subject to do something on camera and I'm not entirely sure if they will. That was the case when I asked MJ Hegar to show me her tattoos. Hegar is the Democrat running in Texas' 31st congressional district, which Trump won by 13%. The incumbent, Rep. John Carter, won by an even larger margin, 22%.
The wounds left on her body remained a bad memory of that time, so Hegar decided to cover the scars with tattoos.
I wanted to show them as part of our story.
"Do you mind if I get them on camera?" I asked.
"You bet!" said Hegar, who had already let me come into her home, play with her kids, and had driven me around in her truck. Hegar pulled her shirt down, exposing her back and shoulder, proudly explaining the dragon and the cherry blossom refer to her time living in Japan. They were magnificent, meaningful and deeply personal.
"This is me," said Hegar, whose only attempt to obscure the authentic MJ Hegar was in curtailing her colorful cursing while mic'ed.
For Hegar, it was her battle scars.
For Republican Debbie Lesko in Arizona's 8th congressional district, who whirled me around Sun City in a golf cart, it was sharing how she survived the domestic violence of her previous husband.
Democrat Mary Barzee Flores, running as the challenger in Florida's 25th congressional district, took me to the Pizza Hut where she worked as a teenager in the late '70s. She explained how her manager attempted to assault her and how she fought him off.
Democrat Kim Schrier, in Washington's 8th congressional district, took me to her son's softball practice, showed me her correspondence with her college sweetheart who became her husband, and then lifted her jacket so I could see her insulin pump. The doctor, another first-time candidate, explained how her Type 1 diabetes struggles have led her to want to fight for health care coverage for her constituents.
Democrat Elissa Slotkin, in Michigan's 8th congressional district, teared up as she recalled her mother's death to cancer. Her mother had survived breast cancer but could not afford health care due to her pre-existing condition. Slotkin's mother had no health insurance when she was diagnosed with ovarian cancer. Slotkin, who worked in national security and served in Iraq, did not veil her rage at the incumbent, Republican Rep. Mike Bishop, when he voted to gut the Affordable Care Act. "Something just broke for me. It was the absolute straw that broke the camel's back," Slotkin told me at her farm in Holly, Michigan.
CAWP's Kelly Dittmar says the women of 2018 are redefining what a political woman is supposed to look like — away from the suited and polished Hillary Clinton or Nancy Pelosi. This year, she said, you "not only have women who are ideologically diverse, but their backgrounds are very different as well."
In California, Katie Hill explained this year of the woman best for me. "Look at us. We're here. This is our world on the line. This is our country on the line. If you don't look at us, we're coming. And that's just the reality of it."
Read more: www.cnn.com