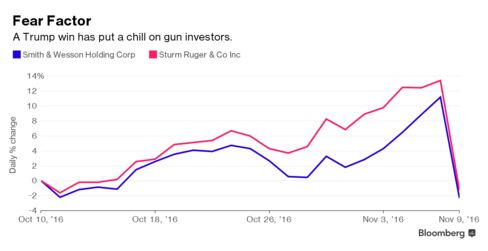 For all of President-Elect Donald Trump's warnings that Hillary Clinton was coming for America's guns, it turns out that it was his surprise victory that came with immediate pain for the firearm industry. Shares of gunmakers were tanking on Wednesday morning as investors prepare for a gun-friendly Trump presidency. The somewhat counterintuitive thesis goes like this: With the threat of stronger gun control laws fading under a Trump administration, fewer people will rush out to stock up on pistols and rifles.
Shares of Smith & Wesson Holding Corp., which shipped 567,000 guns last year, plummeted by 16 percent when markets opened; Sturm Ruger & Co., which shipped 1.7 million firearms in 2015, dropped by 15 percent.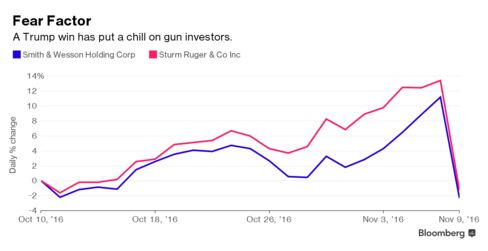 Wedbush analyst James Hardiman called the election "a net negative" for firearms companies as it eliminates "realistic fear of gun regulation, which has been a major driver of gun sales over the past eight years and which was expected to be a positive factor in the early days of a Clinton administration." Hardiman noted solid Republican majorities in Congress will also weigh on the short-term prospects of gunmakers.
In her campaign, Clinton vowed to "take on the gun lobby" and promised to expand required background checks to cover gun shows and peer-to-peer internet sales. Most notably, she said: "If you are too dangerous to get on a plane, you are too dangerous to buy a gun in America."
President Obama, meanwhile, was relatively great for the gun industry. Although he never pushed any meaningful gun control legislation, concern that he would do just that helped spiked background checks during each of his elections. Another major trigger for gun purchases in recent years: mass shootings.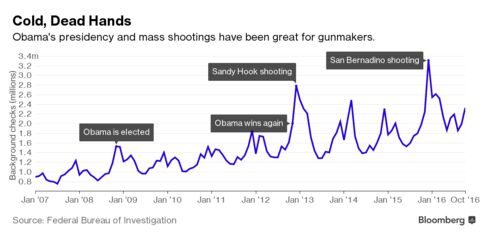 Yet some gun control action trickled down in Tuesday's voting, just not via Clinton. California widely approved a proposition to prohibit the possession of large-capacity ammunition magazines and require some individuals to pass a background check to buy bullets. Nevada voters narrowly passed a measure to require that private gun sales go through licensed dealers. Washington residents agreed to let courts take guns away from individuals on a case-by-case basis.
Smith & Wesson, meanwhile, is looking for less volatile business lines. Earlier this week, it spent $32 million to buy Ultimate Survival Technologies, which makes machetes, compasses, and other gear that would be useful in a zombie apocalypse. It also announced plans to change its name to American Outdoor Brands Corp., which will have a nice, patriotic ring when the next national election comes around.
Read more: www.bloomberg.com