The president is heading into 2020 with no major successes and looming crises so many expect him to attempt to reverse the trend with dramatic deals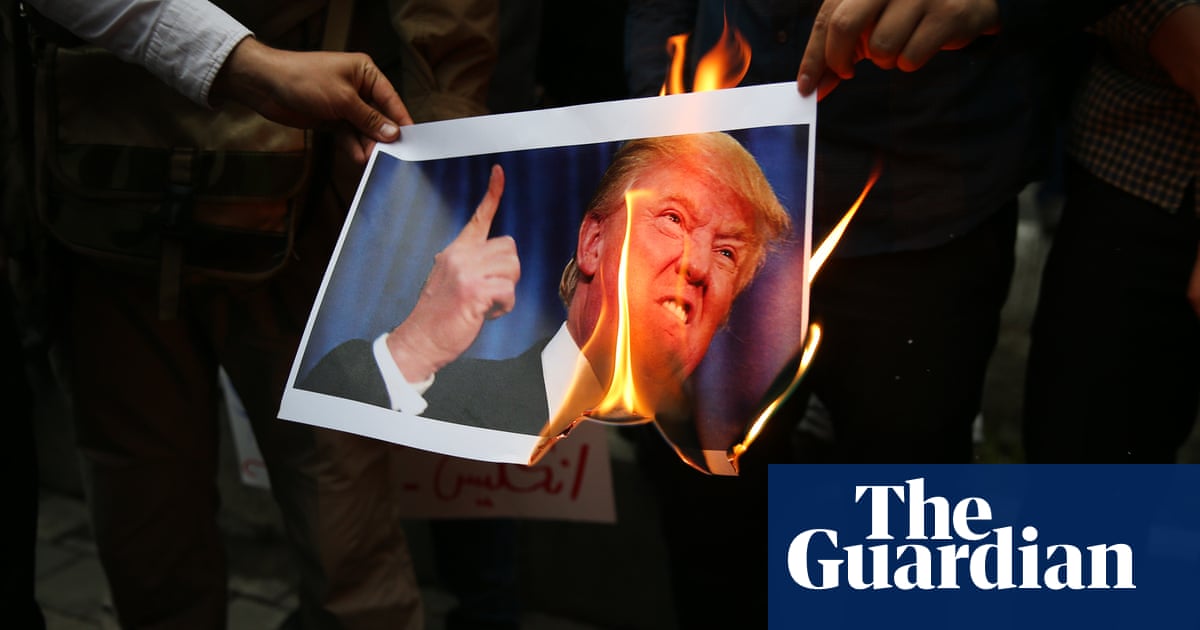 Donald Trump is heading into the 2020 elections with no clear-cut foreign policy successes, some dramatic failures and a string of looming crises around the world that could undermine his bid for re-election.
For that reason, many expect the president to try to reverse the trend with dramatic interventions around the globe with uncertain outcomes – which will make the next 16 months even more volatile than his presidency so far.
Trump has pulled out of nuclear agreements with Iran and Russia but the better deals he predicted seem more remote than ever, and in their absence nuclear weapons proliferation looks likely to accelerate.
An effort to oust Nicolás Maduro's regime in Venezuela in April was a fiasco, and subsequent efforts to strangle the economy have so far showed no sign of achieving their political objective. This week, the UN high commissioner for human rights, Michelle Bachelet, warned that the measures are likely to significantly exacerbate conditions for millions of ordinary Venezuelan.
Trump's proudest diplomatic achievement so far, becoming the first US president to meet a North Korean leader, is looking increasingly hollow, as Kim Jong-un steadily builds up his nuclear arsenal and resumes missile testing.
Similarly, Trump's most significant military win, completing the eradication of the Islamic State caliphate in Syria and Iraq, has been tarnished by a Pentagon inspector general report this week saying that Isis had "solidified its insurgent capabilities in Iraq and was resurging in Syria".
In Afghanistan, the administration claims to be close to an agreement with the Taliban, clearing the way for a major withdrawal of US forces by the end of Trump's first term, but a spike in violence, with 1,500 civilian casualties in July alone, has underlined the tenuous nature of such negotiations.
Foreign policy issues rarely play a leading role in US presidential elections, but Trump has relentlessly portrayed himself as uniquely able to strike deals with foreign leaders and bring US troops home. And some foreign crises have a direct domestic result. The absence so far of the promised deal with China, the imposition of tariffs and the prospect of a worsening trade war will directly hit consumers and producers.
"What is interesting is that in every one of these issues, Trump saw a domestic political benefit: getting tough on China, Iran, on Venezuela, with voters in Florida in mind, the spectacle of meeting Kim Jong-un," said Ben Rhodes, Barack Obama's speechwriter and foreign policy adviser. "But whatever short-term benefit there was has been more than eclipsed by the long-term mess he has created."
Trump appears to be aware of his foreign policy deficit as he barrels towards full campaign mode, and is seeking to address it.
In the short term, that has amounted to redefining success.
In relation to North Korea, that means playing down the original claim that diplomacy with Kim would lead to nuclear disarmament. The emphasis instead has been on Pyongyang's moratorium on nuclear and missile tests. When North Korea stepped up short range missile launches, the red line was shifted to a block on intercontinental missiles.
Read more: www.theguardian.com