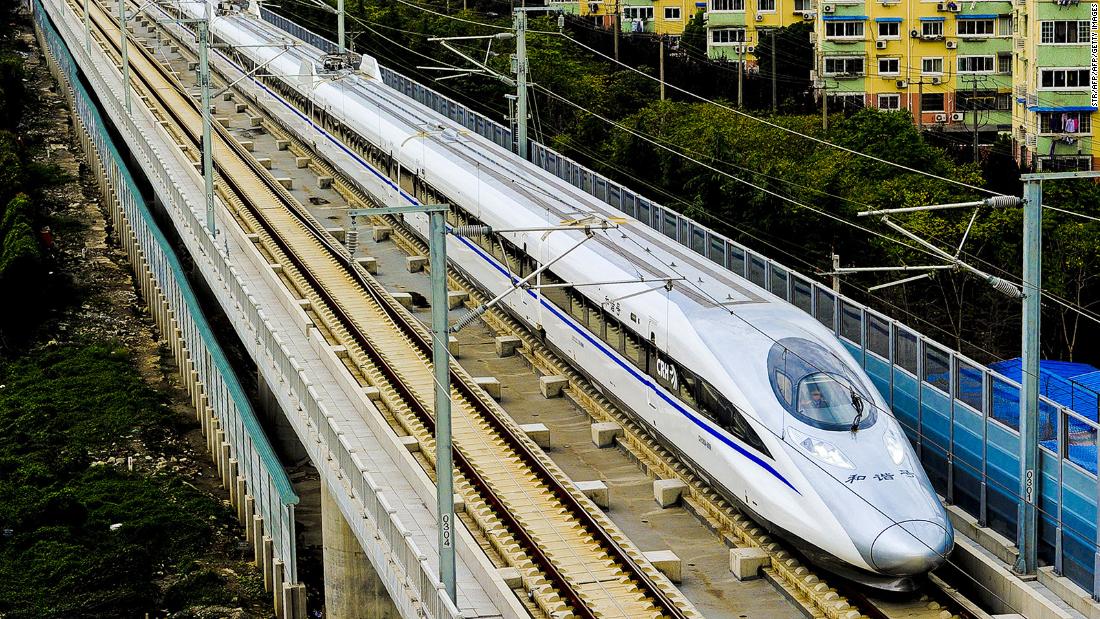 (CNN)In President Donald Trump's world, Democrats are after your cars and want to force everyone onto trains.
He was talking about the Democrats' Green New Deal proposal, but it was a complete mischaracterization of
what's actually in the plan,
recently introduced by freshman New York Rep. Alexandria Ocasio-Cortez and Massachusetts Sen. Ed Markey. It suggests new US investment in high speed rail, as a cleaner alternative to automobile and air traffic.
But that wasn't the only time the President dunked on rail this week.
Trump wasted no time making fun of California Democratic Gov. Gavin Newsom, who announced in his State of the State address Tuesday that he was going to scale back a massive planned high speed rail project. The train might ultimately carry passengers from megalopolis of Los Angeles to the metro area that includes both Silicon Valley and San Francisco, but for now, Newsom said, they're just going to focus on the line from Bakersfield (population: 380,000) to Merced (population: 83,000).
"The whole project is a 'green' disaster," Trump said on Twitter, and demanded that California return $3.5 billion in funding for the project that was first doled out as part of the 2009 federal stimulus meant to kickstart the country out of the Great Recession.
While the Central Valley leg was always supposed to be the first phase of the project, the fact remains that 11 years after voters first said they'd pay billions to build it, the new governor was transmitting a dose of realism to Californians. The over-schedule and over-budget voter-approved dream of a 200 plus mile-an-hour trip linking the most populous state's two most populous areas won't happen any time soon.
But why not? It feels like every other developed part of the world has invested in such trains — they're all over Europe and Asia. Yet there isn't any true high speed rail in all of North America. Not even Canada has one.
Trump, in fact, used to complain about the lack of fast trains in the US on the campaign trail in 2016 he would use the lack of high speed rail to tell audiences the US was losing to China.
Amtrak does have plans for faster trains, but they are hemmed in by their aging track system.
There is a private rail line in Florida — Brightline — that travels faster than most other US trains, but nowhere near 200 MPH. But it's up and running and moving passengers. Brightline has also taken over a project that would connect Los Angeles and Las Vegas.
There is local movement toward trains. It's just very, very slow, particularly in the absence of any sort of federal leadership on the issue.
And the US economy is built more around highways than around train lines today. Suburbs sprawled around freeways and so people outside of major urban areas need cars.
The highway system is funded by the gas tax, which brings in more money as people drive more cars. But while it's been a self-sustaining system, the gas tax won't cover the cost of roads for long. Trump proposed a gas tax hike in 2018, but it went nowhere.
Read more: www.cnn.com