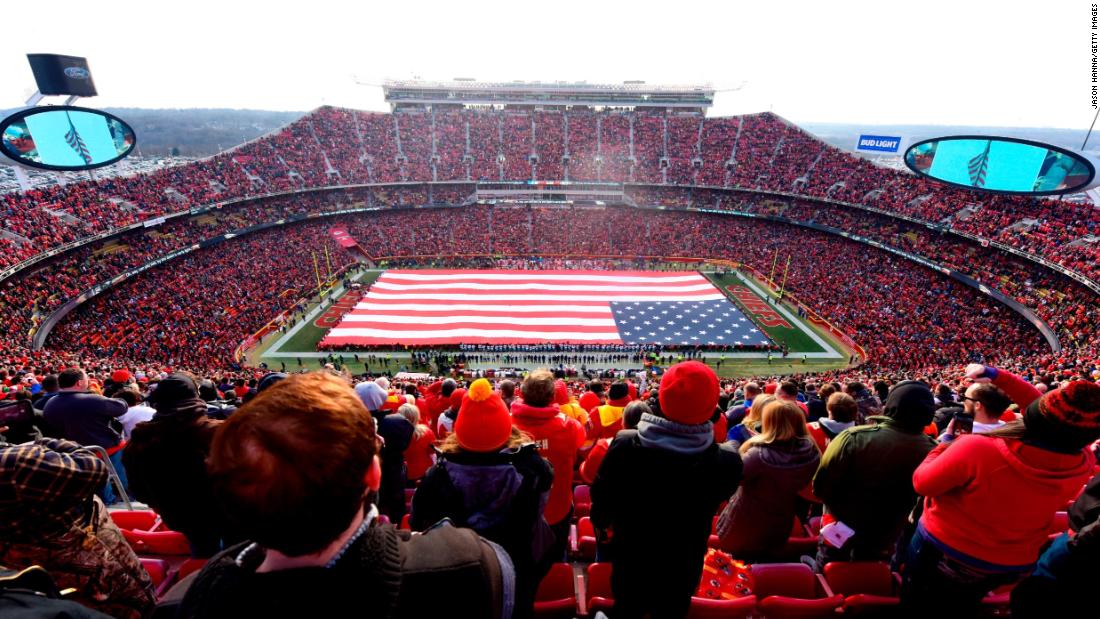 (CNN)It's an unenviable situation to face. In a political climate where the fault lines of the American foundation are seeming to show more and more, the National Football League has attempted to do the nearly impossible — straddle both sides of the divide.
His words would prove to be impotent. Since then, the league, its players, its viewership and its level of commitment to patriotic demonstrations have been favorite talking points of President Donald Trump — a fairly pure indicator of a political issue. In the same 2017 meeting, Goodell and other owners also said they wouldn't change the league's anthem policy, which encouraged but didn't require players to stand. In May of this year, the league issued a new policy, much to the consternation of some players and staff.
When it comes to politics, the NFL can't seem to get it right. Why?
The back-and-forth, the wild swings between alleged overreach and compromise — it seems as if the NFL has outright played itself.
Other players who have taken a knee have been vilified by the public. They've been called "sons of bitches" by the President of the United States. And now, many are fighting back against an anthem policy they claim denies them their constitutional rights.
And yet, the political bar seems a lot lower — and ill-defined — for the NFL's owners and coaches. There's the Cardinals president's endorsement of Kavanaugh, made even more curious by some statements he made after the fact.
"People are saying stick to sports? You know what? We ask our players 20 days a year — game days — to restrict their statements," Bidwelll said. "The rest of the days, we want our players to get engaged in the community."
CNN has reached out to the NFL for comment on Bidwell's endorsement.
Before all of this went down, patriotism was a great unifier in the NFL. The flyovers, the military guests of honor, the grand billowing expanse of the red, white and blue all harmonized perfectly with a Sunday full of red-blooded American football. However, this all existed within an odd assumption: If sports isn't political, then what about all of the patriotism enveloping it? Is patriotism political?
"There are few, if any, cultural products that are 'experienced by everyone,'" he tells CNN. "The lowest common denominator then is a superficial patriotism that is monolithic and completely ignores free speech."
"This not only betrays the sentiment and trust of fans, but casts an unfortunate shadow over the genuine patriotic partnerships that do so much for our troops," the report stated.
Is that political?
As the country has changed over the years, issues of racism, police brutality, immigration law, and basic civility have led to large-scale examinations about what it really means to be an American.
"The things we would have assumed we have in common and the values we would have assumed we share are not standing up to scrutiny and crisis and division," says Niven. "There is no 'universal' anymore, not even in football."
The NFL is a billion-dollar business. Its players aren't just employees, they're money-makers; finely-hewn tools; quantifiable assets and, at times, liabilities.
They're also people like any other, with opinions, emotions, concerns, and the American right to express them.
Reconciling the athlete with the man isn't just a problem for the NFL. It's a problem for the fans. And that can invite mistrust and misunderstanding.
"Owners want to maximize the brand and maximize the profits, and in this way the players are simply a means to an end, and thus can be seen as less than human," Mosher, the Ithaca College professor, says.
"I've been trying to get athletes to come out on social justice issues for decades, and we may get an athlete every few years or so," he says.
"And that [NFL] season, starting in September 2017, unleashed a current of athletes that were never going to turn back. Now that they're being asked about important social justice issues, it reflects the idea of valuing them as human beings."
After all, being an NFL player is about more than the game. As a public figure, often with a measure of wealth and connections at his disposal, every NFL player has the potential to be a very visible role model and agent of change. That kind of star power is an inextricable part of the way the league works — as Niven says, "Fans want to see players play, they don't want to see owners own."
But ironically, some of the same fans who pack stadiums and living room couches to spend three hours a week with these players are still uncomfortable when the players say or do something that is a reminder of their existence outside of the sport.
"The public simply has not done the work to see the players as anything but vehicles for their entertainment." Mosher says. "Players in the 21st century simply have had enough of the 'gladiator thing' and are expressing themselves as human and citizens."
"Stick to sports." It's the favorite line of anyone who doesn't want to hear anything from an athlete if it isn't a play call. It's a hard line to live by as the divisiveness of the political climate grows.
"Politics has always been in sport. I've always maintained that sport is a reflection of society," Lapchick says. In fact, he says, people forget that there were several events that led up to Kaepernick's dissent, like a trickle of rain that becomes a storm.
"I think a moment [like Kaepernick's] was inevitable in some sport, he says. "But there were events preceding that. When Muhammad Ali died [in 2016], and 100,000 packed the streets of Louisville, it wasn't just because of the athlete he was, it was because of the man he was and what he stood for."
In the NBA, he continued, some of the league's biggest stars have come out with strong political and social justice statements. LeBron James, Dwayne Wade and Carmelo Anthony spoke openly about racial tensions in America while onstage at the 2016 ESPYS. NBA coaches and NBA commissioner Adam Silver issued strong statements in support of their players' advocacy.
"It was a stage well-set for [Kaepernick] to do that," he says. "And he was willing to make the sacrifices to speak out."
As for the future of politics and sports, Lapchick says it's not going to go away.
"The athletes are going to continue to speak out, and that overall is going to have a positive impact," he says. "We are in a time when sensitivity is dulled and people think they can say whatever thing is on their mind; racist and dumb things. It helps us to understand where we have to go. Maybe we really haven't changed that much, we're just exposing things in our culture that were there all along."
Read more: www.cnn.com