The Kardashians are still the queens of American pop culture. The ratings are down, the personal dramas are up, but more than a decade after their small-screen debut, the faces of reality TV still reign supreme.
The family was tagged with notoriety from the start. Kim, Kourtney, and Khloe Kardashian are the daughters of Kris Jenner and the late Robert Kardashian, a lawyer who represented O.J. Simpson in his infamous murder trial. After their divorce, Kris married Olympic champion Caitlyn Jenner (known as Bruce before her transition), and Kendall and Kylie Jenner were born. Kim worked as a stylist for the likes of Paris Hilton and Nicole Richie when a sex tape was leaked in 2007. Later that year, the Kardashians were tapped for a reality show.
 is now broadcast in more than 167 countries, and television network E! runs more Kardashian shows than any other. Weekends are often packed full of all-day Kardashian marathons, whether it's the main show or one of the 11 spinoffs.There was  and . Their brother Rob even got a show. The newest buzzy spinoff is  though it earned lackluster ratings in its first season.
E!, which just threw the family a new contract in the neighborhood of $100 million, is betting fascination with the spectacle will continue for at least a few more years. Ratings for  aren't as great as they used to be, however. Six years ago, the season finale drew 4.8 million viewers, a record for the network, while the much-anticipated episode earlier this year about Kim being robbed in Paris attracted only 1.6 million.
While average viewership has dropped, most of the spinoffs fail to survive. Two remain:  and . But despite all these signs of age, the reality TV enterprise still draws millions of people who want to know what's going on with Kim, Kourtney, Khloe, Kendall, and Kylie. 
Kris Jenner, their mother and manager, has a theory about the clan's longevity. The matriarch appeared at the WWD Apparel & Retail CEO Summit this week under the ballroom chandeliers of New York's Pierre hotel. As always, she was tailed by a camera crew shooting her every move for the new season of the flagship show, including an on-stage chat with fashion designer Tommy Hilfiger. 
The source of all Kardashian power is that flagship, she said. It's the foundation of much of their business empire and has functioned as a virtual family album. Viewers have devoted years watching the Kardashians, and they won't stop now. Kendall and Kylie grew up on camera—now one's a model and the other is selling millions in lip kits. The five sisters have had three weddings and five kids throughout the show's run.
"In the very beginning people became emotionally invested and wrapped up in one or more people in the family," said Jenner. "When people watch us, they've seen us get married, get divorced, have babies."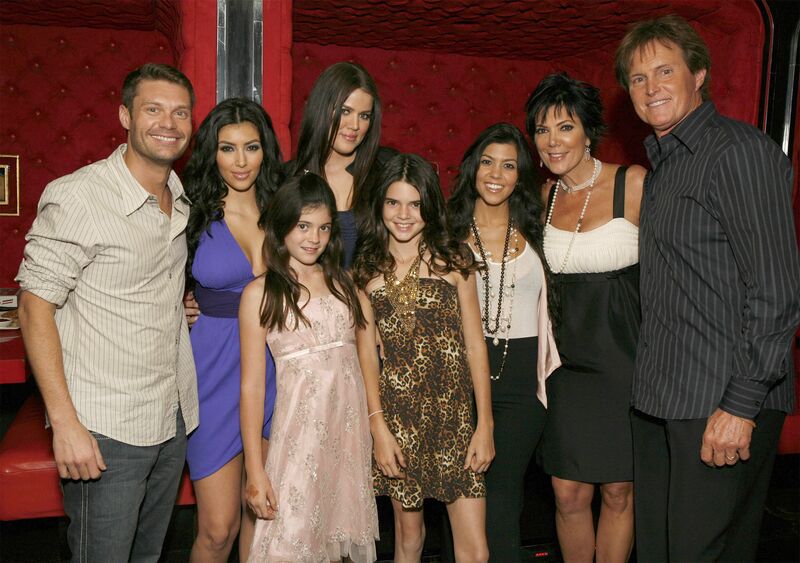 As heart-warming as that may sound, reality TV of both the dramatic and competitive variety is way past its prime, when such shows as and were at their peak. Fatigue set in as networks bombarded viewers with unscripted shows about child models, bike-builders, and pawnbrokers. These days, hits such as NBC's and ABC's continue to draw viewers, but many new attempts have fallen flat. In the "docusoap" reality genre pioneered by Kardashians, the most successful competitors include the various "Real Housewives" shows on Bravo and VH1's .
Perhaps that's why E! is funneling more cash into the Kardashian machine—though on the wane, they're a sure thing. The new deal runs through 2020, about five seasons' worth of the main show, according to a person familiar with the terms of the new three-year contract who requested anonymity. E!, which is owned by Comcast Corp.'s NBCUniversal, declined to share details of the deal.
"We are incredibly proud of our partnership with the Kardashians and they remain an important part of the E! family," the company said in a statement. "We look forward to continuing our collaboration for years to come."
That collaboration began in 2007, when Kris Jenner—in the aftermath of daughter Kim's sudden fame—pitched the idea to producer Ryan Seacrest, who took it to E! Within 30 days, they were filming, she said. A writers' strike forced them to totally wing it, and that initial spontaneity allowed people to connect. Sure, luck was involved. "It was like the perfect storm," said Jenner.
Despite the $100 million vote of confidence by E!, the network remains on the lookout for an eventual prime-time successor to the Kardashians. The network has come up with all sorts of scripted and unscripted shows:  follows a pair of doctors who fix bungled plastic surgeries, and  stars the women of professional wrestling outside the ring. Then there's the scripted drama  which mimics the as-seen-in-the-tabloids lives of the British royal family.
In an interview with the last year, E! President Adam Stotsky conceded that one day it will be time to move on. "The law of averages would suggest that at some point you will need to replace your current hit with future hits," he said.
Read more: www.bloomberg.com