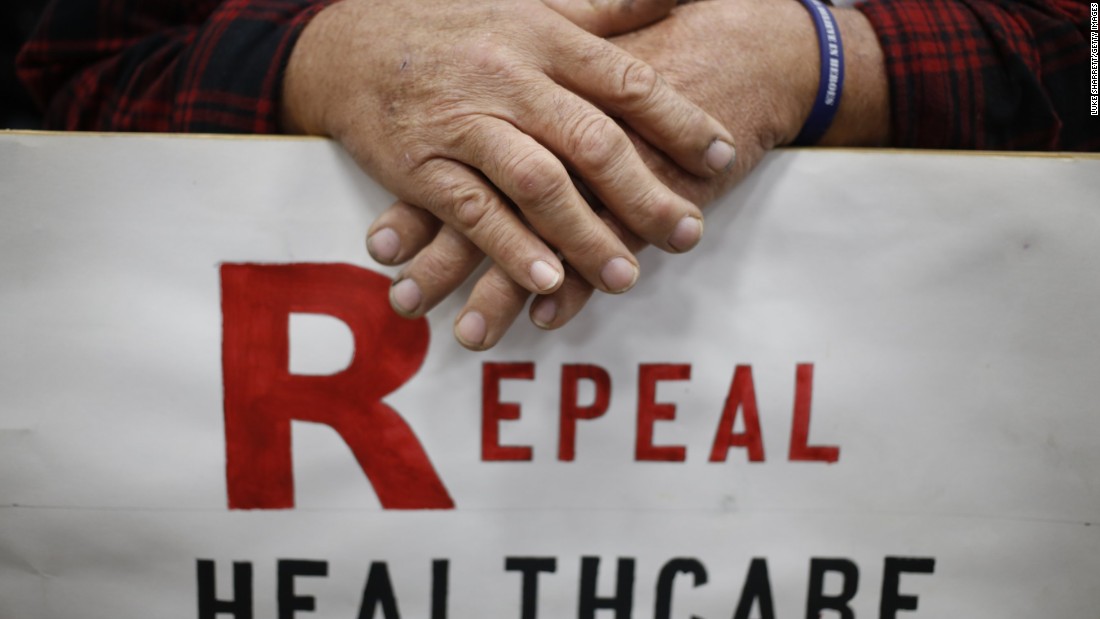 (CNN)Just because someone's on Obamacare doesn't mean they like it, as CNN's Jessica Ravitz found out when she traveled to Grant County, Nebraska.
It has the highest percentage of Obamacare enrollees of any county in the nation: As of last year, a third of the county's under-65 population is on federal Obamacare exchange plans. (Those 65 and over qualify for Medicare.)
Grant isn't the only Nebraska county that went for Trump in big numbers while having high rates of Obamacare enrollment. In fact, 16 of the top 25 counties with the highest rates of enrollment nationally were in Nebraska — and all 16 went for Trump.
Here are some reasons why residents in so many rural Nebraska counties may not be happy with their insurance — and it's not always Obamacare's fault.
Less choice: Before 2010, many Nebraska farmers and ranchers relied on low-cost plans with very high deductibles, according to Jordan Dux, director of national affairs at the Nebraska Farm Bureau. Though many of these plans had lifetime caps and only covered medical catastrophes, many healthy younger Nebraskans felt that was all the coverage they needed.
Those plans "disappeared" after the Affordable Care Act was implemented. "Our members like options," Dux said. "And that's the biggest thing that Obamacare took away from us."
Additionally, insurance companies on Obamacare exchanges began dropping out last year after finding that enrollees were sicker, and more expensive, than expected. Nebraska now has two insurers to choose from,
halved
from four in previous years.
Rural counties nationwide were hit especially hard by insurers dropping out, according to Maggie Elehwany, a vice president at the National Rural Health Association. The Obamacare exchanges "fell horribly flat in rural America," she said. "There's really no choice for patients in rural communities."
Higher premiums:
Average premiums in Nebraska
rose by 51%
(PDF) for the so-called benchmark insurance plan this year, compared with 22% nationally. That means a 27-year-old Nebraskan who paid about $272 a month for that plan last year is paying $411 now. Those numbers don't include premium subsidies, which most people on Obamacare plans receive — including nine out of 10 Grant County enrollees (see more below). The benchmark plan is used to calculate those premium subsidies.
Medicaid gap: Originally, the ACA would have expanded Medicaid nationally, making it possible for more low-income people to qualify for the joint federal and state insurance program. But in 2012, the Supreme Court said states could decide for themselves whether to expand Medicaid. So far, 31 states and the District of Columbia have done so.
In states like Nebraska that have not, a coverage gap remains, where low-income people make too much to get Medicaid but not enough to qualify for subsidies on the Obamacare exchanges. The Kaiser Family Foundation
estimated
in 2014 that 33,000 Nebraskans would have gotten coverage under Medicaid expansion. That's 14% of the state's uninsured at the time.
And it's not just Nebraska: Rural Americans across the country are especially likely to live in states that haven't expanded Medicaid, according to the Department of Health and Human Services.
Rural issues: Generally, people in rural communities have higher rates of chronic illnesses like heart disease or diabetes, according to Elehwany. "Rural America, per capita, tends to be older, poorer and sicker," she said. "They feel like they've been left behind."
Grant County, like much of rural Nebraska, is also
medically underserved
(PDF), meaning there's a shortage of primary care, dental and mental health providers. Hyannis, the county seat, has just one clinic: the Cow Country Healthcare Center. Providers travel from elsewhere to staff it, and it's open only on Wednesdays and every other Friday.
Ideological opposition: Grant County is a conservative stronghold — it voted Republican by at least 80% in the past five presidential elections — and many residents are philosophically opposed to the law's subsidies for low- and moderate-income people.
One notable exception: When Nebraska
voted
(PDF) to increase its minimum wage in 2014 from $7.25 to $9 an hour, Grant County's vote was split down the middle: 128 for, 129 against.
Rural gains under Obamacare
But there's also evidence that the Affordable Care Act has helped rural communities like Grant County. These gains could be erased with a repeal:
Financial help: Most people on Obamacare exchanges get help in the form of premium subsidies, which change each year to keep pace with monthly premiums. If that 27-year-old Nebraskan paying $411 a month also makes $25,000 a year, she'll get a sizable premium subsidy, making her monthly contribution just $142.
In Grant County, 91% of enrollees got a premium subsidy last year to help help lower their monthly premiums to less than 10% of their income, and 59% received an additional subsidy to reduce deductibles and out-of-pocket costs, according to Health and Human Services data. However, it's hard to say whether that's always enough help to make plans affordable for some families.
Across Nebraska, 82% on those exchanges can get
coverage
(PDF) this year for $100 or less per month with the tax credit; 70% could get coverage for less than $50 per month.
Fewer uninsured:
The uninsured rate in Grant County dropped 6 percentage points, from 21% in 2010 to 15% in 2014, according to census data. The uninsured rate in rural counties nationwide has also
plummeted
, dropping 8 points between 2013 and 2015, and has continued to decline.
More services: Nationally, Obamacare increased access to preventative services such as cholesterol screenings, mammograms and flu shots. Adults between the ages of 19 and 26 are now able to get coverage under a parent's employer or individual health insurance. And it's illegal for insurers to deny coverage — or charge more — for pre-existing conditions.
Read more: www.cnn.com