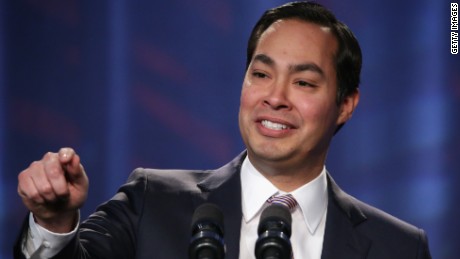 (CNN)While the country still reels from a week of shocking violence, speculation continues to swirl around the Democratic veepstakes. According to the Associated Press, Massachusetts Sen. Elizabeth Warren, Virginia Sen. Tim Kaine and Housing and Urban Development (HUD) Secretary Julian Castro are all on Hillary Clinton's short list.
Though he previously denied he was in the running, Castro is now giving a more diplomatic answer. When Fusion anchor Jorge Ramos
asked Castro last week
if he was being vetted for the job, he said, "I don't have a comment on that. I'm going to let others guess about that process."
Despite the conventional wisdom that he is too inexperienced for the job, there is certainly a case for Castro to be vice president. He represents a unique American success story. His presence on the ticket would mobilize Latino voters in November. Plus, he would provide the Clinton campaign with a dash of youthful appeal.
Castro's selection as veep would be historic because he would be the first Latino on a national party ticket. Having Castro on the ticket would electrify Latino voters and give them a reason to turn out in large numbers in battleground states like Florida, Colorado, New Mexico and Arizona.
Voter turnout among Latinos will be critical to the Democrats' chances in November, so Clinton cannot take it for granted that antipathy for Donald Trump will drive Hispanics to the polls. With his working-class background and Mexican-American heritage, Castro personifies the aspirational message needed to mobilize Latino voters. For Latinos, many of whom were
bitterly disappointed
by President Barack Obama's immigration legacy of
a record number of deportations
and a blocked executive action plan, Castro could represent a reason to have faith in politics again.
At 41, Castro is the youngest potential Democratic vice presidential nominee and could help Clinton attract millennial voters. He would likely serve as an effective bridge to the former Bernie Sanders supporters who still view Clinton with wariness.
There are also other potential qualified Latino candidates for vice president, such as
Rep. Xavier Becerra
(D-California) and
Labor Secretary Tom Perez.
But they are not as well known as Castro, and Clinton would have a limited amount of time to introduce them to voters. In a
June Bloomberg poll
of likely Clinton voters, Castro was the third choice for vice president, behind Warren and Sen. Cory Booker (D-New Jersey). The other two Latino candidates did not even rank in that poll.
As a potential vice president, Castro embodies the progressive ideal of diversity. He deserves a nod for Clinton's 2016 ticket.
Read more: www.cnn.com