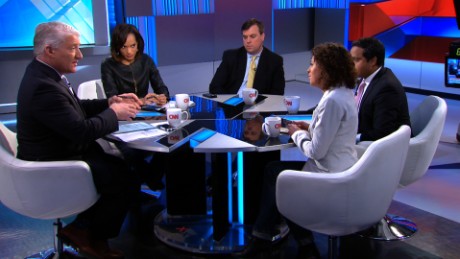 Washington (CNN)An ad war twist that Donald Trump doesn't approve of in Ohio, prominent Republicans who are MIA, "Survival Tuesday" calculations and peeks at a key Senate race — those are just some of the scoops in the "Inside Politics" forecast.
Ads pulled — and questions about Team Trump
Some Ohio television stations refused to run a Donald Trump ad attacking John Kasich after the Ohio governor's allies complained the required legal disclaimer was not in the right place.
Win, and they go on — hoping to find a path to the nomination or at least to get to an open GOP convention with enough delegates to give them leverage.
Lose, and the "Exit" lights will be flashing.
Inside the Kasich campaign, there is no doubt: A loss in Ohio would lead to a Kasich exit by Wednesday at the latest. But his team is hopeful enough that a little time in recent days was spent discussing how to put together a smart team to think ahead, about states to come and a strategy for an open convention.
There is more of a debate inside Team Rubio. The candidate himself, unlike Kasich, has not said his home state is win or go home. And some Rubio advisers are arguing the senator should consider staying in even if he loses Florida — and especially if Kasich loses Ohio.
They justify such talk by suggesting perhaps the focus on violence at Donald Trump's rallies might finally create an opening, and by noting many of the contests ahead are in places where Sen. Ted Cruz of Texas might be too conservative to have broad appeal.
There is pushback, though, from members of Rubio's finance team; CNN is told the mood inside the finance team is that if Rubio loses at home, the money will dry up fast and make it difficult to continue.
Read more: www.cnn.com