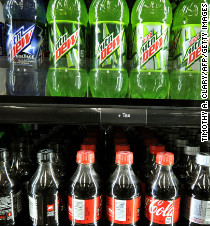 (CNN)Governments should tax sugary drinks to stave off obesity, diabetes and other noncommunicable diseases, the World Health Organization urged.
"If governments tax products like sugary drinks, they can reduce suffering and save lives," said Dr. Douglas Bettcher, director of WHO's Department for the Prevention of Noncommunicable Diseases in a statement. "They can also cut healthcare costs and increase revenues to invest in health services."
The purpose was to redistribute responsibility for "unhealthy food choices so that individuals bear a proportional share of the social and economic burden of unhealthy eating,"
according to a WHO brief.
Since the tax went into effect, Hungarians ate less unhealthy products and about 40% of the food manufacturers either stopped selling the junk food or changed the ingredients, according to a national survey. Surveys found that people drank less sodas and energy drinks because they didn't want to pay higher prices.
More soda taxes are coming
Elsewhere in the world, the
UK announced plans
this year to charge a soda tax to curb childhood obesity. Countries including the Philippines, South Africa and Northern Ireland are also mulling similar taxes.
Read more: www.cnn.com