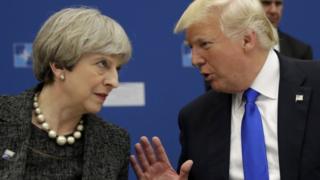 It all started so well. The much vaunted "special relationship" between the UK and US was confirmed in the most affectionate way.
Theresa May was not only the first foreign leader to meet Donald Trump just days after his inauguration as president, but to ensure she didn't slip on a ramp at the White House, he gallantly took her hand.
That moment in January sent commentators and opposition politicians into a spin, with critics suggesting it showed the relationship had become too close. Mrs May was quick to insist it was nothing like that – claiming the gesture had simply been "a moment of assistance".
Even at their closest – remember their delight in telling the world they shared the same brand of toothpaste after a sleepover at Camp David – US President George Bush and then UK Prime Minister Tony Blair were never pictured holding hands.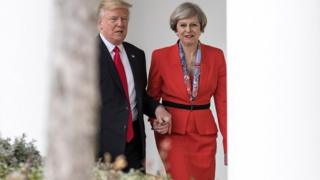 But that perceived familiarity, that apparently special relationship – and Mrs May's swift and controversial invitation for the US president to make a state visit to the UK – seem a long, long time ago now, amid the spat over Mr Trump's decision to share three inflammatory videos posted online by a British far-right group.
A comment by Mrs May's spokesman that it was "wrong for the president to have done this", seems to have gone down badly with Mr Trump.
But what is the potential impact of this flare-up for the UK in a post-Brexit world, and its urgent hope to strike a trade deal with the US?
Lib Dem leader Sir Vince Cable says for starters the UK should immediately rescind its state visit invitation to the US president. He also called on the president to apologise.
London Mayor Sadiq Khan backed that view, insisting: "After this latest incident, it is increasingly clear that any official visit at all from President Trump to Britain would not be welcomed.
"The prime minister of our country should be using any influence she and her government claim to have with the President and his administration to ask him to delete these tweets and to apologise to the British people."
Labour's London mayor and the Republican President have a long history of bad blood.
But Conservative Communities Secretary Sajid Javid was among cabinet ministers to go on the record with their criticism:
Education Secretary Justine Greening sought to play down the significance of the run-in, telling BBC Radio 4's Today programme that while she did not agree with the president's tweet, she did "not believe it should detract from the close relationship the UK has had for many, many years and will go on to have with America and the American people".
Phone a friend?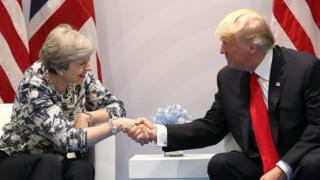 Theresa May and Donald Trump have spoken at least 11 times on the phone, held a joint press conference at the White House and a meeting at the UN General Assembly since the US president was elected in November 2016, according to the Downing Street website.
But despite what she has described as the "enduring" relationship between the US and America, not all of those conversations have been easy.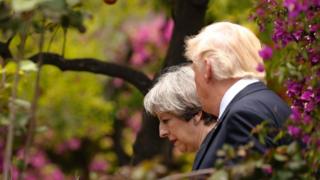 Who can forget Mrs May's disappointment at Mr Trump's decision to pull the US out of the Paris climate agreement in June, this year? Or the president's condolences following the Parsons Green tube bombing in London, in September?
But there have also been congratulatory calls – from the PM to Mr Trump on his presidential success, and back the other way from Mr Trump to Mrs May, following her snap election in June.
Who wouldn't want to be a fly on the wall when the two leaders have their next chinwag…?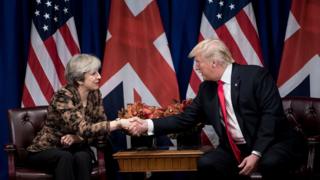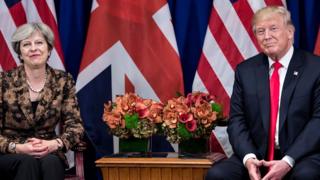 Home Secretary Amber Rudd said that while the US president "was wrong" to retweet the far-right group's videos, MPs should also keep in mind "the bigger picture".
"The unparalleled sharing of intelligence between our two countries is vital," she said, adding that it had "undoubtedly saved British lives".
She argued that the prime minister had been "explicit in criticising this tweet" and would always make sure "she calls it out" when she disagrees with comments made.
After all, it is not the first time, the UK and US have disagreed with each other – or the first time Mrs May has been critical of Mr Trump.
When she was home secretary in 2015, Mrs May dismissed as "nonsense" Mr Trump's claim that pockets of London were so radicalised that the police did not dare enter them.
She told the Commons home affairs select committee at the time: "I think we all agree that the comments Donald Trump made in relation to Muslims were divisive, unhelpful and wrong."
And just as parents stay together for the sake of the kids …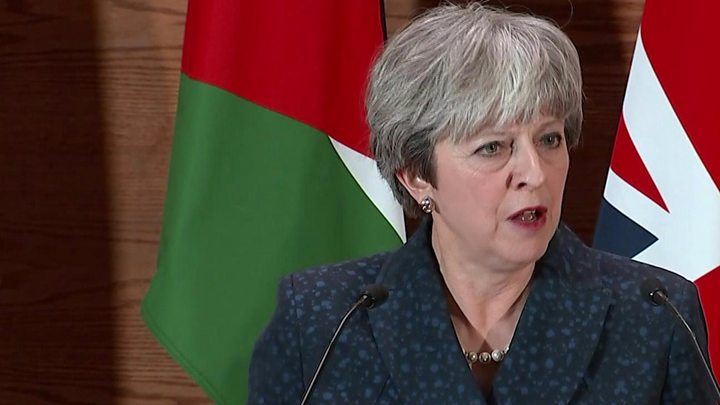 Theresa May insisted she was not afraid to speak out when she disagreed with her closest ally.
"The fact that we work together doesn't mean that we're afraid to say that when we think the US has got it wrong and be very clear with them," she said, during a visit to Jordan.
"I'm very clear that retweeting from Britain First was the wrong thing to do."
But Mrs May insisted it was "in both our national interests" and those of the wider world that the "long term, special relationship" continued.
"I'm not a prolific tweeter myself and that means I don't spend all my time looking at other people's tweets, but when I feel that there should be a response, I give it – and I've given it to President Trump's tweets."
Asked whether she regarded Mr Trump as a fit person to be hosted by the Queen on a state visit, the PM said only the invitation had been extended and accepted but "we have yet to set a date".
Describing Britain First as a "hateful organisation", she said she had "absolute confidence" none of her cabinet ministers would ever make the same mistake as President Trump.
Read more: www.bbc.co.uk