Why did Ukips ex-leader want to slip in unnoticed to meet the WikiLeaks chief at the Ecuadorian embassy?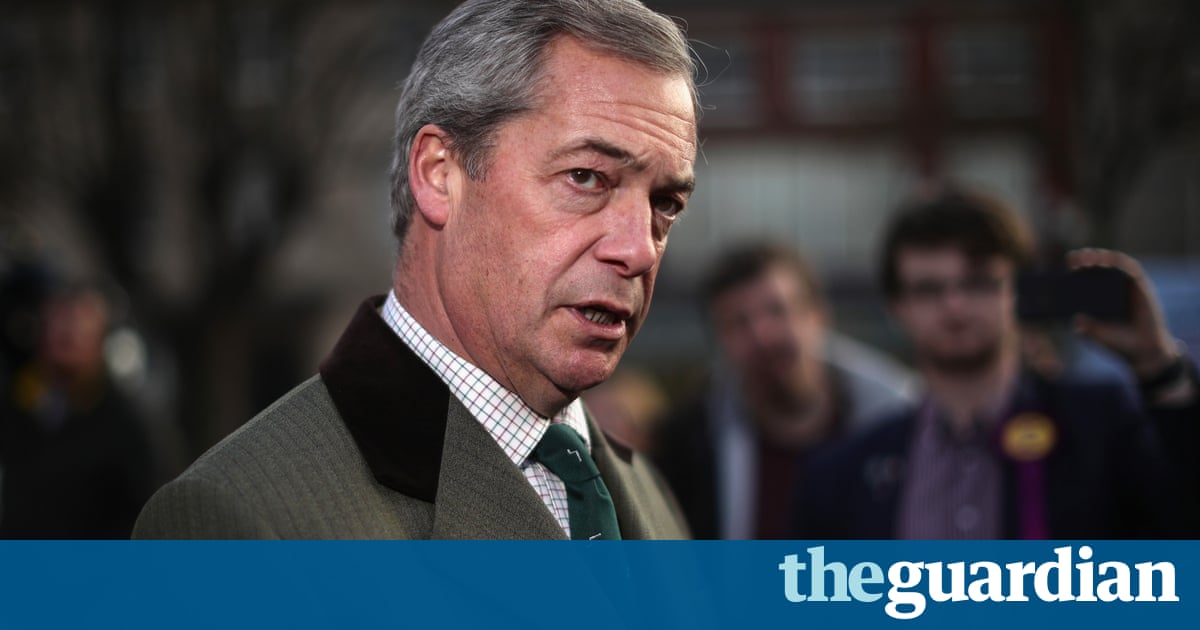 On 9 March 2017, an ordinary Thursday morning, Ian Stubbings, a 35-year-old Londoner, was walking down the street near his office in South Kensington when he spotted a familiar face. He turned and saw a man entering the redbrick terrace which houses the Ecuadorian embassy, where the WikiLeaks founder Julian Assange has been holed up since 2012. And the familiar face? It was Nigel Farage, the man who spearheaded Britains exit from the European Union.
I thought hang on a moment, Stubbings says. That looks a bit dodgy. I knew the building was the embassy because I often see camera crews outside. But there was no one else around. I was the only person whod seen him. And I didnt know what the significance was and I still dont actually but I thought: thats got to be worth telling and I was the only person whod witnessed it.
So, at 11.22am, he tweeted it. His handle is @custardgannet and he wrote: Genuine scoop: just saw Nigel Farage enter the Ecuadorian embassy. Moments later, a reporter from BuzzFeed, who happened to follow him on Twitter, picked it up and tweeted him back, and Stubbings told her: No press or cameras around.
No press or cameras around, that is, until BuzzFeed turned up just in time to catch Farage leaving, 40 minutes later. Nigel Farage Just Visited the Ecuadorian Embassy in London, the headline said. Asked by BuzzFeed News if hed been visiting Julian Assange, the former Ukip leader said he could not remember what he had been doing in the building.
And that was how the world found out, by accident, that the founder of WikiLeaks, the organisation which published Hillary Clintons leaked emails a decisive advantage for Donald Trumps campaign and Farage, a friend of Donald Trump, were mutually acquainted.
In Britain, we routinely treat Farage as if he were Widow Twankey in the national pantomime that is Ukip politics. And Widow Twankey dropping by on the man who lives in the Ecuadorian embassys broom cupboard seemed just one more weird moment in the weird times in which we now live; six weeks on, it had faded into yet another episode in the surreality show that now passes for normality.
But in a week that saw two major developments on both sides of the Atlantic regarding the respective roles that Assange and Farage played in the US election and the EU referendum the same week in which a UK general election was announced it is an attitude that needs urgent re-examination.
For if you were to pick three individuals who had the most decisive impact on that most decisive of years, 2016, it would be hard to see beyond Trump, Assange and Farage. What was not known until Ian Stubbings decided to go for an early lunch is that there is a channel of communication between them.
Last week brought this more clearly into focus. Because in a shock development last Thursday, the US justice department announced it had prepared charges with a view to arresting Assange. A day later, the Electoral Commission announced it was investigating Leave.EU the Brexit campaign Farage headed.
Significantly, the commission said its investigation was focused on whether one or more donations including of services accepted by Leave.EU was impermissible.
One of the grounds on which a donation can be deemed impermissible is that it comes from abroad. A fundamental principle of British democracy and our electoral laws is that foreign citizens and foreign companies cannot buy influence in British elections via campaign donations.
Read more: www.theguardian.com