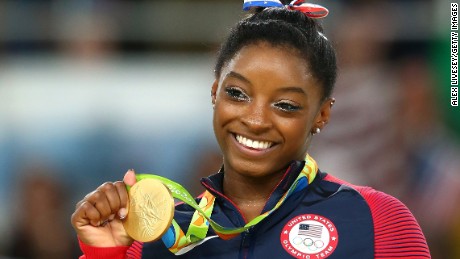 (CNN)It's the latest acronym to take the world of sport by storm — but what is a TUE?
Therapeutic Use Exemptions, which hit the headlines Tuesday after
the World Anti-Doping Agency
was hacked by Russian group Fancy Bears, were revealed to be used by a number of top athletes.
Olympic champion gymnast Simone Biles and tennis stars Serena and Venus Williams
were the target of the attack,
as well as US basketball player Elena Delle Donna.
But what are TUEs?
Star names
In the case of Biles, whose data was leaked by the hackers, the teenager was revealed to be on medicine for Attention Deficit Hyperactivity Disorder (ADHD).
Biles, who won four golds in Rio, took to Twitter, writing: "Having ADHD, and taking medicine for it is nothing to be ashamed of, nothing that I'm afraid to let people know."
She was staunchly defended by USA Gymnastics.
"Simone has filed the proper paperwork," said Steve Penny, the organization's president.
"Simone and everyone at U.S.A. Gymnastics believe in the importance of a level playing field for all athletes."
Sisters targeted
Biles wasn't the only hackers' target — the WIlliams sisters were dragged into the story as well.
The siblings, who have won four Olympic gold medals each during their careers, were reported to have taken a number of restricted substances between 2010-2015.
Both women had received TUEs for the medication.
Venus Williams issued a statement acknowledging her drug test results had been hacked and said that she had also been granted "therapeutic use exemptions," although she doesn't cite the reason for the exemption.
"I am one of the strongest supporters of maintaining the highest level of integrity in competitive sport and I have been highly disciplined in following the guidelines," she wrote.
The drug testing results for Team USA basketball player
Elena Delle Donne
were also revealed in the hack.
"I'd like to thank the hackers for making the world aware that I legally take a prescription for a condition I've been diagnosed with, which WADA granted me an exemption for. Thanks, guys!" she posted.
Are people taking advantage?
In 2015, athletics coach Alberto Salazar was accused of exploiting the TUEs system to give his athletes an edge without medical justification.
www.edition.cnn.com/athleteoftheday #athleteoftheday __________________________________ @cnncreative @serenawilliams
But leading anti-doping experts and sport scientists say the current system could be manipulated.
"There is the potential, no doubt, for some organizations to use that to their advantage by trying to encourage athletes to indicate medical conditions which they may not actually have," Michele Verroken,
founder of Sporting Integrity, told CNN.
"It is a potential area of risk and needs to be managed properly. The danger is that we end up with suspicion which is sad because people have exploited situations like this and they don't have severe heart conditions or asthma.
"We are in danger of medicalizing sport performance to get those marginal gains and that's a really sad fact."
Verroken is not alone in her skepticism. Leading sport scientist
Ross Tucker
took to social media to give his views on the TUE system and the WADA hack.
Travis T. Tygart, the USADA president, said that the hackers had attempted to "smear athletes to make it look as if they have done something wrong."
"The athletes haven't. In fact, in each of the situations, the athlete has done everything right in adhering to the global rules for obtaining permission to use a needed medication,"
he said in a statement.
Richard Ings, former head of Australia's anti-doping agency, also
took to Twitter in the aftermath
of the leak, writing: "Nothing I see here gives me cause for TUE alarm."
He added that between 2014/15 the Australian Sports Drug Medical Advisory Committee approved 234 TUE'S for medical use of banned substances.
He also wrote: " Content of the FancyBear hack does not trouble me. Standard TUE stuff. What troubles me is the failure to protect athlete medical records."
Read more: www.cnn.com