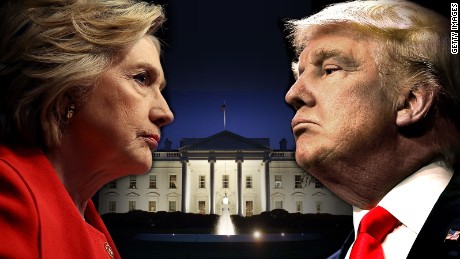 (CNN)Hillary Clinton and Donald Trump wrapped up their conventions on a high note this summer, hoping to launch their fall campaigns with legions of newly energized activists and a fresh opportunity to rebuild their battered images.
But in key swing districts, large swaths of American voters are watching the campaign — very closely, in fact — with an unmistakable level of disgust, and little admiration for either candidate. While a recent Pew Research Center poll found that voter engagement is at its highest level since 1992 — with 80% of registered voters saying they have thought "quite a lot" about the campaign — voter satisfaction with the two candidates is at its lowest level in two decades.
Those seemingly contradictory findings are emerging as one of the biggest unknown factors in the 2016 election, testing the power of the Democratic turnout machine and the wisdom of Trump's virtually non-existent ground game. While turnout in the primaries was robust for both parties — and passions run strong against both Clinton and Trump — it is unclear how hard it will be to motivate voters who can't stand either candidate.
The Republican convention turned into a weeklong condemnation of Clinton, with the crowd shouting "Lock her up" as Trump offered a dark vision of America in crisis. The Democratic convention, in turn, centered on shredding Trump as a racist, misogynistic bully who is unfit for the White House.
Clinton faces the historically difficult position of running for a third consecutive Democratic term at a time when voters want change.
On top of that, she has been in the public eye for 40 years, complicating her effort to fashion herself as the agent of change many voters are seeking this cycle. Those who have been most effective at making her case, like President Barack Obama, have testified to her resilience.
"She's tested. She's ready. She never quits," he tweeted after her convention speech.
But those aren't the sorts of personality traits that generally get people fired up to vote.
At her convention, Clinton tried to strike a tenuous balance between hopeful themes and a recognition of the economic and national security anxiety facing the nation, arguing that America is facing a "moment of reckoning" as "powerful forces are threatening to pull us apart."
She got a convention bounce, but it remains to be seen whether her arguments for positivity will motivate Democrats the way Trump's dark view of America in chaos has resonated with Republicans and some independents.
"I know everyone says our economy is good right now, but I think it's kind of smoke and mirrors," said Nick Zydmont, a 32-year-old landscaper who lives in the Cleveland suburbs as he watched his children ride their bikes in the driveway on a recent morning. "I still know a lot of people without work, and company layoffs still. Just from talking with everyone — work is slow."
Zydmont enthusiastically backed Obama in previous elections, but with those economic worries in mind, he is more inclined to back Trump this time (though he is unenthused about either candidate).
"With everything that happened with Clinton — the scandal or whatever — I don't know, I just really never felt anything good about her," he said. "I think she's just kind of sly, trying to pull one over on us. How she lied about stuff and she's getting caught in her lies."
"I think (the Democrats) could have found somebody better. Both parties could have found someone better," Zydmont said. On the upside with Trump, he noted there would be checks and balances: "He's got to go through Congress before he does anything crazy."
Diane Kesczyk, a 5th grade teacher from King of Prussia, said she is fairly certain that she will vote for Clinton. But she listened to Trump's convention speech with an open mind and found his message about the need for law and order appealing.
Of Clinton, she said, "I wouldn't say I'm excited. I'm not excited. I would be interested in hearing from a third party, but I'm pretty sure I'll vote for her."
Explaining her trepidation, Kesczyk, like so many others, pointed to the email scandal: "I feel like she is the most qualified, for sure. But she's made mistakes," she said. "I didn't realize how much she put us in danger. That was something I was surprised by."
On the other hand, she said, "I feel like Trump would cause us problems. He doesn't have that political correctness about him — and I feel like that would put us in trouble," said Kesczyk, a 48-year-old Democrat. "There should be political correctness. As far as with other countries, President Obama has done a great job with that. And that's my hesitation with Trump. He tends to really irritate people. He doesn't have the bedside manner. That concerns me for sure with foreign relations."
As November approaches, there are some voters who say they are getting more excited, but they are quick to note their reservations about the candidates.
Jack Whaling, a 39-year-old painter, said he is voting for Trump. But if he was advising the Republican nominee, "I'd tell him to keep his mouth shut."
"Like that thing with the handicapped," Whaling said, recalling the instance where Trump mocked a disabled New York Times reporter. "That bothered me, because I have handicapped people in my family. I don't know if he really meant it. … He speaks before he thinks and that's the problem on some of this stuff."
Read more: www.cnn.com