The supreme leaders jewellery became the focus of frenzied speculation in a ballot where more than the presidency is at stake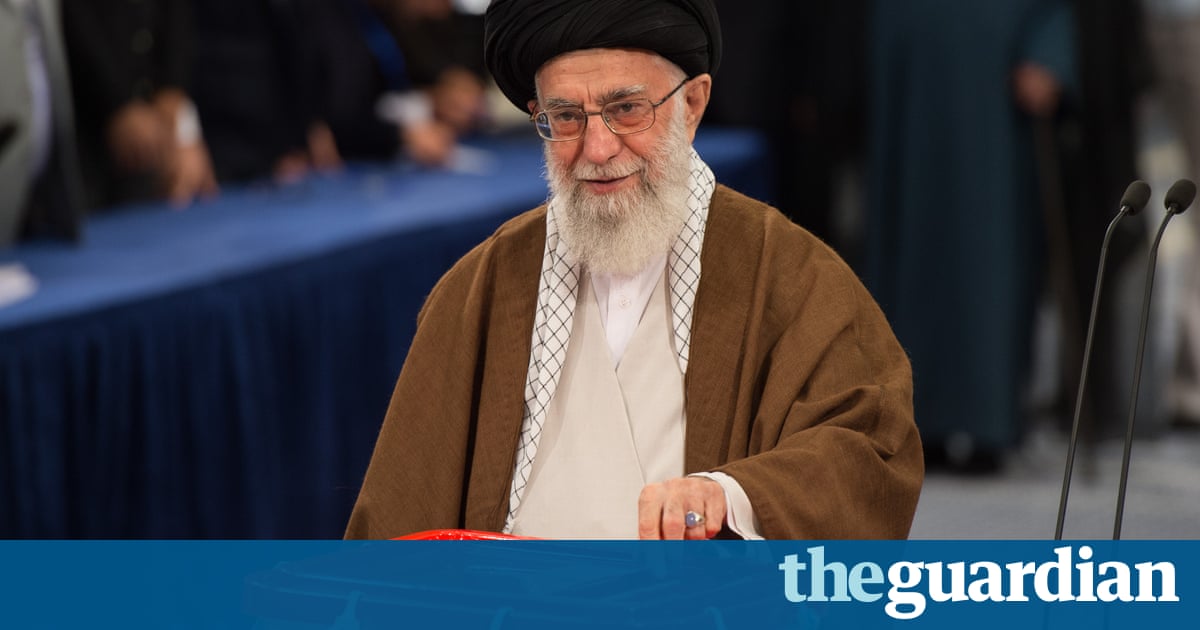 Soon after 8am, as voting in Irans presidential election got under way, the countrys 78-year-old supreme leader emerged from behind a set of curtains in his heavily-guarded compound in central Tehran to cast his vote.
As he took the ballot paper, many watching the Ayatollah Ali Khameneis
moves on television looked straight to the colour of his gemstone ring for clues as to his vote.
Officials were quickly forced to deny that the blueish stone he wore was a coded sign of his support for the reformist-backed incumbent, Hassan Rouhani, whose official campaign colour is violet.
Amid the frenzy of speculation, where Khamenei truly stands in this political battle not just for the presidency, but ultimately the future of Iran in the event of his own death remains somewhat unclear.
Rouhanis supporters fear Khameneis heart lies with the moderate clerics challenger, Ebrahim Raisi, a hardliner allegedly being groomed by the Revolutionary Guards to one day assume the supreme leadership. A presidential win would significantly pave the way for that.
Though Khamenei has not publicly spoken out in favour of Raisi, he has attacked Rouhanis camp many times in the past two weeks, most notably last week when he criticised Rouhanis government for promoting a western-influenced UN-backed education plan, which he said Iran should not surrender to.
The supreme leaders criticisms have, among the Iranian public, bolstered claims spread by Raisis camp that the current government under Rouhani promotes homosexuality and masturbation.
Suzanne Maloney, of the Washington research group the Brookings Institute, said the vote was the most important election Iran had faced in many years. If we see a Raisi victory it augurs very seriously for his eventual elevation as Irans supreme leader, a position which he could hold for decades, she said.
She added that a Raisi presidency would further complicate Irans already strained relations with Washington under Donald Trump, and could jeopardise the nuclear deal secured under Barack Obama.
For Rouhani, the vote is a fight for his political future and Irans political trajectory, Maloney said, and could account for his surprisingly sharp rhetoric during the campaign, such as direct attacks on the Revolutionary Guards, the regimes elite protection force, and the judicial credentials of Raisi.
I think he seems to be prepared to leave no stone unturned in terms of warning of the possible consequences of an election that is engineered against him, but also trying to rally those who might be sceptical about the utility of their vote to come out and cast a ballot, she said.
If Rouhani loses, there are fears of a repeat of 2009, when a disputed election led to months of unrest and bloodshed. During those elections, Khamenei broke with tradition by explicitly supporting the hardliner Mahmoud Ahmadinejad. Iranians, Maloney said, had seen this movie before.
Given prediction of a high turnout, and the fact that four of Rouhanis predecessors all served two consecutive terms in office, one would think Rouhani could be fairly confident about the elections outcome.
But with such high stakes this round, particularly as the question of the supreme leaders succession gets serious, Irans political future looks uncertain.

Read more: www.theguardian.com