We try our best to achieve perfect accuracy in our coverage of the Year Ahead, but inevitably, a few things slip by us. Here, some of the things we didn't quite see coming—and some spot-on predictions that we're particularly proud of.
Power
We said: Xi Jinping will use the National Congress of the Communist Party to concentrate control.
What happened: Indeed, no obvious successor to the Chinese president emerged from the party's twice-a-decade meeting in October, triggering speculation that Xi will try to stay in office beyond the two terms mandated by Deng Xiaoping. He also stacked the party's Standing Committee with loyalists.
Stocks
We said: New York Stock Exchange floor trader Peter Tuchman will show up in photos as the face of Wall Street.
What happened: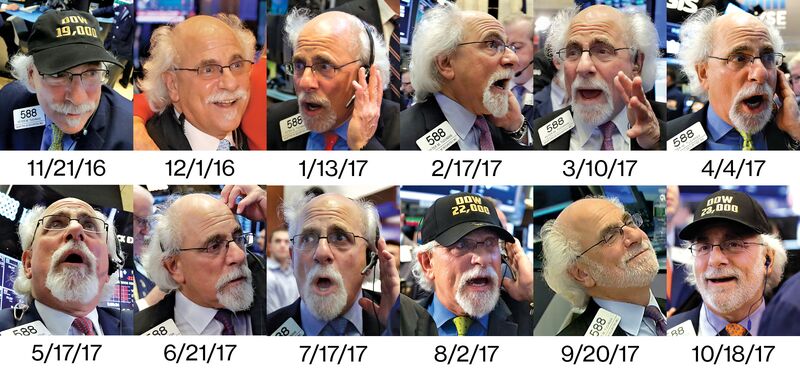 Mergers and Acquisitions
We said: The Anthem-Cigna and Aetna-Humana mergers will face a tough time with regulators.
What happened: Both deals ultimately crumbled. Anthem Inc. and Cigna Corp. are suing each other over the $1.9 billion breakup fee that Cigna says Anthem owes—plus $13 billion in alleged damages. In October, CVS Health Corp. made a reported $66 billion offer to acquire Aetna Inc.
Oil
We said: "After two years of pumping at full blast … the Saudis now appear willing to pull back."
What happened: Saudi Arabia reduced oil production from a record 10.7 million barrels per day in 2016 to less than 10 million, helping drive the recovery in oil prices.
Regulation
We said: Europe is about to get uncomfortable for technology companies.
What happened: Not only did Margrethe Vestager, the European Union's commissioner for competition, slam Google with a record $2.7 billion fine, she also hit Facebook and Amazon.com for hundreds of millions of dollars each.
Energy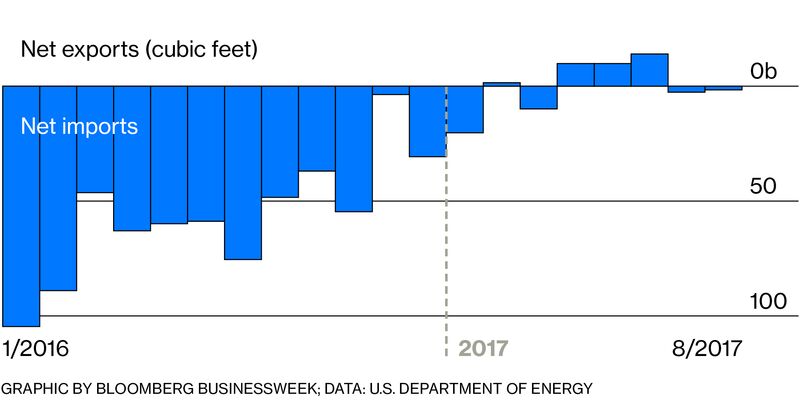 We said: For the first time in 60 years, the U.S. will become a net exporter of natural gas.
What happened: True, so far. In 2017 the U.S. has exported more natural gas than it has imported.
Personal Technology
We said: "Heading into 2017, there isn't a clear answer to the basic question of what, exactly, VR technology is for."
What happened: This remains true going into 2018, but we do know who's winning virtual reality: Sony Corp. In the second quarter of this year, the company sold more VR headsets than its two primary rivals, Facebook and HTC Corp., combined.
Insurance
We said: "The event that could really turn the [reinsurance] industry is impossible to control: a major natural disaster. … 'We're kind of due for a big event,' [Rod] Fox, [chief executive officer of reinsurance brokerage TigerRisk Partners] says."
What happened: It's still unclear whether the industry has transitioned fully from rainmaker to washed out, but even so, after Harvey, Irma, Jose, and Maria, we wish we'd been less right.
Trade
We said: "The next president of the U.S., whether [Donald] Trump or more likely Hillary Clinton … could blow up the delicately constructed [Trans-Pacific Partnership]."
What happened: While that turned out to be true, we did get one very obvious thing wrong. Then again, so did just about everybody else, so we'll call it a wash.
Markets
We said: Chinese banks are lending at an unsustainable rate and will pose a major risk to the world economy.
What happened: Far from collapsing, Chinese bank stocks have increased more than 20 percent. On the other hand, the country's largest institutions are still overleveraged, so the fuse may just be longer than we thought.
Politics
We said: Right-wing populists and nationalists will make big gains in Europe.
What happened: Austria's anti-immigrant Freedom Party gained ground, and Germany's Alternative für Deutschland became the first far-right party to win seats in the Bundestag since the Nazis. That said, nationalists were largely halted in France, Italy, and the Netherlands.
Corporate Leadership
We said: Activist investor Bill Ackman may force out Steve Ells as CEO of Chipotle Mexican Grill Inc. if its performance remains sickly.
What happened: Ells has managed to hang on even after a board shakeup. Unfortunately for Ackman, earnings continue to disappoint. He's so far lost about $386 million on his original $1.2 billion position.
Brexit
We said: It's highly unlikely U.K. negotiators will try to secure special treatment for banks in the Brexit talks.
What happened: After a disastrous snap election in June, the U.K.'s ruling Conservative Party has walked back some of its hard-line stances, including this one. 
Growth
We said: The world's developed economies are in for another year of mediocre growth at best.
What happened: If you've read our opening essay, you already know that most beat growth expectations for the year. Over the course of 2017, the International Monetary Fund changed its assessment of global demand from "subdued" to "seeking sustainable growth."
Read more: www.bloomberg.com