The Long Read: When I took a job cleaning expensive Manhattan apartments, I had no idea what I would find out about my clients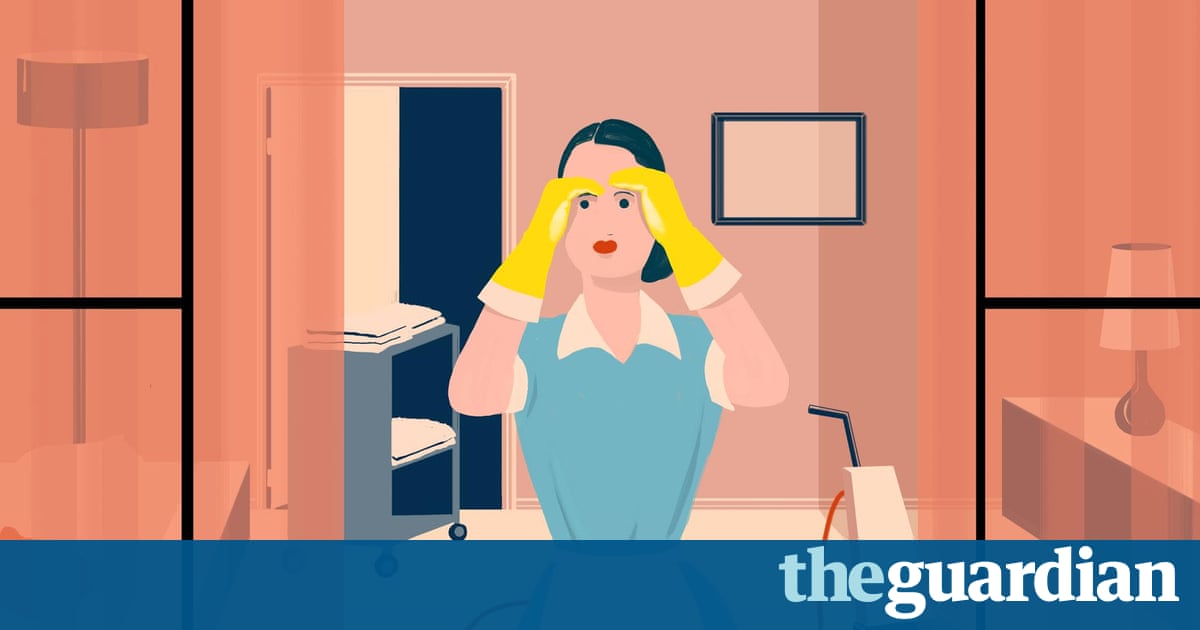 I heard about the cleaning company from a friends boyfriend, a musician who had supported himself by cleaning houses for years. I was living in an apartment in Brooklyn, sharing a windowless bedroom with a friend. She worked at a health food store on Sixth Avenue, ringing up sandwiches she brought home the ones that didnt sell and we ate them for dinner. I had an internship at a dance company, which I loved because I could take the dance classes at the studio for free.
The cleaning company was a boutique, environmentally friendly deep clean service owned by a woman who usually paid in cash. The company specialised in expensive one-time detoxes, rather than routine cleanings: shed send you to a different apartment almost every time. You never knew what youd find when you walked through the door, but most clients considered the service to be a special occasion, like a nice haircut or a spa day, and so were polite and often tipped.
I wrote to the owner of the cleaning company the next day. How did one convey ones aptitude for cleanliness over email? I am detail oriented, committed, and capable, I wrote, adept at dish washing and scrubbing of all kinds. I went on to say that Id often lived in small spaces and knew the satisfaction that can be found in finding ways to maximise space. I also wrote that I had grown up in a house that shunned wastefulness, which had consequently led me to develop a sharp eye. I was always on time, I said. Plus, I was a dancer, and therefore enthusiastic about physical activity.
The cleaning companys website posited an unlikely but appealing correspondence between cleaning and art. The owner wrote that she saw the cleaning business as a creative pursuit and was upfront about her own preference for art over work.
This isnt going to be like cleaning your own house, she said to me, as we rode the elevator on my first day. She had come to oversee me working on my first apartment: a spotless condo on one of the upper floors of a building in Lower Manhattan. While I worked, the owner of the cleaning company followed on my heels. Good pour, she said when I tipped the bucket of grey water into the toilet. As the day wore on, Id catch sight of her standing at the periphery of whatever giant living space I was crouching in, peering around the door frame while I stacked books. Later, while evacuating Cheerios from between the couch cushions, I saw her pick up the miniature rake in the familys decorative tabletop Zen garden and carefully comb the sand with its tiny teeth.
---
The owners deep-cleaning technique involved very little soap: the key was to scrub vigorously on hands and knees until the grime had been dissolved by force. The rags we used were microfibre cloths dipped in hot water, fortified with a capful of preapproved cleaning liquid. Vetted supplies were provided at the start of our employment and refilled whenever we asked. The boss also provided an assortment of essential oils, which came in small, pretty bottles and looked like perfume. I learned to make a performance out of adding a few drops to my bucket if a client was within eyeshot, holding the glass bottle aloft and squinting as though taking precise measurements.
She advertised us as consultants who would be able to advise on energy consumption and feng shui, but I was never asked to impart any of this wisdom except for one woman who asked me what lavender oil did. (It was good for wood, I told her.) The boss priced the jobs based on a telephone call, in which she performed some kind of calculus that factored in a prospective clients reported square footage, number of pets, and frequency of other (presumably less thorough) professional cleans. Shed jot their answers in an email and forward it to me. This email would be followed promptly by a Google Calendar invite, which bore an address and the start time of the clean.
It wasnt practical to carry vacuums from house to house on the subway, so we used them only if the clients had them already. In old houses, where the shower caulk had aged into grey ridges, it was nearly impossible to do a satisfactory job without resorting to the chemical-laden supplies under the clients sink. After dousing a tub in Ajax, Id sprinkle tea-tree oil on top to mask the scent.
Id usually start my day at 8am and spend most of the morning sneaking sips of the iced coffee I hid in the sink. Most people didnt want to talk to me, which was fine. Sometimes clients would offer me water, tea, or soda, which I rarely accepted. Even the smallest gestures of goodwill would eventually turn grudging, as they searched with exasperation for a place to set the cup down while I vacuumed.
---
The important details of my clients lives emerged unbidden, without warning, like smells. Or, once, in the form of a sound clip that wafted from my clients laptop. The client had announced herself as a friend of the owner, then led me through a long-unoccupied apartment. Windows had been left open all winter: the books were warped with rainwater; the base of the sofa was scattered with leaves. While I swept, the friend of the owner sat cross-legged on the couch and fiddled with her computer. Suddenly, I heard an audio recording of her own voice through the tinny laptop speaker: This is the first time I have shown my life-altering birthmark to anyone. The oddness of this moment was not just its awkwardness my client moved swiftly to mute her laptop, and neither of us looked up but the fact that I had already seen the life-altering birthmark myself, which was mottled and raised like someone had slung a handful of wet sand at the flesh above her knee.
People left their most important documents face-up on hall tables for me to see. Receipts for abortions and letters announcing academic probation were pinned to the fridge. The plot points of their lives connected in an instant: sometimes my clients were almost too easy to caricature. There was the young man with a pile of womens underwear by his bed, whose Google history (discovered when I opened his laptop to stream a podcast) revealed a single search for rash from too much sex penis. Or the woman who had converted her lavish living room into a meditation area and reading room filled exclusively with divorce literature. I imagined her as a tremulous, breakable person, with the same shade of tawny hair as her dog.
Because I learned so much without trying, I never wanted to spy. The one time I flipped through a clients diary, it turned out to contain a series of cheery, colourless entries written by a father-to-be. Each was addressed to his unborn child. Mommy is so excited to meet you! one entry began, a sonogram taped to the facing page.
---
My favourite client lived in the West Village. His office was covered in Broadway playbills, tacked to the wall and strung across the mantelpiece like holiday greeting cards. When I dusted his bookshelves, I found that his books were not real: they came away in discrete sections, hollow volumes fused together at the spine. I could tell he had big feet from his clown-size shoes, which were lined up neatly by the door. I imagined a big, slow, clean-fingernailed man bending over with considerable effort to place his loafers toe to toe. His bedroom had a very large walk-in closet: XXL sweatpants, gym shorts, and complimentary T-shirts from conferences and car washes and diners hung delicately on individual clothes hangers like formal wear. The desk in his study was empty, except for the manuscript I found in one of the drawers. It was a novel that opened with a deathbed scene, in which family members gathered at the protagonists bedside and took turns making tearful expressions of guilt.
Once, while vacuuming the base of a corner shelf that held a collection of commemorative snow globes, I found a wallet-size photo of a woman clipped to a death certificate. She wore pearl earrings and had light brown hair and nice eyes. The cause of death was listed as murder. Upstairs, on the mantle in the main living space, where one might have placed a wedding photograph, I found a letter from Mayor Giuliani expressing his condolences to the families of September 11 victims.
I was gently wiping a porcelain Bo Peep figurine on the mantelpiece near the death certificate when my elbow knocked a glass candlestick. It fell to the floor and shattered. I was supposed to call the boss if anything like this ever happened, but I panicked and swept the pieces into a miniature dustpan I found leaning against the fireplace. The candlestick had been small and forgettable, about the size and colour of a juice glass. The dustpan, however, was curiously clean so clean that I suddenly realised that it, too, was probably decorative.
I called the musician friend who had got me the job. I broke something, I said. What do I do?
Ah, he said. You absolutely have to call her right now.
I broke something, I blurted when the owner of the cleaning company picked up her mobile phone.
Dont move, Ill be there in 10, she said. Like a superhero, she was already in the neighbourhood. When she arrived she slid noiselessly inside and scanned the room with wild eyes, as if expecting to see a dead body. When she saw the candlestick, she relaxed.
Eh, she said, nudging a shard. This is probably the least expensive thing he owns.
Read more: www.theguardian.com