Election experts lay out the possible but unlikely next steps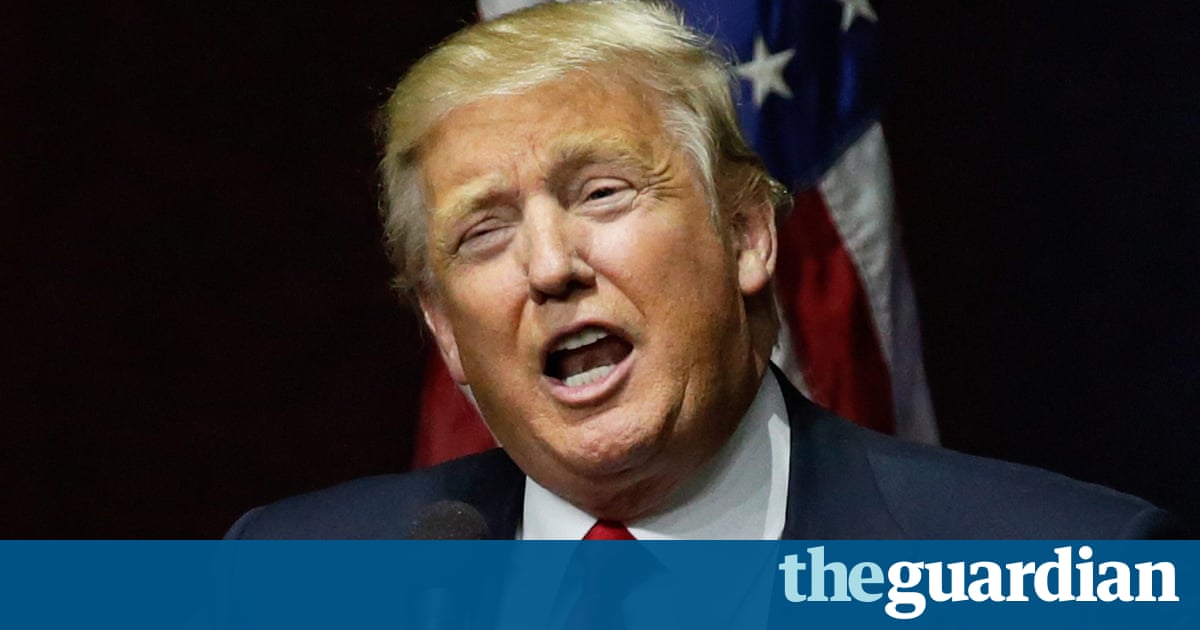 On Saturday, Donald Trump firmly rejected calls from within his party to withdraw from the presidential race.
But what if he were to withdraw?
Disillusioned Republicans have teased the idea for months, but after the release on Friday of video and audio from 2005 that showed Trump boasting in lewd terms about attempting to fuck a married woman and grabbing women by the pussy, a wave of congressmen and women openly called on their partys nominee to quit.
John Thune, the third-ranking Republican in the Senate, led the call for Trumps running mate to take over, writing on Saturday afternoon: Donald Trump should withdraw and Mike Pence should be our nominee effective immediately.
The Guardian confirmed with multiple sources that a meeting of the Republican National Committee took place on Friday night, to explore ways to get Trump off the ticket. The meeting broke up without reaching an answer.
Experts contacted by the Guardian said that with exactly one month until election day and early voting having let hundreds of thousands of Americans make their choice already, replacing or removing Trump is implausible but not impossible.
This is mass suicide any way you cut it, said Jim Bopp, a prominent conservative lawyer. However, he said, RNC guidelines authorize members to fill any and all vacancies which may occur by reason of death, declination, or otherwise of the Republican candidate for president.
That in effect means that to be replaced as nominee, Trump would either have to die, be found to be incapacitated or voluntarily step down.
Trump frequently boasts about his good health and stamina. In interviews with the Washington Post, the Wall Street Journal and the New York Times on Saturday, he vowed to stay in the race.
Ive never withdrawn in my life, Trump told the Post. No, Im not quitting this race. I have tremendous support.
Later, in a tweet sent from Trumps own phone, the billionaire made the point even more emphatically: The media and establishment want me out of the race so badly I WILL NEVER DROP OUT OF THE RACE, WILL NEVER LET MY SUPPORTERS DOWN!
Some observers have raised the possibility that the word otherwise could be stretched to apply to a situation in which the Republican nominee is disliked by a large swath of the party. Experts, however, seem to agree the language of the RNC rules only allows the party to fill a vacancy, not create one.
If Republicans tried to change the rules now, Bopp said, it would probably incite chaos and further inflame Trump supporters, many of whom wholeheartedly believe the political system is rigged against them and their candidate.
There is no authority in the RNC rules to remove a candidate for president or his vice-president, Bopp said. There is only the authority if a vacancy arose then they have the authority to fill that vacancy.
Vikram Amar, dean and Iwan Foundation professor of law at the University of Illinois College of Law, discussed a largely fantastical scenario in which Trump could remain at the top of the ticket but pledge to declare himself incapacitated and allow Pence to take over as president if their ticket prevails.
Under the 25th amendment, the president can declare [him or herself] disabled, Amar said. In that case, technically Trump would be president and Pence would be acting president with the full authority to exercise all of the powers and duties of the president.
Amar said this would be the least disruptive option for the RNC to pursue, because it would not require attempts to change the nominee after ballots in many states have been printed. Trump, he added, would be bound by his word if he promised Republicans he would step down and allow Pence to take over after winning the White House.
Regardless of whether Trump withdraws, Rick Hasen, a University of California-Irvine professor who runs the Election Law Blog, said Republicans had one Hail Mary pass left: the electoral college.
Writing on the blog, Hasen said: When we cast our votes for president they are actually cast for electors from each state (based roughly on population size) who then cast ballots for president. If Trump is chosen in some states, those electors could vote for Pence, or Romney, or Kasich, or whoever.
There are laws that bar faithless electors from voting for a candidate who did not win the popular vote in their state, but Hasen argues that in the event of a Trump victory, neither the Republican-controlled Senate nor the courts would be likely to object.
That scenario, however, would also require an extraordinary confluence of events that look increasingly hard to pull off, including Trump withdrawing or the party abandoning him, electors placing faithless votes and Hillary Clinton earning fewer electoral college votes than Trump.
All of this is possible, but not bloody likely, Hasen wrote.
Ultimately, RNC officials appear reluctant to engage with any suggestion that Trump be removed from the ticket. Chairman Reince Priebus was in New York on Saturday, helping Trump prepare for Sundays second presidential debate, rather than attending an event in Wisconsin with the House speaker, Paul Ryan.
Your sources are wrong, an RNC spokesman, Sean Spicer, tweeted at a journalist who reported that party staffers were meeting to draw up contingency plans in the event Trump dropped out or was replaced.
Given that there is one month left until election day, Bopp said, and voting is under way in a number of states, any change to the ticket is likely to throw Republicans into a worse state of disarray. He added that a new nominee would have a terrible time building a fundraising apparatus in time to affect the course of the election, which appears to be careening into Clintons favor.
Theres no viable alternative to a Trump candidacy for president, Bopp said.
Additional reporting by Ben Jacobs in St Louis
Read more: www.theguardian.com