The Chinese real estate billionaire is storming into the film industry, but his ties to the Communist party have some suspecting a bid for cultural influence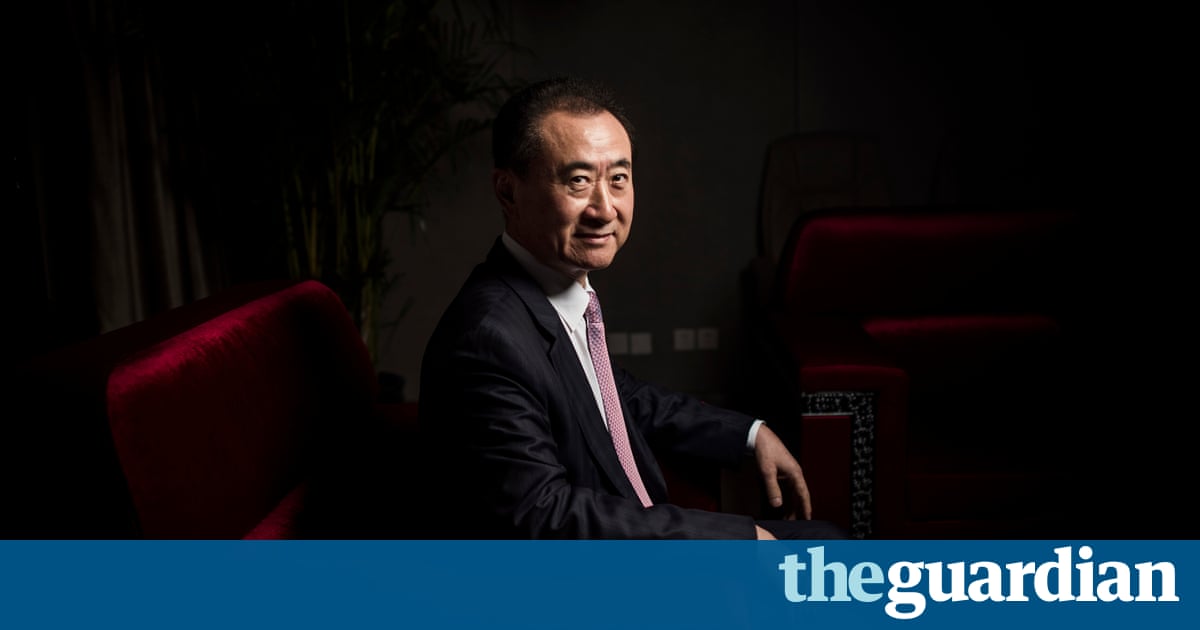 Chinas richest man, Wang Jianlin, didnt mince words in a major address to Hollywood on Monday. Hollywood, which is famous for its storytelling, apparently is not as good as it used to be in telling stories, he said, citing the industrys obsession with sequels and remakes.
Those sequels might have worked before, but Chinese audiences are more sophisticated now. If you want to participate in the growing Chinese market, you must improve film quality.
To those familiar with Wang, the chairman of the Dalian Wanda Group, a sprawling real estate company attempting to transform itself into a global entertainment brand, the forceful tone didnt come as a surprise.
Since acquiring AMC Entertainment, the second-largest cinema chain in the US, for $2.6bn in 2012, Wang, who is worth an estimated $32.5bn and has ties to the communist Chinese government, has been aggressively staking his claim on the industry. So far, hes snapped up Europes biggest cinema group, Odeon and UCI, purchased the US production house Legendary Entertainment (the company behind the Dark Knight trilogy and Jurassic World), and boasted that he intends to soon buy one of the six major US studios. Currently, Wang is said to in preliminary talks to purchase Dick Clark Productions, producer of the Golden Globe Awards, American Music Awards and Billboard Music Awards.
Following introductions from Cheryl Boone Isaacs, president of the Academy of Motion Pictures Arts and Sciences, and the Los Angeles mayor, Eric Garcetti (he referred to Wang his friend), Wang launched into his companys plans to offer a 40% production rebate for foreign and local films and television shows at his huge new film studio in eastern China (expected to cost $8.2bn and open in 2017). This metropolis will actually increase opportunities for Hollywood, Wang said. This is an opportunity for Hollywood, not competition for Hollywood.
Wangs takeover of Hollywood, however, has attracted a fair share of scrutiny from US lawmakers concerned that he is providing the Chinese government a platform to promote communist ideologies.
Expanding Chinas cultural influence and cultural soft power around the world is a goal of the party, says Michael Forsythe, a Hong Kong-based New York Times journalist who has spent years investigating the billionaires business dealings. I dont think anybody would dispute that. And he is certainly doing that. Its pretty clear that is what he is doing.
Forsythe claims Wang, who has been a member of the Communist party since 1976, was quick to react to a meeting of top party leaders in October 2011, which focused on ways to boost the countrys cultural soft power overseas. Just a few months later, Wang closed the deal to buy AMC Entertainment.
Last month, 16 US congressmen signed a letter to encourage greater scrutiny of Chinese investment in American industry, citing Wandas investments in AMC and Legendary Entertainment. In the letter, John Culberson, the chairman of the House subcommittee on commerce, justice, science and related agencies, asks assistant attorney general John Carlin to consider changes to the Foreign Agents Registration Act that would allow US authorities to monitor Wandas acquisitions more closely citing Wangs close relationship with the Chinese government and Communist party. The affiliation has profound implications for American media, the letter reads.
The letter and editorial arrived months after Richard Berman, a lawyer and public relations executive, launched a campaign called China Owns Us, which paid for a billboard on in the heart of Hollywood that reads: Chinas Red Puppet: AMC Theaters. The groups underlying concern, per its mission statement, is that Chinas investments in the United States coincide with the promotion of pro-China propaganda at Americas expense.
Not everyone is buying into the fear stoked by the backlash to Wangs move into Hollywood. Adam Minter, who serves as an Asia-based columnist at Bloomberg View, argues that Wang has no business case in exporting Communist dogma to Hollywood.
Unless you can give me a business case for why Wanda would do this, it just seems to me bringing propaganda to the US that doesnt sell in China is about as good a business model as bringing spoiled food to the US that wouldnt sell in China, says Minter. Chinese people arent interested in it and neither are Americans.
To prove his point, Minter points to The Mermaid, Chinas biggest ever film. The blockbuster is a wholly original comic fantasy with no propagandistic undertones. And although Beginning of a Great Revival: The Founding of a Party, a retelling of how Chinas first communists banded together to change a country humiliated by foreign powers, performed well in China in 2011, reports allege that cinemas were ordered to secretly inflate their sales, ensuring the propagandist epic was a hit.
Read more: www.theguardian.com