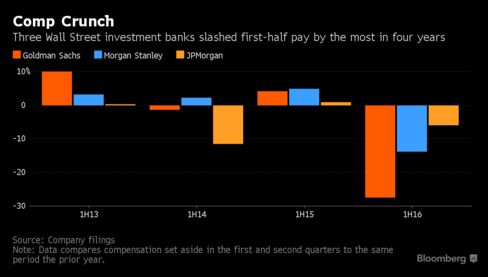 Three of Wall Streets largest investment banks slashed their first-half compensation pools for employees by the most in at least four years.
Goldman Sachs Group Inc., JPMorgan Chase & Co. and Morgan Stanley collectively reduced the amount of money they set aside for employee pay in the first and second quarters by 17 percent to $19 billion to shore up profits, according to data compiled by Bloomberg from regulatory filings. Thats a steep drop from last year, when the three firms investment-banking divisions increased first-half compensation 4 percent to $22.9 billion.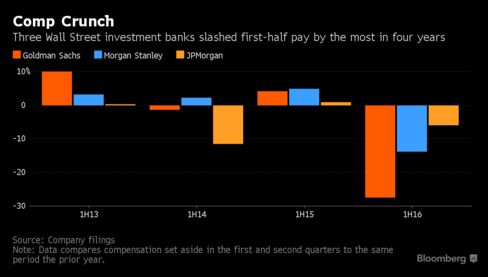 Goldman Sachs cut the most, reducing the amount set aside for workers by 28 percent to $5.99 billion through June 30. Morgan Stanley clipped its pool by 14 percent to $7.7 billion and JPMorgan by 6 percent to $5.3 billion. Citigroup Inc. and Bank of America Corp. dont break out compensation for their investment banks.
Wall Street firms have been focusing on costs as market turmoil prompts some investors to pull back and discourages dealmaking and as persistently low interest rates and stiffer regulation undermine revenue. While JPMorgan and Goldman Sachs saw increases in first-half trading revenue, other areas of investment banking including underwriting and advisory have lagged behind.
Morgan Stanley cut staff by 2 percent in the first half to a total of 54,529 employees as of June 30 — the biggest reduction of its competitors. The company has been shrinking commodities and bond-trading operations, and was alone among the five largest Wall Street banks in not posting gains this quarter in its overall securities trading business compared with a year earlier.
Larger job cuts can result in higher compensation for remaining employees. The substantial reduction in the size of the pools, though, has meant compensation per employee has also decreased.
Goldman Sachss average first-half compensation per employee fell 29 percent to $168,650 and Morgan Stanleys declined 12 percent to $140,865. JPMorgans investment bank slide was smaller, with compensation dropping 3.7 percent to $109,069. Across the three firms, average compensation fell 16 percent to $137,750.
The average compensation figures were derived by dividing the total compensation pool by the number of employees, and dont represent individual workers actual pay.
Read more: www.bloomberg.com