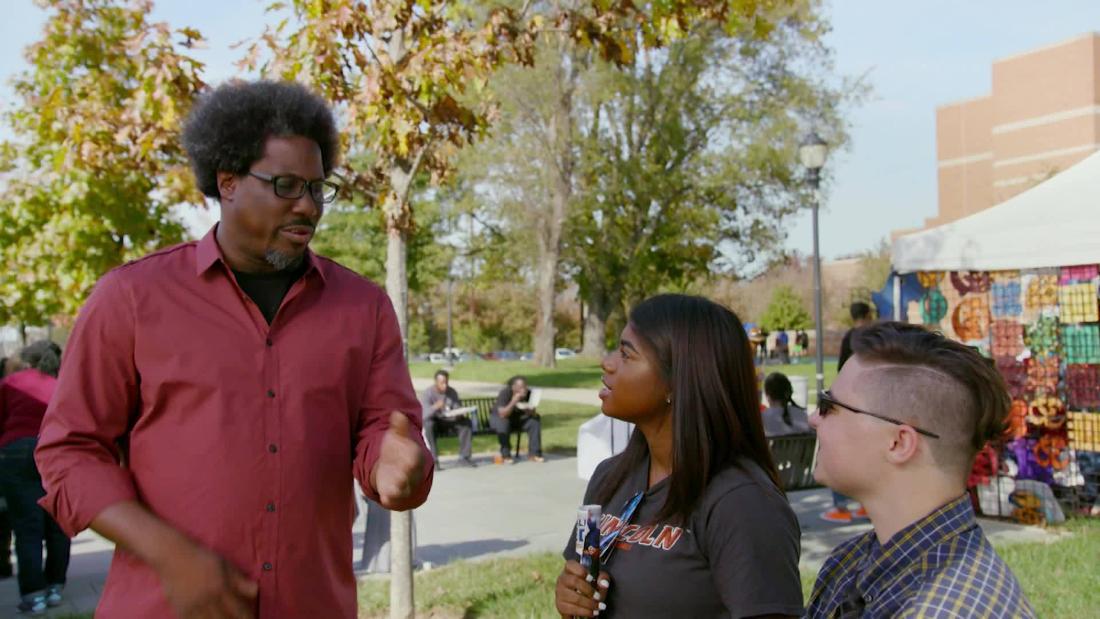 (CNN)As part of the "United Shades" episode about historically black colleges and universities, known as HBCUs, I talked to Howard University grad and tech innovator Jewel Burks, whose startup Partpic was acquired by Amazon a few years ago. Among all the folks I talked to, Jewel perfectly encapsulated the importance of the history of HBCUs and their relevance today. She said she felt like an HBCU campus was the only place she could truly be herself in college — not her "black" self, but herself self.
Like black people in America historically did with food, music and religion, we took what we were given and seasoned it, repurposed it, put some funk on it, and turned it into something brand new.
HBCUs
produce
more black medical students, more black Ph.D.s, more black professionals than predominantly white institutions (also known as PWIs). But for me, after visiting Lincoln University in Pennsylvania and Morris Brown College, Spelman College, and Morehouse College in Atlanta, my big takeaway was that despite my previously ignorant assumptions about HBCUs, they aren't just graduating black people in crisply tailored suits who think they are better than me. (In my mind, they were all the suave, Steve Urkel alter ego,
Stefan Urquelle
.) Yes, those students go there, but HBCUs are also hubs for black weirdos, black nerds, black bohemians, and well, regular old Steve Urkels.
Each of the
101 HBCUs
currently up and running has its own particular story of how it was founded, how it is being run, how it is seen in their community, how it is seen by black people nationally, and how it is preparing for the future.
HBCUs are really only connected by one thing, the black struggle to greatly improve our circumstances in this country. That is a huge thing to be connected by, but how it happens is open to interpretation, which is why there are so many different types of HBCUs. Morehouse College is a men's college. Spelman College (across the street from Morehouse) is a women's college. Clark Atlanta, which shares a plot of land with Morehouse, is co-ed. Obviously, that means these three colleges are serving very different needs within the mission of creating and promoting black excellence across the known and unknown universe, but they are still connected by more than just a ZIP code.
And these three institutions are all in Atlanta, so that means that no matter what they are doing, they are steeped in "Hotlanta"-ness. They are in the black capital of the South, one of the great black cities of the United States.
Accreditation is how other universities, other colleges, institutions and employers take all your gold-embossed, heavyweight paper diplomas seriously. Losing its accreditation doesn't necessarily mean the quality of instruction has gone down, but it is much like a restaurant that the health inspector has deemed not suitable for dining. The food may be great, but people aren't generally flocking to eat there anymore.
I met a math professor at Morris Brown named Henry Porter who has been teaching for free there for 14 years, because he is a 1959 graduate of the school. He knows how much Morris Brown meant to him as a student, so he has pledged to teach for free until it straightens out its finances and, as he told me, "get right again."
So the question becomes, why should they stay open? Should Morris Brown just close its last few doors and let the students there go elsewhere? The people I talked to at Morris Brown and my CNN labelmate Angela Rye say no.
That's because Morris Brown College has its own firsts. It is the first institution of higher learning founded in Georgia by and for black people. So without Morris Brown's example, maybe we might not have the more well-known HBCUs of Morehouse, Spelman and Clark across town.
Also, Morris Brown is specifically serving a different kind of student. The students I met there are older. They have day jobs. They are either returning to college after a long break or coming for the first time after maybe believing college wasn't for them. We need those colleges, too, along with the more traditional "straight out of high school and then onto changing the world" institutions. Basically we need a place I would feel more comfortable going to if I were to go back to college today. Saving Morris Brown saves an important part of our history, and it also saves an important choice for our students. But how do we save it?
Another CNN labelmate, Marc Lamont Hill, gave me a possible answer. In the episode, he made a point that many people of means love, love, LOVE to give money to colleges they never went to (or never could have even gotten into), because it is fun to be a rich person with your name on a building at Harvard. Marc said black people of means should do the same for HBCUs: We need to recognize publicly and financially the importance of these places to our history and our future.
After shooting this episode, I regret not going to an HBCU. My whole life would probably be different. I'd be the funny venture capitalist with a heart of gold, or P. Diddy, or Samuel L. Jackson. I COULD HAVE BEEN SAMUEL L. JACKSON! Maybe Morris Brown has online classes. And if they don't, maybe I, as a black person of means, should help make that happen.
Read more: www.cnn.com