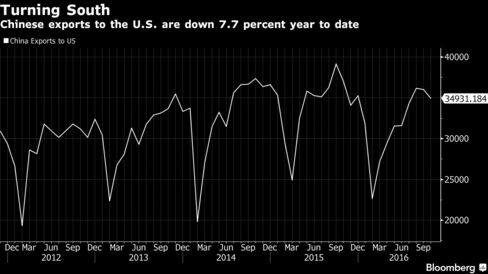 "You must unlearn what you have learned."
When it comes to the Chinese trade surplus with the U.S., the sage advice from Yoda — himself an American export of sorts — is right on the mark.
Thats because the infamous American trade deficit with China is actually starting to shrink.
While the improvement is tentative, and Americans continue to buy more goods from China than they sell back, it marks a narrowing of a gap thats been a lightning rod for criticism during the fractious U.S. presidential election campaign. Republican nominee Donald Trump has promised to impose punitive tariffs on Chinese imports and Democrat Hillary Clinton has accused China of unfair trade practices.
Data on Tuesday show Chinese exports remain in a funk, falling in October for the seventh month in a row. Overseas shipments slumped 7.3 percent from a year earlier in dollar terms and exports to the U.S. fell 5.6 percent. With imports from America down 6.9 percent last month, Chinas trade surplus with the U.S. came in at $208 billion for the first 10 months of the year, slimmer than the $218.3 billion in the same period last year.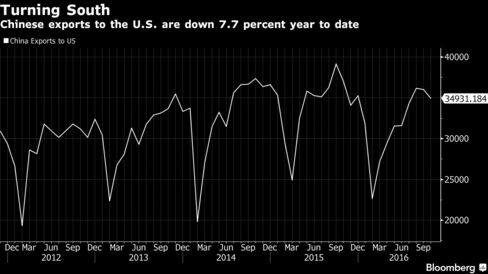 "There is no economic reason to worry about bilateral trade deficits, no matter what politicians say," said Peter Petri, professor of international finance at Brandeis International Business School in Massachusetts. The bigger issue is the overall balance that captures the total flow of goods, services and money between nations, according to Petri. On that score, it is worth noting that Chinese investment into the U.S. has hit a record pace this year.
Wont Disappear
"The bilateral deficit with China is likely to continue, since China is efficient at producing consumer goods and the U.S. is prosperous enough to buy them." Petri said. "The deficit will probably decline as Chinese wages and purchasing power rise."
Last week, U.S. data showed a $258 billion trade deficit between the worlds two biggest economies from January through September. While still large, thats down from $275 billion for the same period a year earlier, a drop of 6.3 percent. American imports of Chinese goods have fallen 6.1 percent year-to-date, to $337 billion.
Criticism of China includes charges that the government in Beijing deliberately keeps its currency weak to aid exporters and props up loss-making state-owned steelmakers that dump their product onto global markets at cut-throat prices.
Even on that score, there was some improvement in Tuesdays data. The unprecedented surge in steel exports from China is starting to recede after prices rallied in the top producer, boosting the attractiveness of local sales against shipments overseas.
Trump Tirade
Trump has called China a "grand master" at currency manipulation and vows to impose trade tariffs of up to 45 percent if elected. China is also accused of blocking foreign investment even as its own companies, often with government support, buy overseas assets at a record pace.
"If Trump wins, trade will be severely affected, not only for China, but also globally," said Iris Pang, senior economist for Greater China at Natixis SA in Hong Kong.
For more on how Chinas changing economy shows that Trumps rant is dated, click here
Chinas economy is also changing away from the well-known template of a country that relies heavily on cheap goods made for export. Public investment and consumption were the key pillars to the countrys stable 6.7 percent growth last quarter, and services now account for more than half of the nations $11-trillion economy.
While the U.S. continues to have a gaping goods-trade deficit with China, its exports of services to the country are growing rapidly. Between 2006 and 2014, they climbed more than 300 percent.
"The trade deficit reflects the nature of the economy chosen by each country," said Ann Lee, author of What the U.S. Can Learn From China and an adjunct professor of economics and finance at New York University. "The U.S. has chosen service industries, especially banking, real estate and social media. Much of it is not exportable. China has chosen to produce hardware and consumer products in the past and infrastructure equipment and high tech systems now. All of those are exportable."
Read more: www.bloomberg.com