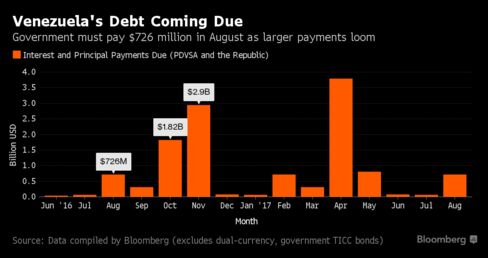 Venezuela, which has the largest crude reserves on the planet, has defied predictions of default since the oil collapse started in 2014 and analysts are split as to how long the nation of 30 million can hold out. With that in mind, Bloomberg is taking a close look each month at some of the key components that may determine its fate.
Debt Payments
The government and state oil company Petroleos de Venezuela SA need to pay $726 million this month after lighter payments in June and July, according to data compiled by Bloomberg. Attention will now start to shift toward the last quarter of the year, when interest payments totaling almost $5 billion come due.
Whether or not Venezuela can avoid a default may depend on if the government and PDVSA officials can strike a deal to refinance debt coming due over the next year. Rumors are swirling, and investors have been paying close attention. A deal wont come cheap, though, as PDVSA would need to offer bondholders securities that boost the net present value of their investment.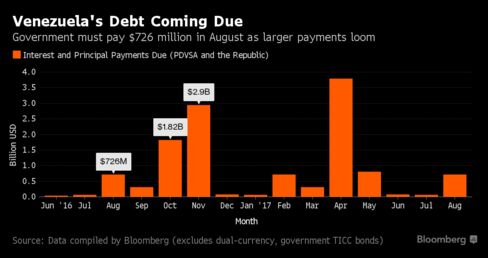 Bond Prices
Venezuelas dollar bonds nearing maturity rallied on speculation of an imminent debt swap, with PDVSAs bonds due in November 2017 rising 11.3 percent in July to 77.6 cents on the dollar and a yield of 31.5 percent.
Longer-dated bonds were more stable last month. The governments benchmark notes due 2027 ended the month trading at 48.17 cents on the dollar and yielding 21.8 percent. The price fell about 0.8 percent in July, demonstrating how the volatile situation in the country can create big winners – or losers – on Wall Street, depending on the maturities of the bonds you hold.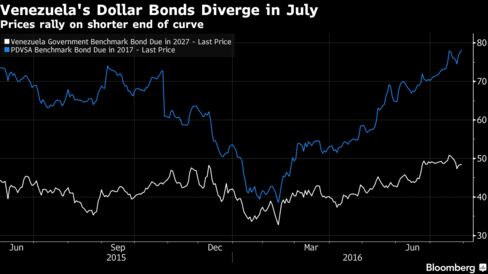 For a QuickTake explainer on Venezuelas economic and political crisis, click here.
Credit-Default Swaps
Trading in credit-default swaps show that investors continue to lower short-term default expectations. While Venezuela is still by far the most likely country to default in the world, the implied probability that it happens over the next 12 months fell to 49 percent on July 29 from 56 percent at the end of June and 83 percent in February. The probability of a default in the next five years is 91 percent, according to credit-default swaps. Highlighting the still very real risk of nonpayment, Moodys Investors Service warned on June 20 that it was highly unlikely that Venezuela would have enough hard currency to fully make its debt payments this year.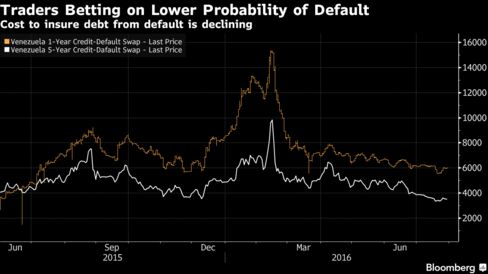 Central Bank Reserves

Venezuelas international reserves fell to a new 13-year low in July, falling below $12 billion for the first time since 2003 to end the month near $11.8 billion. Reserves fell about $247 million in July after declining $68 million in June and $607 million in May, according to data compiled by Bloomberg.

Currency Rates
Venezuelas weakest official exchange rate, used mostly for imports deemed non-essential, stabilized in July, declining only 2.6 percent to 644.3 bolivars per dollar after plunging 15 percent in June and 29 percent in May. The complementary system, known as Simadi or DICOM, accounts for about 8 percent of the governments hard currency sales. The rest of Venezuelas greenbacks are sold at the priority rate of only 10 bolivars per dollar.
The devaluation of the currency decelerated to the slowest monthly pace since February, giving credence to economy Vice President Miguel Perez Abads comments in a May interview that the DICOM exchange rate was close to reaching equilibrium. It still needs to fall another 35 percent before it catches up with the illegal, black-market rate, though.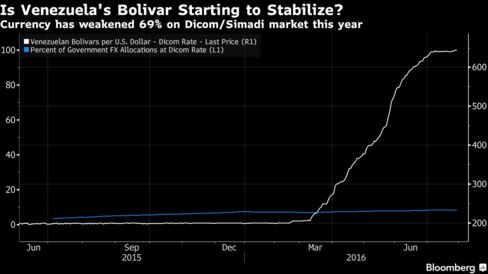 Crude Prices
The price Venezuela receives for its oil exports had started to stabilize earlier this year and ended June 66 percent higher from a low in January. It didnt last. The Venezuela crude oil basket fell 13 percent in July, the first monthly drop since January, ending at $35 a barrel. Still, concerns are starting to grow that overall revenue may suffer as crude output falls. Eulogio Del Pino, the countrys oil minister and president of state-owned producer PDVSA, told Bloomberg Television on June 16 that current oil prices would be enough to avoid a default.

To hear a podcast about Venezuelas ongoing political and economic turmoil, click here.
The Latin American Reserve Fund, financed by eight Latin American central banks, last month agreed to lend Venezuela $482.5 million. A growing constitutional standoff between the opposition controlled National Assembly and pro-government Supreme Court, however, could increase uncertainty about holding government debt.
Alfonso Marquina, an opposition deputy and head of finance committee, on July 21 warned investors that any new debt or restructuring not approved by the national assembly would be null and void.
This week the National Electoral Council is expected to announce the next step required for the opposition in order to proceed with a referendum to recall Maduro as early as this year. His current presidential term doesnt end until 2019.
Read more: www.bloomberg.com