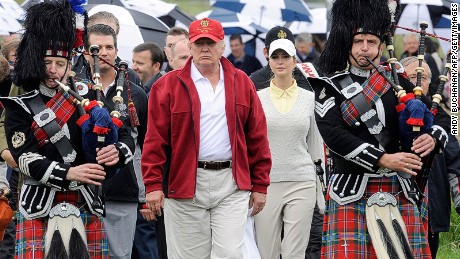 Washington (CNN)Donald Trump travels to the UK and Ireland later this month to officially open one luxury golf course in Scotland and visit others, a break from his blitzkrieg campaign that carries risks and opportunities.
Presidential candidates have long used foreign travel to project a statesman-like image, burnish their foreign policy credentials, divert an unpleasant media storyline or take a break from the hyper-vigilant coverage at home.
But for every triumph, there are often pitfalls. Trump faces the prospect of a hostile Irish Prime Minister when he makes a stop in that country. Scotland's First Minister has already announced she won't meet him. And people might not care he's there: He's arriving the day before a crucial political turning point for the UK that will determine its future.
While then-presidential candidate Barack Obama basked in the roaring approval of 200,000 Berliners in 2008, Republican nominee Mitt Romney's 2012 trip to the UK was a laundry list of gaffes — including questioning Britain's ability to adequately secure that summer's Olympic Games — that left him mocked and maligned.
Trump's global real estate holdings, his ownership of the Miss Universe pageant — not to mention his private Boeing 575 — means he has international experience in at least 18 countries as far-flung as the United Arab Emirates, Panama and the Republic of Georgia. But it is also far from the traditional foreign policy-oriented background that elected officials seeking the highest office often have.
So like others before him, the presumptive Republican nominee is participating in the ritual of foreign trips by presidential candidates, a practice meant at least in part to provide photos in exotic locations symbolizing a candidate's ease with foreign issues. It's a particularly important message in a campaign cycle when foreign issues such as Russian aggression in Ukraine, Chinese assertiveness in the South China Sea and international terrorism has gripped voters.
Trump will formally re-open the Turnberry golf resort in southwestern Scotland on June 22, he announced in a tweet. He'll then travel to Aberdeen to visit Trump International Golf Links, which he called @TrumpScotland.
He'll round out the visit with a stop at his "magnificent" Doonberg, Ireland, golf resort, he also tweeted Thursday.
In what could be a stark and unflattering contrast for Trump, he will be in Ireland at the same time as Vice President Joe Biden. The most prominent American Irish Catholic politician, Biden is beloved in Ireland for his success, his warmth and his frequent public celebrations of his heritage. He'll be feted as a U.S. dignitary, possibly overshadowing Trump, who is unlikely to get the same sort of reception and won't have the same reservoir of goodwill to draw upon.
Just days ago, Irish Prime Minister Enda Kenny denounced Trump in parliament for making remarks that he said were "racist and dangerous."
His comments, as well as Trump's labeling Mexicans entering the U.S. "rapists," also seemed to hurt the fortunes of the Turnberry golf resort that Trump bought in 2014 for some $50 million and then spent almost $290 million renovating.
The property features a presidential suite that guests can occupy for $5,000 a night and the Donald J. Trump ballroom, which publicists have described as "the most luxurious meeting facility anywhere in Europe."
The British newspaper The Independent reported that following the candidate's comments on Mexicans and Muslims, a group that governs golf in the UK decided not to go forward with a plan to return a prestigious tournament to Turnberry in 2020.
The paper reported that British golf officials found Trump's reputation so "toxic" that they feared it would hurt sponsorship deals and that tournament players would pull out. Sturgeon rescinded Trump's status as a business ambassador and the Robert Gordon University in Aberdeen stripped him of an honorary degree it had earlier awarded.
Despite these and other incidents that have attracted British attention to Trump in the past, Kamarck said he wasn't likely to draw a great deal of notice on this trip given how focused the country is on the June 23 referendum.
"I can't imagine he would have any real impact in Britain," she said.
CORRECTION: An earlier version of this story used an incorrect pronoun to refer to Irish Prime Minister Enda Kenny.
Read more: www.cnn.com