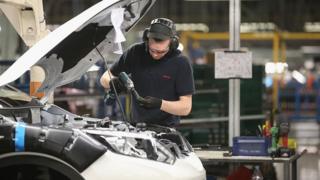 The number of cars made in the UK fell last month after domestic demand plunged due to what the industry body called a "perfect storm of events".
Production fell 5.5% in June – driven by a 47.2% drop in production for the UK market, according to the Society of Motor Manufacturers and Traders (SMMT).
The SMMT blamed preparation for new emissions tests and new car models for what it said was a "one-month anomaly".
Longer term, UK car production was as expected, the industry body said.
SMMT chief executive Mike Hawes said June's figures "demonstrate the risks of judging automotive performance one month in isolation, with numerous and varied factors creating a perfect storm for home market output".
More than eight out of ten cars made in Britain are exported and the SMMT said that this had continued to drive production with overseas orders helping to "bolster disappointing domestic demand".
It said overseas orders were "broadly stable" in the first half of this year, meaning car production was down just 3.3% for the first half of the year.
But Mr Hawes said the reliance of the UK market on exports demonstrated the importance of the industry's "dependency on free and frictionless trade".
He said any disruption to this due to Brexit "risks undermining" this.
The SMMT said last month that investment in the industry had fallen by half with Brexit uncertainty "thwarting" decisions by major car companies to put more money into UK factories.
But Mr Hawes said that the UK's government's latest Brexit proposals were "a step in the right direction to safeguard future growth, jobs and consumer choice".
Read more: www.bbc.co.uk