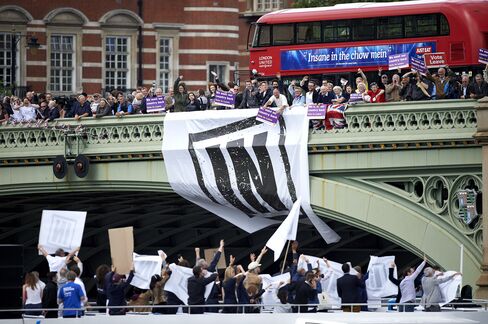 Campaigners for the U.K. to leave the European Union poured scorn on the governments bleak vision of a post-Brexit Britain, as anxiety about next weeks knife-edge referendum spread to the Federal Reserve.
Justice Secretary Michael Gove, one of Brexits leaders, rubbished the austerity budget that the Remain camp says will be necessary to shore up public finances if the U.K. votes to leave. The plans main author, Chancellor George Osborne, is fighting a growing rebellion as lawmakers from his Tory party lined up to reject the proposed tax hikes and spending cuts.
QuickTake Will Britain Leave the EU?
Osborne will seek to stem the revolt in a keynote speech at the Mansion House in the City of London on Thursday evening. Hell be joined there by another leading advocate of staying in the EU: Mark Carney, governor of the Bank of England, which will announce an interest-rate decision earlier in the day. Carneys U.S. counterpart, Janet Yellen, said Wednesday that concern over a possible Brexit played a part in the Federal Reserves decision to hold back from raising rates.
With a week left before the vote, five of the last six published polls have showed Brexit ahead, a prospect that has unnerved investors. Global markets steadied on Wednesday and U.K. stocks pared losses. Still, from the Fed to EU headquarters, policy makers are preparing for the fallout.
For an explainer on what happens in the first days after Brexit, click here
Yellen said that the Brexit vote could have consequences for economic and financial conditions in global financial markets. The foreign ministers of Germany and France said that the EUs two most influential members are ready to act to stabilize the bloc.
In the U.K., Gove said he wouldnt support Osbornes post-Brexit austerity plans because theyre based on fear-mongering.
What weve heard from the Remain campaign throughout this whole campaign have been dire warnings of the British people taking control of their own destiny, he said in a BBC television referendum special. He said manufacturers and entrepreneurs have confidence in the British people — why cant the Remain camp?
Osborne did have some support from the opposition for his budget scenario. He presented it on a platform shared with his Labour Party predecessor, Alistair Darling, and both men warned that a 30-billion-pound ($43 billion) black hole would open in Britains public finances due to reduced trade and investment after leaving the EU.
Fantasy Economics
Claims of benefits from Brexit are fantasy economics. Worse than that, its a deceit, said Darling, who served as chancellor during the financial crisis. Im more worried now, much more worried, than I was in 2008.
Labour finance spokesman John McDonnell will weigh in on Thursday by saying that U.K. households will be 1,300 pounds better off if the country votes to stay in the EU, according to the text of a speech hes due to give in Manchester.
But some of Labours Remain campaigners have also distanced themselves from Osborne: party leader Jeremy Corbyn said he wouldnt vote for the mooted austerity budget. At least 66 of the 330 Tory members of parliament have said the same thing, deepening the partys divisions and raising questions about Osbornes future whatever the referendum result.
As support for Brexit gathers momentum, Prime Minister David Cameron — who called the referendum — dismissed criticism that the pro-EU argument has been too negative and has failed to address immigration, a key issue pushed by Brexiteers.
Youve seen from me a very passionate and strong remain campaign, he told Channel 4 News in an interview. Immigration is a challenge but I think everybody understand you dont solve an immigration problem by wrecking your economy.
Read more: www.bloomberg.com