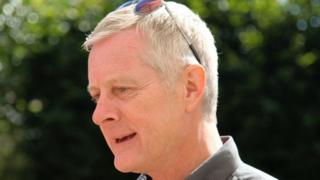 Two men have been jailed for murdering an executive in a botched burglary at his luxury home.
Guy Hedger, 61, was shot dead in the raid at Ashley, Dorset, in the early hours of 30 April 2017.
Jason Baccus, from Bournemouth, and Kevin Downton, from Winterborne Stickland, were convicted unanimously after a two-month trial at Winchester Crown Court.
The pair have been sentenced to life in prison with a minimum of 34 years.
Police said a breakthrough in the case came from DNA found on cigarette butts near the murder scene.
Baccus, 42, and Downton, 40, were also found guilty of aggravated burglary, possessing a firearm and one count of burglary.
They previously pleaded guilty to another count of burglary.
During sentencing, judge Mr Justice Jay described the burglary as "amateurish and incompetent".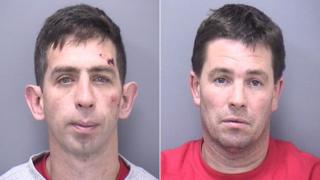 In a victim impact statement, Mr Hedger's husband Simon-Pierre Hedger-Cooper, known as Si, said the final moments of Guy's life were "full of terror, fear and pain".
He said the shooting had "radically changed my life forever – an experience from which I will never recover".
"My life feels empty and full of sadness and darkness," he said.
"Deep and searing pain of never being able to properly say goodbye."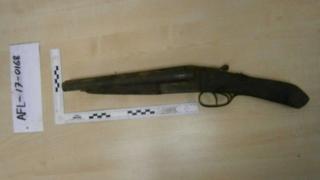 Scott Keeping, 44, from Bournemouth, was found not guilty of murder as well as the other above charges.
His wife Helen Keeping, 40, also known as Helen Cooper, was found not guilty of two counts of assisting an offender.
The trial heard how Mr Hedger and his husband were confronted in their bedroom by two men wearing balaclavas and armed with a sawn-off shotgun.
Mr Hedger was shot when his husband hit a panic button, triggering alarms.
---
Analysis: Peter Cooke, BBC South home affairs correspondent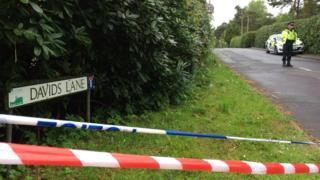 Police admitted for the first 24 hours after the shooting they had no idea who may have been involved. It was what they called a "cold start".
But the major breakthrough came when they found discarded cigarette butts around the corner from Guy Hedger's home.
They contained the DNA of Jason Baccus. Police were then able to identify his known associates and track their movements at the time of the shooting. This led them to Kevin Downton, and Scott and Helen Keeping.
Without the discovery of this crucial forensic link officers said it may have taken them much longer to identify those responsible.
---
In a video shown to the court, Mr Hedger-Cooper said: "I heard an almighty boom, shot, and Guy said 'I have been hit, I have been hit'."
Mr Hedger, the brand and marketing director of insurance firm Liverpool Victoria, died two hours later in hospital from a gunshot wound to the chest.
Diamond jewellery and watches were among items worth more than £120,000 which were stolen in the burglary, near Ringwood.
The court heard the intruders also removed an iPhone and landline in a "callous" attempt to stop Mr Hedger-Cooper calling the emergency services.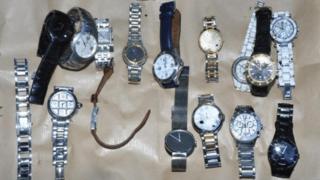 Baccus told the court he had committed domestic and commercial burglaries in the past to fund his drink and drug habits.
In evidence, he also said he had "spent most of my adult life in prison," having started shoplifting at the age of five.
In recent periods out of prison he would stay with Mr and Mrs Keeping at their home in Bournemouth, the court heard.
Police said some of the stolen valuables were found hidden in a chimney breast of their flat.
'Buy cocaine'
Downton, who worked as a carpenter, claimed he had been shopping for a birthday present for his daughter at Toys R Us in Poole on the evening of the murder.
He said he visited "two or three friends" on the way home but declined to name them.
He met fellow inmate Baccus in prison more than a decade ago and would buy cocaine from him, the court heard.
Downton told the court the pair committed commercial burglaries together but denied having ever burgled a home.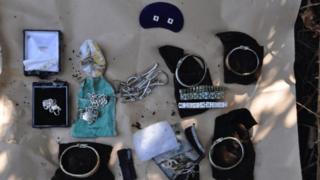 Sentencing the pair, the judge said: "Guy Hedger died in his bedroom when he was shot by you, Kevin Downton. You were an enthusiastic participant.
"You removed two phones from the bedside table. You have a cold ruthless streak and have shown no remorse."
He described Baccus as a "career criminal" who "recruited" Downton as the gunman, and who had also shown no remorse.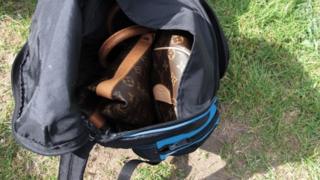 Read more: www.bbc.co.uk