Two sides understood to be preparing to put talks on back burner amid protests over similar EU deal with Canada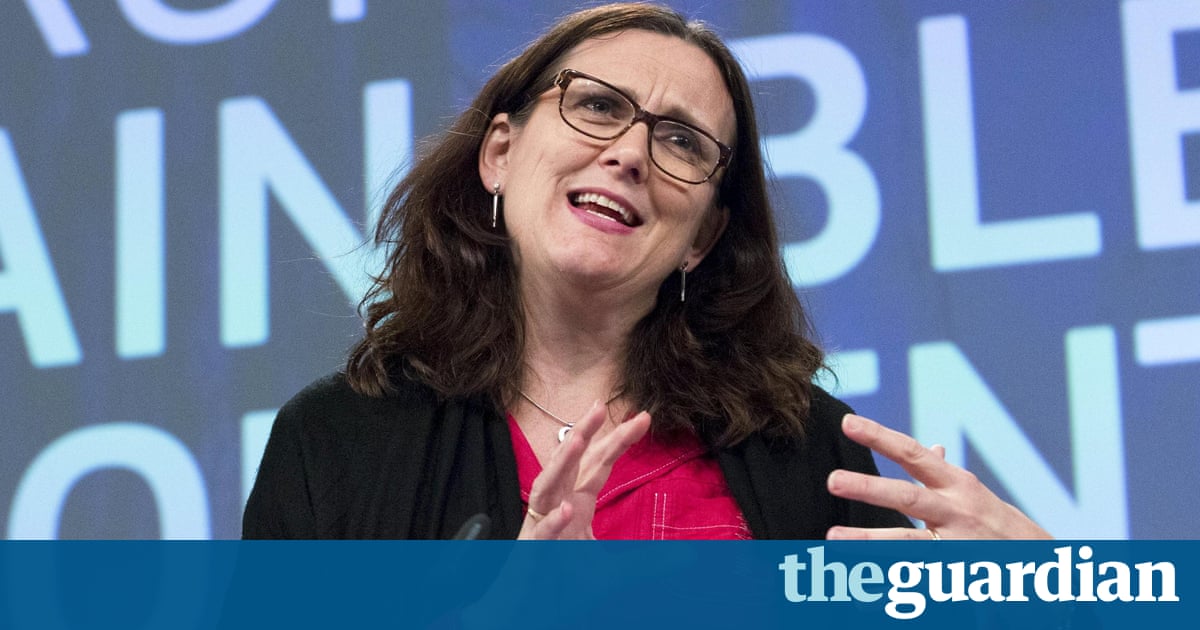 The European Unions trade negotiators are due to meet their US counterparts on Thursday amid growing speculation that talks over the Transatlantic Trade and Investment Partnership have ground to a halt.
The European commissions trade chief, Cecilia Malmstrm, will meet US trade ambassador Michael Froman in a bid to rescue the TTIP talks at a meeting in Brussels on Thursday described as a stocktake of the negotiations so far.
The two sides are understood to be preparing to put the talks on the back burner while policymakers consider complaints about a similar and equally controversial EU trade deal with Canada.
The comprehensive economic and trade agreement (CETA) deal with Canada is due to be ratified by the council of ministers next month prior to being debated by the Strasbourg parliament. But protests in Germany, France and Finland could wreck the agreement and with it the prospects for the TTIP talks.
A gathering in Germany of SPD members next week at a special congress could force the left-of-centre partys leadership to reverse its support for CETA, and trigger widespread revolt across the continent against the deal and its cousin TTIP.
Last month Sigmar Gabriel, the SPD leader and economy minister in Angela Merkels coalition government, said that in my opinion, the negotiations with the US have de facto failed, even though nobody is really admitting it, though he remains a supporter of the CETA deal.
EU officials believe the ailing European economy can only recover with the help of trade deals that harmonise rules and regulations, making it easier to sell goods and services abroad.
A spokesman for the commission said it was aiming to strike a comprehensive deal with the US.
He said: Since the beginning of this year there has been a intensification of contact between negotiators, both at technical and political level.
He denied that negotiators were shedding controversial elements of the talks to secure a deal before the US president, Barack Obama, leaves office at the end of the year.
A quick deal would likely be a scaled down deal that would not include meaningful outcomes for most of the EUs interests. That would mean far fewer benefits for EU citizens. It is in the EUs interest that substance prevails over deadlines, he said.
But Jude Kirton-Darling, Labour MEP for north-east England and a member of the European parliaments trade committee, said the political arm-twisting needed to secure the CETA deal could spell the end for TTIP.
TTIP has been stalled for months, and [Thursdays] meeting is merely a face-saving exercise for both the US and the EU. Political attention in Europe is now really focused on the finalised EU-Canada CETA deal, due to be ratified in the coming months, which up to now has been subject to less public scrutiny but raises many of the same concerns around standards, public services and the rule of law, she said.
Loud public declarations from EU leaders and their opposition to TTIP in recent weeks can only be understood in the context of growing public discontent over the CETA deal. TTIPs life support machine will be turned off if doing so helps to secure a majority in favour of CETA.
TTIP has become the focus of anti-globalisation protests in the US and Europe with both presidential candidates, Hillary Clinton and Donald Trump, accusing the Obama administration of promoting a trade deal that would cost jobs and drive down wages.
The European commission has come under intense pressure to abandon the talks following protests across Europe against provisions that campaigners argue will allow US companies to demand access to public sector contracts. Opponents have also complained that a separate courts system to resolve trade disputes will allow corporations to sue governments when new laws restrict their ability to make profits.
Malmstrm has overhauled the investor-state dispute settlement (ISDS) system used in most trade deals, which anti-TTIP campaigners have described as a secretive courts process for the sole benefit of multinational corporations. She has proposed a more transparent version, which has retrospectively been inserted into the CETA agreement.
The anti-poverty charity Global Justice Now has described TTIP as having little to do with selling more products and being more a charter for deregulation, which threatens to change the way we make decisions about laws.
This week Alfred de Zayas, the United Nations independent expert on the promotion of a democratic and equitable international order, called for all future trade agreements to stipulate the primacy of human rights in a clear reference to the private courts systems included in TTIP and CETA deals.
He said existing treaties should be revised to ensure that they did not conflict with the duty of government to fulfil binding human rights treaties and meet environmental and health goals.
Read more: www.theguardian.com