Following the presidents executive order, at least 109 people were held at airports en route to seeing family, moving to the US or just coming home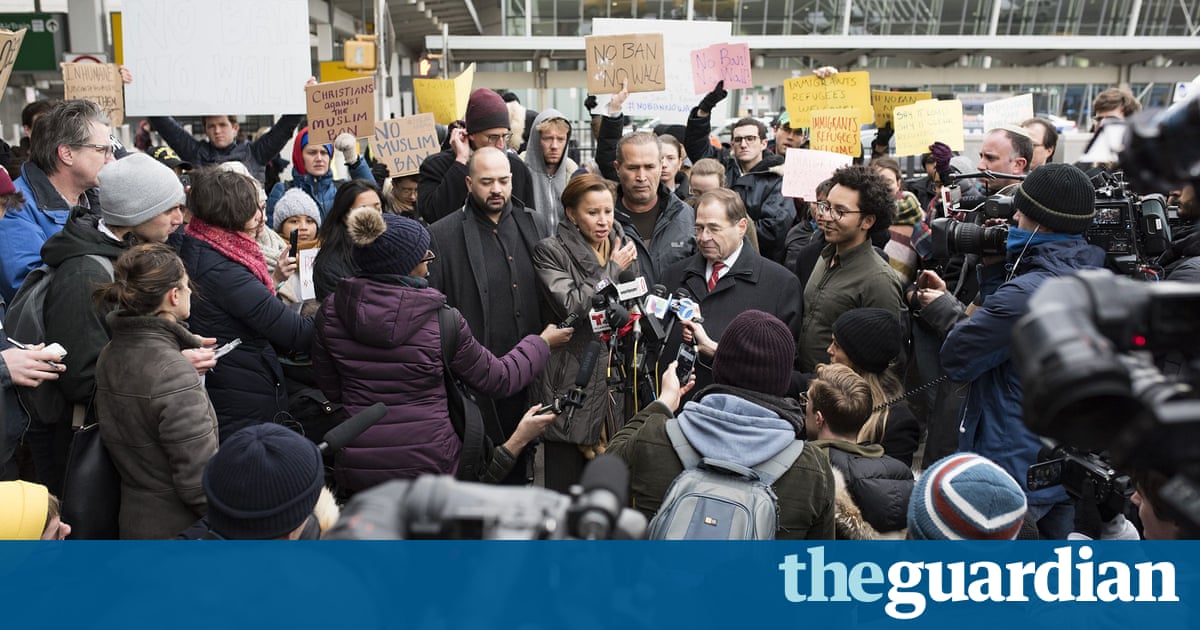 During the chaos that unfolded at US airports over the weekend, at least 109 people were detained, according to Donald Trump, following his executive order banning refugees and travelers of certain nationalities from the US. Advocates project the total number could be much higher. Several legal actions representing the types of incidents that were common were filed over the weekend. Here are the personal stories of some of the faces of that legal action, while lawyers warn that dozens of others faced the same ordeals, but are too frightened to reveal their identities.
Hameed Darweesh granted a visa for his work on behalf of the US government
Hameed Darweesh had a special immigrant visa allowing him into the US, granted specifically because of his work on behalf of the US government in Iraq, according to the American Civil Liberties Union.
Darweesh, a husband and father of three, risked his life to work on behalf of the US military in Iraq and had twice been directly targeted and had to move his family from city to city in Iraq to try to keep him and them out of danger, according to the ACLUs legal petition filed on his behalf.
The family of five had all been awarded visas and arrived together in New York on Saturday. After some delay, Darweeshs family were allowed through but he was detained.
Darweesh had worked for a 10-year period as an interpreter, an electrical engineer and a contractor for the US in Iraq.
He was contracted by the US government to work in a variety of positions that placed him in substantial risk of being targeted, attacked and killed by anti-American militias and insurgents, according to the petition. Two of his Iraqi colleagues were murdered after being targeted.
Congress created the special visa program in 2007 and 2008 to provide safe refuge in the US for Iraqis and Afghans who face of have faced serious threats on account of their faithful and valuable service to the US.
Darweesh was finally released from the airport on Saturday afternoon and emerged to talk to reporters and to be cheered by the growing crowds of demonstrators at JFK airport.
On emerging, beaming, from the terminal at JFK, he told the crowds of demonstrators and reporters pressing around him: This is the humanity. This is the soul of America. This is what pushed me to move, leave my country and come here. The land of freedom.
Darweesh was one of the plaintiffs in the class action that was heard in a Brooklyn court on Saturday night, after immigration rights lawyers from a host of organizations sprang into action. Late on Saturday night, a federal judge ordered a temporary stay on deportations that took effect across the US.
The family plans to settle in Charlotte, North Carolina.
Haider Sameer Abdulkhaleq Alshawi a visa to join his wife and son in Texas
Haider Alshawi was another Iraqi national detained at JFK airport in New York on Saturday.
Alshawi, an accountant, was coming to the US to join his wife, Duniyya, and seven-year-old son, who had settled in Houston in 2014 as permanent US residents after they were given refugee status in the US.
Duniyya was in danger as a result of her work for a US military contractor in Iraq. According to a legal petition from the ACLU, other relatives had worked for the same contractor and the family was under threat from insurgents who deemed them collaborators with US forces. In 2010, Duniyyas brother was almost kidnapped by Iraqi insurgents and Alshawis sister-in-law was severely injured in a car bomb that killed her husband.
Before the presidential executive order last Friday, Alshawi had been vetted and granted a visa to join his wife. Upon his arrival in New York on Friday evening, he was held by border agents on the plane, then in the airport.
Lawyers were not able to talk to him at the airport but they filed a lawsuit demanding his release and warning that he was at risk of being returned to Iraq against his will despite the grave danger he faces there.
Alshawi emerged from JFK airport at about 7.15pm on Saturday. He was put up in a hotel overnight by immigration rights groups and then flew from La Guardia airport to Houston on Sunday morning, where he joined his wife and son.
They are incredibly happy to be reunited, said Becca Heller of the International Refugee Assistance Project.
Mazdak Tootkaboni and Arghavan Louhghalam permanent residents and professors, detained
Read more: www.theguardian.com