Protests across Britain extended into a third day as President Donald Trump spent Saturday in Scotland, working, taking calls and "hopefully" playing some golf.
Crowds of protesters gathered in Edinburgh for a midday march through the city center as Trump spent the day at his Turnberry resort. A few dozen demonstrators also set up shop outside of Turnberry, chanting "no Trump, no KKK, no Nazi USA" and outside his golf course in Aberdeenshire, one of two golf resorts the president owns in Scotland.
"We are local and we want to be heard," Tracy Harvie, a nurse from Ayr, a Scottish town near Turnberry, told HuffPost U.K.'s Rachel Wearmouth. "We have cared about Turnberry all our lives. It doesn't belong to him."
"We hope so much that Trump sees us," another protester Elizabeth Firth added.
After traveling from London, Trump was greeted Friday by a paraglider circling around his Turnberry resort displaying a Greenpeace sign that read "TRUMP: WELL BELOW PAR. #RESIST."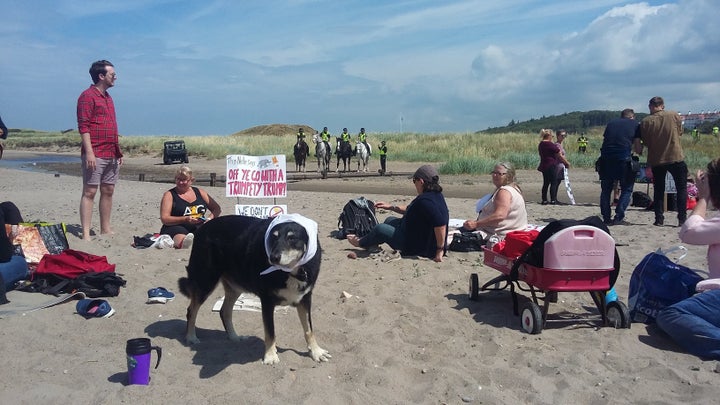 His whirlwind visit to the country has ruffled feathers in the already frayed U.S.-U.K. "special relationship." He was forced to walk back an assertion he made during an interview with The Sun, in which he said Prime Minister Theresa May's handling of Brexit would probably kill any future bilateral trade deal.
Hundreds of thousands protested Trump on Friday across Britain. In London, an estimated 250,000 people marched in the "Stop Trump" rally alone, which was held in the afternoon. Among the top issues of concern among protesters that HuffPost spoke to were the president's misogyny and racism, as well as his treatment of immigrants, especially his "zero tolerance" policy.
Trump will spend the weekend in Scotland and then head to Helsinki, Finland, for a meeting with Russian President Vladimir Putin.
Read more: www.huffingtonpost.com