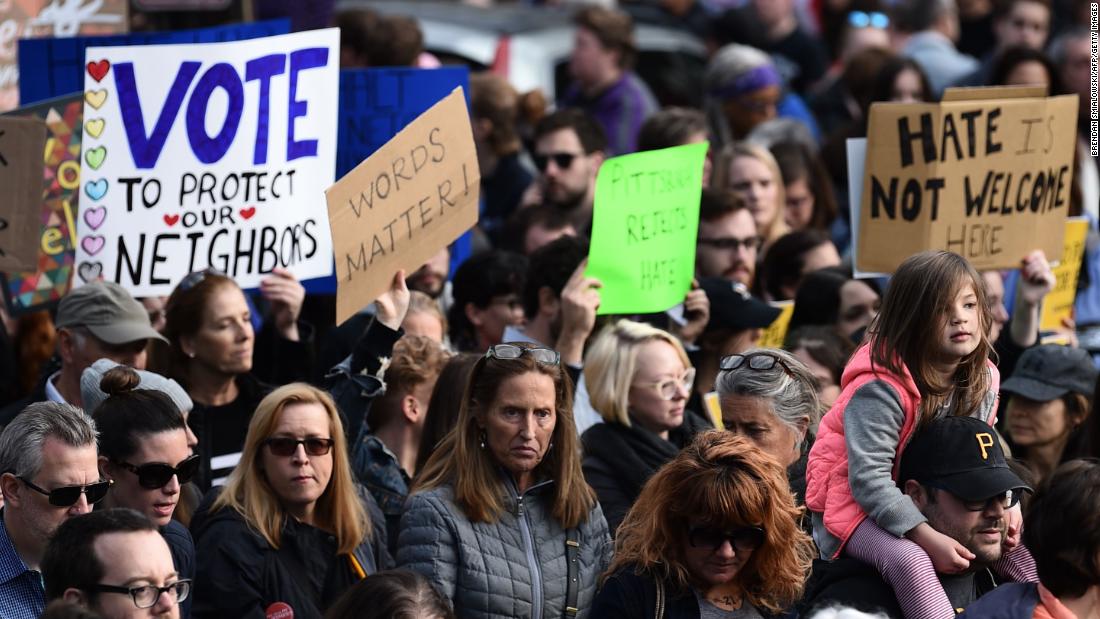 (CNN)Americans suffered through a terrible week of hate that won't soon be forgotten. A psychologically disturbed supporter of President Donald Trump sent pipe bombs to a number of his top critics. Just days after the bombs began surfacing, a white man killed two African-Americans in a Kentucky grocery store after trying to enter a predominantly black church.
President Trump's visit to Pittsburgh in the wake of the synagogue shooting — during which he
placed stones
on the 11 Star of David markers outside the synagogue, lit candles, and spent time in the hospital with patients who were injured in the attack — won't do anything to allay the outrage of those who believe that the President has helped to aggravate our toxic national atmosphere, where white nationalists, anti-Semites, racists, nativists, and Islamophobes have come to believe that their ideas have somehow gained presidential legitimacy.
It is not a total surprise that some Jewish activists in Pittsburgh stated that they didn't want the President to visit the city until he fully
denounced white nationalism
while several government officials,
including the Mayor of Pittsburgh
, announced that they would not appear with the President in the grieving city.
The reason for this reaction is not just political, as his supporters keep arguing. It is a response to the much deeper questions about the administration's relationship to the forces of right-wing extremism.
Trump should then follow through by moving to restore funding for community programs that actually help to stop the spread of hate groups. As Peter Beinart argued in a piece for
The Atlantic
, the administration has severely reduced funding for these efforts. And then, of course, there is gun control. If the President wants to be a true deal-maker, he should push his own party into some kind of grand compromise that includes regulations to stem the flow of assault weapons within the population. The students who witnessed the Parkland shooting are still waiting.
While it is good to see the President demonstrate some sympathy for those who were victimized in the sacred space of a synagogue, at this point a speech won't do much to convince those outside the base that he is serious about using his presidential power to actually tackle the hate and violence that shook America in October 2018.
Read more: www.cnn.com