Seema Verma, the president-elects choice for Centers for Medicare and Medicaid Services administrator, pushed lockout periods for low-income people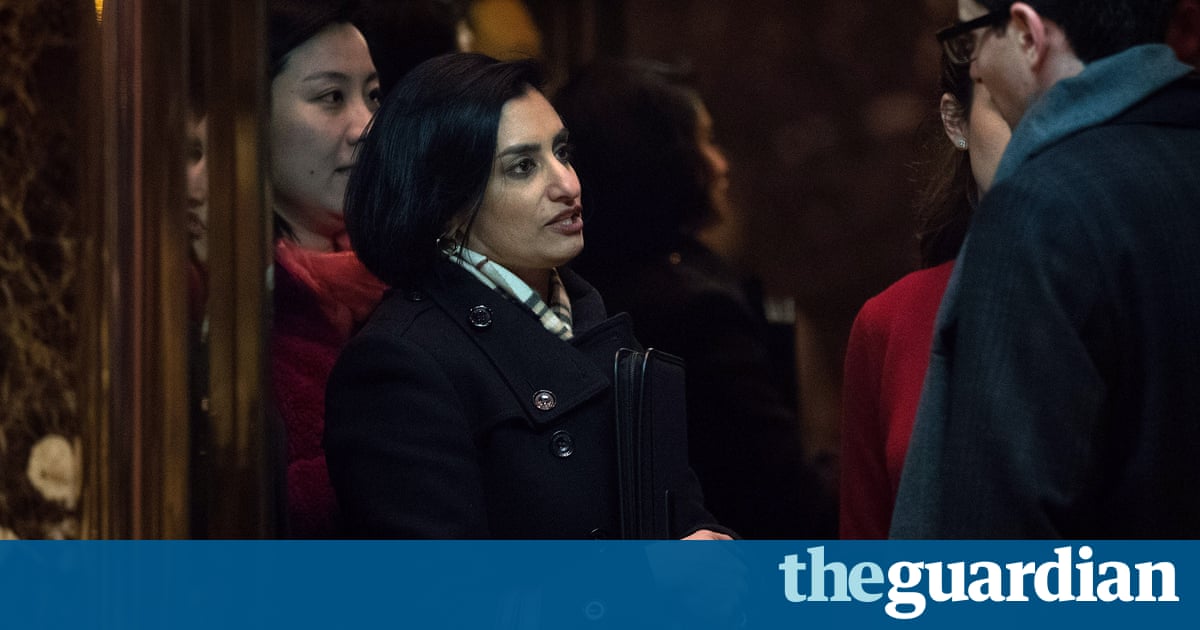 Seema Verma, Donald Trumps choice to head the two largest public health insurance programs in the US, is a conservative darling who has introduced work requirements and lockout periods for impoverished recipients into the medical safety net in three states.
A close adviser to vice-president-elect Mike Pence, Verma Trumps nominee for administrator of the Centers for Medicare and Medicaid Services (CMS) made her name devising Indianas Medicaid plan, one of the most punitive in the country.
Medicaid is a public health program that ensures Americas poor and disabled have health insurance. Obamacare dramatically expanded the program, which now serves more than 73 million people.
The unique requirements Verma and her consultancy firm SVC Inc designed for Indiana require that the destitute in that state have skin in the game by paying premiums, even if they were just $1.
In Kentucky, her company developed a plan to require the poor to perform work activity, which could include unpaid community service, in order to receive health insurance. Approval of that plan is still pending at the CMS, the agency she could soon lead.
In Ohio, a plan designed by Vermas company and rejected by the current leaders of CMS required people with low incomes to be barred from public health insurance until all premium arrears were up to date.
Her plans were about saving the dollars by any means possible, said Indiana Representative Charlie Brown, the ranking Democrat on the public health committee.
As a consultant in each state, Verma was the driving force in designing Indianas HIP 2.0 public insurance plan for the poor, and is highly regarded in conservative circles because of its emphasis on personal and fiscal responsibility.
Though her plan expanded Medicaid to nearly 400,000 Hoosiers, she has argued that new recipients are able-bodied enough to not need the same set of policy protections as the aged, blind, or disabled. Instead, Vermas plan forces recipients to pay up to 2% of their income to premiums, held in a system similar to tax-free accounts available to commercial plans.
It is a plan meant to mimic the commercial market, as a financial lesson for its recipients. It remains one of the most complex and punitive Medicaid expansions in the country, an outlier in a system of state-run safety nets largely free for the poor.
Further, it is built on the back of the Affordable Care Act, a law that her potential future boss, Congressman Tom Price, explicitly opposes. Trump has nominated Price to be health secretary.
Shes a hired gun, said Brown, who described his interaction with Verma as intense and daily. Thats what she was in Indiana, thats what the administration wanted to save dollars, and so she comes up with masterful plans. By 2014, Vermas small company had secured $3.5m in state contracts with Indiana.
She is often described as a behind-the-scenes Republican operative. Regarded as smart and talented, she is also considered single-minded and conservative. She is a registered Republican, and recently agreed to participate in the leadership network of the American Enterprise Institute, a rightwing thinktank.
Her father, Jugal Verma, 77, described her as someone with passion for her work, and sympathy for the poor. Each morning on her way to work, he said, she pulled her car to the side of the road to hand the same homeless man cash. It used to amaze me, he said.
She grew up in a Democratic household. I am a staunch Democrat, said Jugal Verma, discussing his daughters work in the deeply conservative Pence administration. She doesnt do anything if she doesnt believe in it.
Read more: www.theguardian.com