Longtime fixer is thought to have uniquely sensitive information and has produced a stark change in the presidents strategy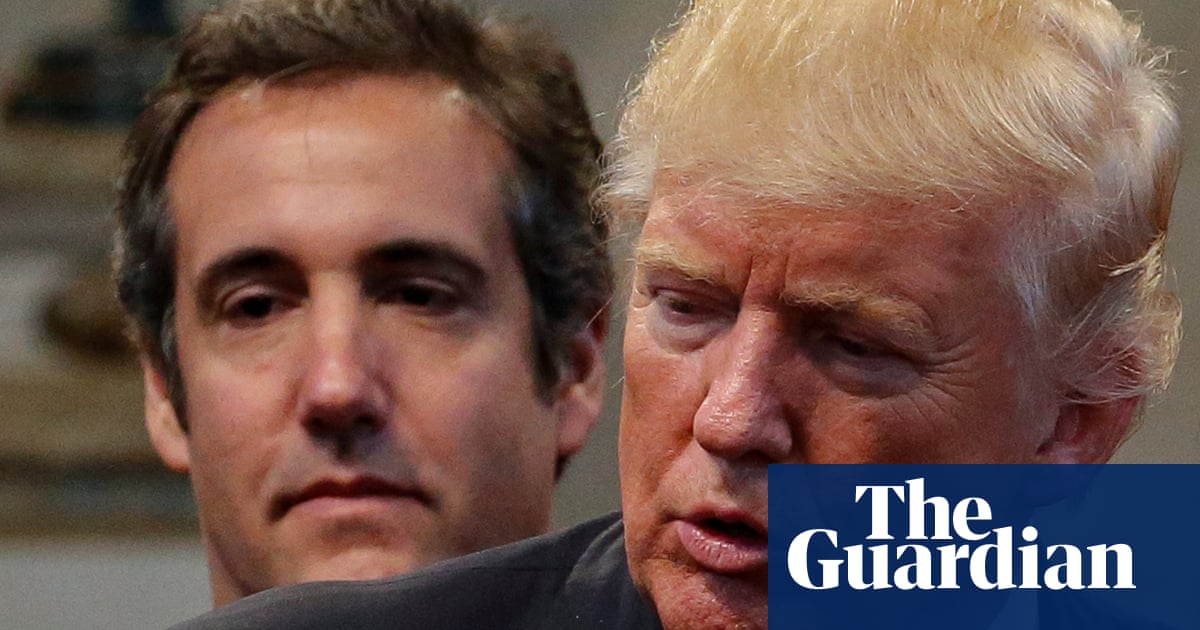 The broadcast on US television on Tuesday night of an audio recording in which Donald Trump appears to advise one of his most trusted lieutenants to use cash to pay off a former Playboy model could indicate new legal hazards ahead for the president, analysts say.
Indications over the last month that Trump's former attorney, Michael Cohen, was seeking a deal to cooperate with federal investigators already looked bad enough for Trump, according to former Trump insiders familiar with Cohen's role.
After a decade of working as Trump's personal lawyer entrusted with the boss's most sensitive tasks, Cohen, 51, is thought to have uniquely sensitive information about the flows of money and influence that permeated the Trump Organization from bottom to top.
That knowledge extends at a minimum to Trump's relationships in Russia, where Cohen was working on a Trump Tower project in Moscow, and to multiple alleged extramarital relationships, whose secrecy Cohen was charged with securing.
Even before any talk of recordings, it was clear that some of what Cohen knew would be of interest to special counsel Robert Mueller, who is investigating Trump's Russia ties.
But the revelation that Cohen was apparently walking around the 26th floor of Trump Tower during the 2016 presidential campaign with a recording device in his pocket has produced a whiplash change in the White House strategy of dealing with Cohen, and introduced a note of anxiety in Trump's own tone.
"What kind of a lawyer would tape a client?" the president tweeted on Wednesday. "So sad! Is this a first, never heard of it before?"
If Cohen's legal saga by now has the president's full attention, the focus may not be misplaced, considering the stakes for Trump – and the possibility that more taped conversations with Trump may be out there.
Political adviser Sam Nunberg, who worked for Trump for four years and at one time had a close working relationship with Cohen, said that Cohen's cooperation with prosecutors represented a legal hazard for the president.
"I don't pretend to know what Michael knows," Nunberg said, but that knowledge plainly extends to the truth behind "rumors and innuendo" about Trump and multiple women as well as the Trump campaign's contacts with Russian operatives.
"Michael has essentially said that Trump is lying about what he knows about the infamous Trump Tower meeting" at which Donald Trump Jr hosted Russians with concealed Kremlin ties in June 2016, Nunberg pointed out.
In the audio recording, first obtained by CNN, Cohen is heard to say, "we'll have to pay".
"Pay with cash," Trump says.
"No, no," Cohen responds, saying he planned to "open a company for the transfer of all of that info".
Cohen faces potential charges of bank fraud, wire fraud and campaign finance violations in relation to suspicious money flows through a company he set up before the election that was used to pay pornographic film actor Stormy Daniels and potentially others.
Mimi Rocah, a former assistant US attorney for the southern district of New York, told MSNBC that "there's a whole host of crimes that this could be evidence of", possibly including bank fraud or campaign finance violations.
"If Cohen cooperates, this shows people how valuable he can be, because he can interpret conversations like this," Rocah said.
Trump has denied all wrongdoing. Through his spokesman Rudy Giuliani, the former New York City mayor, Trump even made the audio recording a target in his specious war on "fake news", denying that it captured him floating the idea of paying former Playboy model Karen McDougal with cash.
Shortly before the 2016 election, McDougal received a $150,000 payment from the publisher of the National Enquirer, a tabloid run by Trump's longtime friend David Pecker. The magazine never published the story, in an apparent "catch and kill" exercise.
Giuliani said the Trump camp had waived attorney-client privilege that might have protected the conversation between Cohen and Trump from being used in court – although it is not clear that the conversation was protected by such a privilege – and the former mayor insisted the tapes would not hurt the president.
"We're not getting to impeachable offenses," Nunberg agreed.
But Rocah said the conversation could be one brick that prosecutors could use to build a wall of evidence.
"From a prosecutor's perspective, what I hear on this recording is a good piece of evidence in showing that some laws were broken," she said.
The charges he faces have led Cohen to a seeming change of heart about Trump. In an interview with ABC earlier this month, he said: "My wife, my daughter and my son have my first loyalty and always will," adding: "I put my family and country first."
Nunberg called it a "tragedy".
"It's also a tragedy because I will tell you that Michael genuinely had an affection for Donald Trump," he said, "and it's sad that it's come to this."
Read more: www.theguardian.com