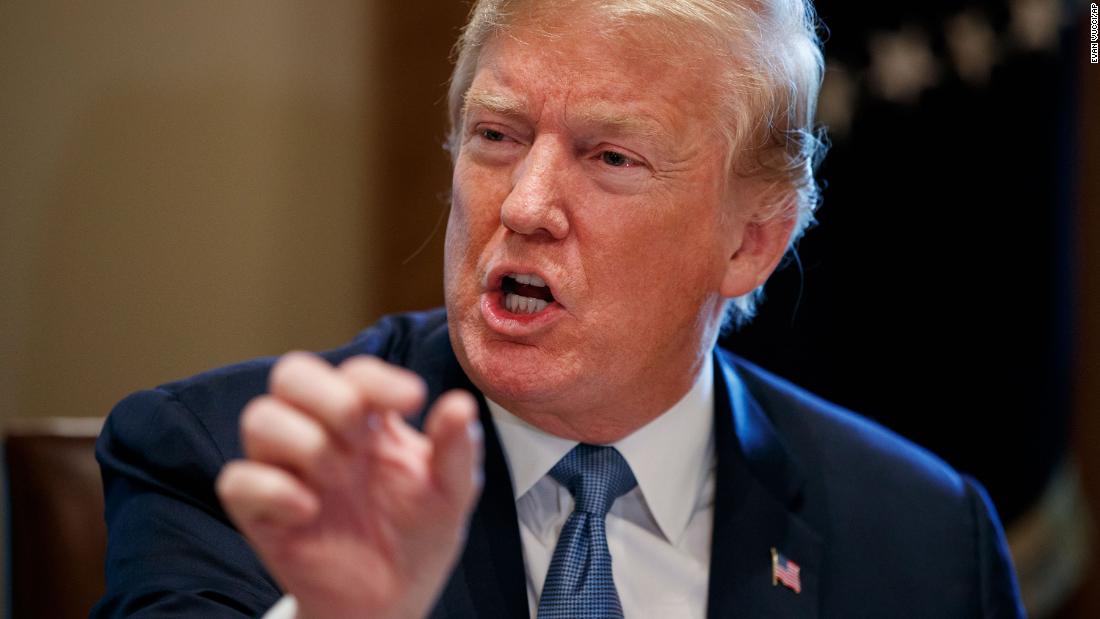 (CNN)The rest of the political world is easing down for the July Fourth holiday, but President Donald Trump is in the middle of a midterm election preview, juicing his political base and baiting Democrats as "radical" leftists who are soft on crime and immigration.
"Focus will be on the selection of a new Supreme Court Justice. Exciting times for our country. Economy may be stronger than it has ever been!" Trump said in an upbeat tweet as he headed back to the White House from his New Jersey golf resort.
Naming a replacement for Anthony Kennedy, who announced his retirement last week, will allow Trump to argue in November to social conservatives who swallowed qualms about his character to help put him in the White House that their gamble has been richly rewarded.
Trump also tore at opening seams of division in the Democratic Party, several times using his Twitter megaphone to accuse his opponents of diving sharply to the left, giving an early glimpse of the kind of turnout-boosting strategy he hopes will stave off a blue wave in November.
"The Liberal Left, also known as the Democrats, want to get rid of ICE, who do a fantastic job, and want Open Borders. Crime would be rampant and uncontrollable! Make America Great Again," Trump wrote in a tweet that garnered 106,000 likes by Sunday evening.
The tweets crystallized Trump's emerging midterm election message, which is designed to confound historic portents that first term presidents rarely get the same kind of turnout in the midterms as they enjoyed in their own euphoric election wins.
By constantly hyping the threat of undocumented migrants, Trump understands that he can get right into the bloodstreams of his most loyal supporters on an issue that animated his election campaign more than anything else.
By castigating the "liberal left" and seizing on calls by some prominent Democrats, including some of his potential 2020 opponents, for the abolition of the Immigration and Customs Enforcement agency, Trump can paint his opponents as extreme and weak on national security.
Turning the focus to ICE also helps Trump muddy the debate about his administration's unpopular separations policy that slipped out of the news last week, despite the fact few of the families split up during the storm over the strategy have been reunited.
The loaded language that Trump is again using on immigration is a sign that despite being forced to backtrack on separations, he has no intention of easing the temperature on an issue that has repeatedly delivered for him.
"You are doing a fantastic job of keeping us safe by eradicating the worst criminal elements," Trump told ICE agents in a tweet on Saturday.
"So brave! The radical left Dems want you out. Next it will be all police."
There were already signs on Sunday that pressure from Trump was making some Democrats uncomfortable about calls from prominent party figures for the eradication of ICE.
"I think there's a lot of other things we can do before we get to that point," she said.
Republican hopes of branding Democrats as out of the mainstream also received a boost with the shock primary victory of self-declared democratic socialist Alexandria Ocasio-Cortez, who beat Democratic House leadership veteran Joe Crowley last week.
Trump's own efforts to wind up his political base and the fact that most of the energy in the Democratic Party appears to be among ultra-progressives suggest how important the more radical elements in both parties will be in shaping the midterm campaign.
Though Trump is currently relishing favorable political winds, there were also hints of his vulnerability this weekend.
He claimed after a call with the Saudi king that he had secured a boost in oil output as prices at the gas pump begin to sting.
"Just spoke to King Salman of Saudi Arabia and explained to him that, because of the turmoil & disfunction in Iran and Venezuela, I am asking that Saudi Arabia increase oil production, maybe up to 2,000,000 barrels, to make up the difference…Prices to (sp)high! He has agreed!" Trump tweeted on Saturday.
But the White House later corrected that version of events.
"In response to the President's assessment of a deficit in the oil market, King Salman affirmed that the Kingdom maintains a two million barrel per day spare capacity, which it will prudently use if and when necessary to ensure market balance and stability, and in coordination with its producer partners, to respond to any eventuality," the White House said in a statement.
High gas prices could dampen the impact of the GOP tax cuts on the wallets or ordinary Americans and eat into consumer confidence ahead of an election Republicans are approaching with a "peace and prosperity" message.
There are also fears among some Republicans that Trump's escalating trade wars with China, NAFTA partners and the European Union could also dampen the economy before November.
On Sunday, Canada's national day, for instance, the government in Ottawa responded to US steel and aluminum tariffs with nearly $13 billion of its own trade punishments.
More than 40 US steel products were hit by tariffs of 25%. A tax of 10% was levied on over 80 other American items including toffee, maple syrup, coffee beans and strawberry jam.
The "peace" tranche of the peace and prosperity message is also looking a little tenuous.
If nothing else, the hyperactive weekend at his golf resort proved that Trump is not going to be the kind of president who is so mired in running the country that he loses sight of his own political imperatives. He is incessantly nurturing his political base.
But it also shows an increasingly confident commander-in-chief, unencumbered by restraining influences now that the more centrist and conventional members of his original White House staff have mostly departed.
Read more: www.cnn.com