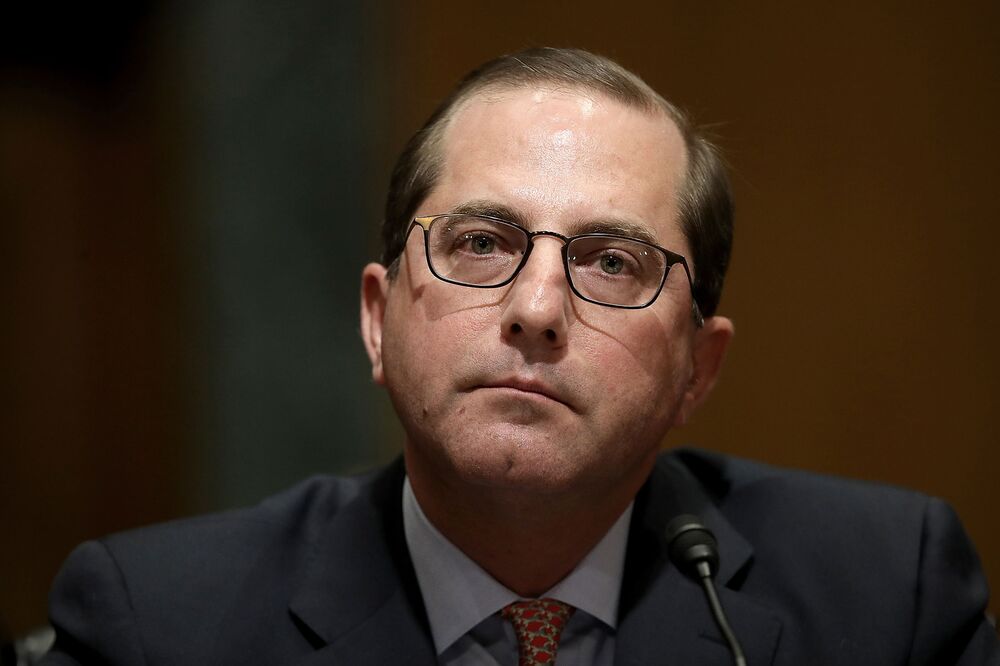 On March 5, the Trump administration's top health official told a conference of hospital executives to hurry up. Washington has spent more than a decade slowly nudging the medical industry away from treating health care as a volume commodity business, where more care is better, and toward incentives that reward improving patients' health. In all that time, almost nothing has changed. "That transition needs to accelerate dramatically," said Alex Azar, a former Eli Lilly and Co. executive who was confirmed as secretary of Health and Human Services in January.
Azar reprised the speech three days later at a conference of health insurers, putting both hospitals and health plans on notice that his agency is "unafraid of disrupting existing arrangements simply because they're backed by powerful special interests." It's a sharp break from his predecessor, Tom Price, a former congressman and orthopedic surgeon who last year undid some of the Obama administration's plans to contain health-care costs. Price resigned in September after a scandal over his use of a private jet.
In his short time on the job, Azar has embraced many of Obama's objectives around lowering costs and improving quality, but with a Trumpian impatience to upend the established order. He called recent experiments to bring down costs "lackluster" and declared his intention to "fundamentally reorient how Medicare and Medicaid pay for care." Those programs spent $1.2 trillion in 2016. Add in private health plans, which often follow Medicare's lead, and the health sector accounts for 18 percent of the U.S. economy.
A veteran of George W. Bush's health department, Azar spent a decade at drugmaker Lilly before returning to government. He sounds more confrontational than Price, who was loath to interfere with how physicians do businesses. Even the Obama administration hesitated to force medical providers into new arrangements that might cost them money.
In his talks, Azar has conjured an almost utopian vision of patients acting as consumers in a competitive health care marketplace, with transparent prices and reliable information about how different medical providers measure up to quality standards. It's a vision we've seen before. But a decade after congressional Democrats began building what became the Affordable Care Act, we are no closer to achieving it. "That's probably the economist's pipe dream," said Mark Pauly, professor of health care management at the University of Pennsylvania's Wharton School of Management. "It's much harder to see how to get from here to there."
Baystate Health, a not-for-profit health system in Springfield, Massachusetts, has been trying to get there. The Obama administration promoted a handful of policies intended to make doctors and hospitals financially accountable for patient outcomes, not just how many tests and treatments they provide. Baystate jumped head first into that world. About half of its revenue comes from contracts in which the health system bears some financial risks for patients' outcomes, said Dennis Chalke, Baystate's chief financial officer.
The group has had to invest in technology and staff to manage care for high-risk patients. Savings have been modest so far. Baystate's accountable care organization, as the experiment is known, came in about 1.6 percent below its target for Medicare spending in 2016, or $176 per Medicare patient, according to federal data. 
The other half of Baystate's business remains in the fee-for-service, medicine-as-widgets model. Chalke supports the idea of making it easier for patients to compare prices, but it's easier said then done. The fees for thousands services vary, depending on contracts negotiated with more than 70 different insurers, and even employers using the same plan may set different co-pays and deductibles. "On the surface, I think everyone would support price transparency," Chalke said. "It's just too complex right now."
Experiments to limit health care costs so far "have mixed records of success," said Lynn Quincy, director of the Altarum Healthcare Value Hub, a nonprofit research center. One theory is that the incentives for medical providers haven't been strong enough, argued Susan DeVore, CEO of Premier Inc., which helps thousands of hospitals make purchasing decisions and other services. Azar "could take those existing programs, make them more aggressive, put them on steroids," DeVore said.
Azar contended that he can succeed where others have failed, "because this administration is not afraid of disruption in the way many political actors are." He warned the medical industry that he's not afraid to use his agency's heft to change how things are done. Transforming America's health care system, he said, "will require some degree of federal intervention—perhaps even an uncomfortable degree."
That may sound surprising from a conservative administration that praises market-based solutions. Farzad Mostashari, CEO of Aledade, a company that helps create and manage cost-saving networks of physicians, interprets Azar's position as: "Don't mistake our belief in markets with an unwillingness to engage in aggressive federal intervention to make sure those markets work."
It's unclear whether juicing existing programs will deliver the kind of transformation Azar seeks or what else might. Pauly, the Wharton professor, is skeptical that payment models developed in recent years will ever achieve widespread savings. "The slogans get ahead of the evidence," he said. His Wharton colleague, Lawton Robert Burns, suggests that Azar's desire to move past incremental steps is setting the stage for disappointment. "Any changes that come about that are going to help are incremental—and very incremental," he said. "There's very little disruption in health care of the magnitude that he's looking for."
Read more: www.bloomberg.com