WASHINGTON, D.C. – Since taking office, President Donald Trump has systematically removed or limited the power of federal officials and government offices that have the expertise to confront the nation's opioid epidemic.
Trump asked Surgeon General Vivek Murthy to resign in late April. He still has an acting director running the Centers for Disease Control and Prevention. Although he backtracked on his reported plan to essentially gut his Office of National Drug Control Policy, staffers would be wise to polish their resumes. 
Trump's new budget proposal cuts all federal drug prevention programs by roughly 11 percent. The former director of the CDC, Dr. Tom Frieden, vented on Twitter that the 1.2 billion cut to his former agency would thwart efforts at preventing the complications that come with heroin use such as HIV infections.
These moves follow Trump's recent endorsement of the House's health care bill that would no longer require insurance companies to cover treatment for addiction. If signed into law in its current form, more than a million Americans could potentially lose their access to treatment services. That bill cuts Medicaid by $880 billion. And Trump's proposed budget goes even further, with another $616 billion cut to Medicaid over 10 years that would effectively cripple the government's ability to fund and expand care.
We face a national opioid crisis. We need to use all the tools we have to help people achieve recovery, not reignite deep-held unscientific biases and stigma. Sen. Edward Markey (D-Mass.)
Drug policy advocates have been angered and baffled by these proposals. They expected Trump to show more commitment to combating the opioid crisis after claiming to be so moved by heartbreaking stories from grieving families on the campaign trail. 
"The two major challenges to the administration's response to the opioid epidemic is one ― they've been slow to develop a strategy and the second thing is they are supporting legislation that would totally undercut people who are addicted," explained Joshua Sharfstein, associate dean at the Johns Hopkins Bloomberg School of Public Health. "That's probably number one. You need a strategy and you need to help people get care."
Sharfstein isn't the only one confused as to what the actual strategy is behind Trump's approach to the opioid crisis. Some of the reforms Trump has pursued have been duplicative. In late March, for instance, Trump created a commission to study the opioid epidemic ― work that will surely replicate Surgeon General Murthy's own report published late last year, and the ongoing mission of the ONDCP, also known colloquially as the drug czar's office.
Earlier this month, the New York Times reported that Trump wanted to downsize the drug czar's office by 95 percent. Trump has since backed away from these proposed cuts. But the move, which would have resulted in the loss of 33 staffers, sparked heavy criticism from experts in the field. In an email to his staff, acting drug czar Richard Baum called the move "frankly heartbreaking."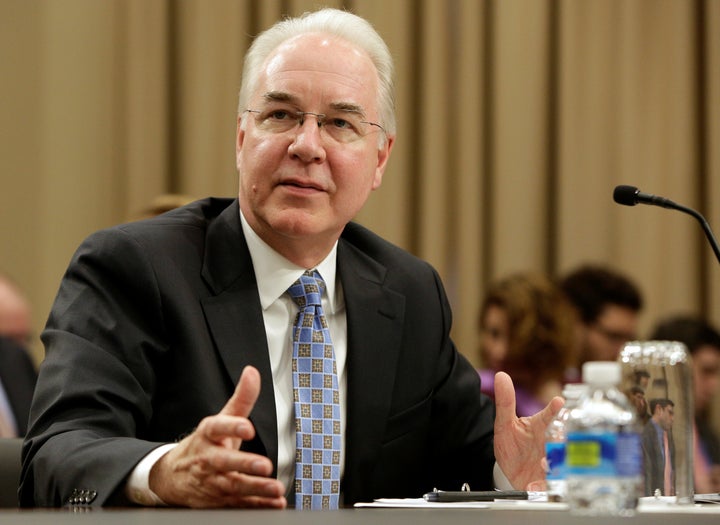 Advocates have also found Trump and his administration's approach antiquated and misinformed. At a recent stop in Charleston, West Virginia, as part of his "listening tour" on the opioid crisis, U.S. Health and Human Services Secretary Tom Price endorsed faith-based treatment programs over medication-assisted treatment.
"If we're just substituting one opioid for another, we're not moving the dial much," he said. "Folks need to be cured so they can be productive members of society and realize their dreams." 
The comments were in conflict with established scientific research that has shown that along with counseling, using synthetic or semi-synthetic opioids like methadone or buprenorphine (commonly sold as Suboxone) gives addicts the best chance at recovery. The medications have also been shown to dramatically reduce overdose deaths.
Murthy, by then removed from his Surgeon General post, tweeted that "Science, not opinion, should guide our recommendations and policies."
Sen. Edward Markey (D-Mass.), in a statement to HuffPost, had a similar reaction. "The science is clear and the results are compelling. As we face a national opioid crisis, we need to use all the tools we have to help people achieve recovery, not reignite deep-held unscientific biases and stigma surrounding the treatment of opioid use disorders," he said.
Price also found himself at odds with his own agency's experts. Under Obama, HHS spent millions in grants to expand opioid addiction medication in hard hit areas. It also revised federal regulations so that doctors can treat more patients with buprenorphine.
But beyond those differences, Price's comments illustrate a larger flaw in the Trump administration's approach to the opioid crisis. As Daniel Raymond, deputy director of planning and policy for the Harm Reduction Coalition, noted, when you get rid of the experts, "you are going to end up with various agency heads freelancing."
A robust drug czar's office would have helped keep Price in check. Under Obama, the office moved the country towards a more humane approach to addiction. Drugs such as heroin were treated as a public health problem more so than a law enforcement one. "The ONDCP at its best is a science and evidence based office that helps to move the right type of policy across the federal government," said Regina LaBelle, the former chief of staff for both of Obama's drug czars. "Every other agency has lots of other missions. The ONDCP's sole mission is to deal with drug control issues."
Drug czars haven't always been successful either in policing politicians or implementing a broad policy using the best evidence-based practices across the federal government. The office has a complicated history. Some czars have used it as a bully pulpit to support the more draconian aspects of the drug war. Others have tried to use it to promote science over myth.
"We denounced Giuliani who went batshit with rage," McCaffrey said. "He denounced me in the press and on and on." The two didn't talk privately. "He would have strangled me like a wet chicken," McCaffrey joked.
Lee Brown, a former drug czar under President Bill Clinton, told HuffPost that politicians often didn't want to hear his message of valuing treatment over incarceration. "Often times," Brown said, "Congress didn't want to be seen as being soft on drugs. The easiest way to avoid that accusation was to support law enforcement and interdiction."
Gen. Barry McCaffrey, the former general and drug czar in the late '90s, recalled similar spats he had with then-New York City Mayor Rudy Giuliani, who tried to slash methadone programs serving 2,000 residents with opioid addictions. McCaffrey saw Giuliani's grandstanding as a gift ― a rare public quarrel that allowed him to defend methadone and explain its success.
"We denounced Giuliani who went batshit with rage," McCaffrey said. "He denounced me in the press and on and on." The two didn't talk privately.  "He would have strangled me like a wet chicken," McCaffrey joked.
Giuliani ultimately backed down.
While, Price didn't get into a public spat with the drug czar's office, he did face complaints from hundreds of addiction specialists. In response to his remarks, roughly 700 addiction experts wrote the HHS Secretary a letter characterizing his "substitution" comments as "grossly inaccurate," insisting that he "set the record straight." In a subsequent newspaper op-ed, Price didn't address the controversy but mentioned that improving access to medication-assisted treatment was part of his agency's strategy in taking on the opioid epidemic.
"We have to develop a comprehensive drug demand reduction program in United States that involves everybody—involves professional sports, Hollywood, involves governors, mayors. involves parents, priests, involves everybody," Kelly said. "We can reduce the amount of drugs consumed in the United States significantly. Never go to zero but we can reduce it. But until we do, we'll be fighting at best a neutral battle on the border."
Raymond isn't hopeful that the drug czar will regain its status within the Trump administration. Without an empowered drug czar, he worries that more budget cuts and tin-eared listening tours will be the norm.
"Even if Congress preserves [the drug control] office," he said, "they are not going to listen. That office may linger on in some diminished form but it won't play a central coordinating role that was so crucial in the previous administration."
Read more: www.huffingtonpost.com