Nothing about this should work. It should be political suicide but he has proved repeatedly that typical rules dont apply to him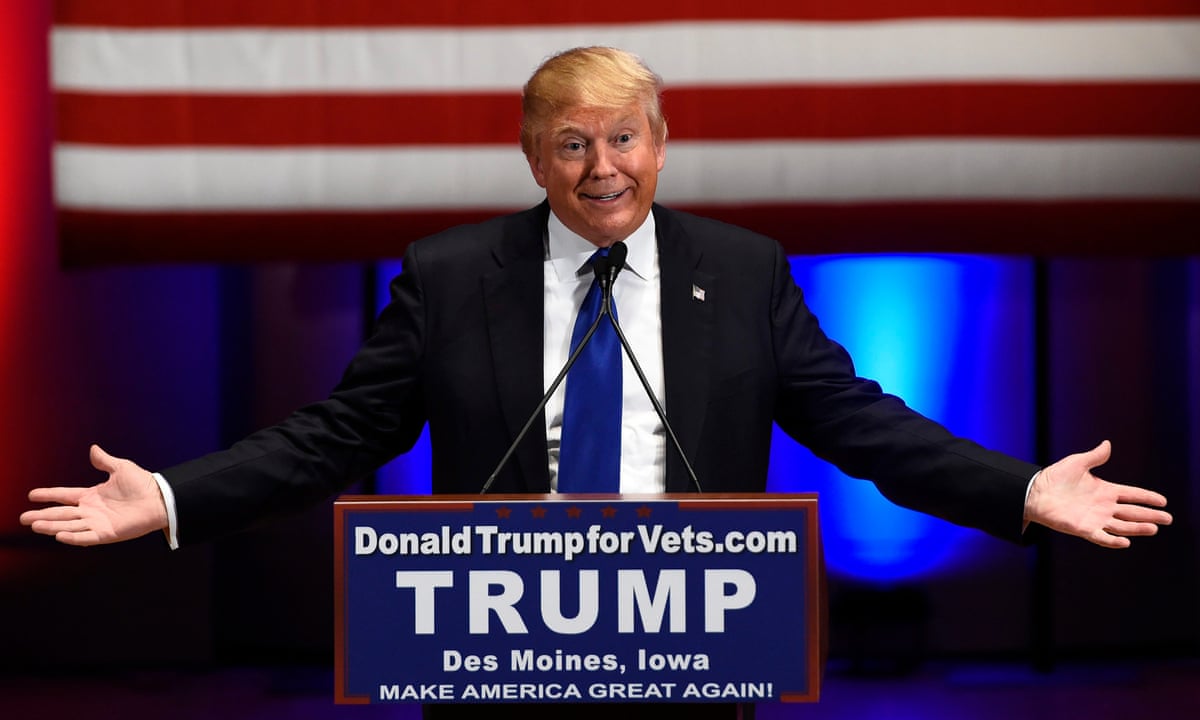 Skipping the last Republican debate before the Iowa caucuses doesnt seem like a good idea. But if you think that, then you are not thinking like Donald Trump, which means you are not thinking like the current frontrunner for the Republican nomination. Or as Trump would put it: a winner.
It must be an interesting thing to be inside Trumps brain. It means being unfazed by the idea that you might be giving opponents like Ted Cruz and Marco Rubio a moment to shine without you on stage. It also means you dont worry about causing offense to voters who believe a top presidential candidate owes it to the electorate to answer tough questions from moderators ahead of voting.
Trumps anti-debate at Drake University on Thursday night, organized after a spat with Fox News over Megyn Kelly, was held at the same time as the Republican debate he boycotted. And it was an almost random hodgepodge of things. While ostensibly staged to benefit wounded veterans, Trump began by bragging that Fox News had been begging him to join the debate up until the end: Fox has been extremely nice the last few hours.
The circus ranged from Trump reeling off a list of real estate developers whod given money its still unclear to what exactly ahead of the event, to brief cameos from Rick Santorum and Mike Huckabee. At one point Trump received some sort of award an honorary ring from some of the people that Trump invited.
They were the friends and fellow military comrades of staff sergeant John Wayne Walding, a former Green Beret who lost a leg in Afghanistan, and to whom Trump gave more airtime at the event than anyone else. Wayne Walding provided both comic relief, as when he told the audience: Im going to keep moving; in the military a moving target is a lot harder to hit, and seriousness: It sucks being one-legged it sucks when your kids want to play soccer all day and you cant.
He also served as a distraction from the fact that Trumps own record on respecting veterans isnt so good. He has mocked John McCains military service and time as a prisoner of war, saying: I like people who werent captured. Later he refused to apologize. Trump has also boasted of his military life despite never having served in the military, going so far as to suggest his military training was superior to the training completed by many entering the service.
His only bonafide, if you can call it that, is that hes repeatedly complained on the campaign trail that America treats its immigrants better than its veterans. Though he doesnt cite particulars he doesnt have to: its a sort of silent dog whistle for bigotry, a promise to protect the interest of the people who see themselves as the real Americans.
But reality, as it so often seems to be where Trump is concerned, was irrelevant on Thursday both with regard to Trumps military record and to the reason the event was taking place at all.
He summed up his less than hourlong event with typical talking points about how he doesnt want generals who talk but who keep us safe. Also, how he wants more winning and big weapons.
We are going to win again. Were going to win on every single level and were not going to be laughed at by the rest of the world, Trump promised the assembled masses. Referring to the enemy, he said: They have the new versions of the weapons we use … its not going to happen anymore.
Then, after announcing what he thought was going to be a small event turned out to be incredible, he exited the stage to strains of Adeles Rolling In the Deep.
Nothing about this should work. It should be political suicide in six different ways. And if the other frontrunner, Hillary Clinton, did the exact same thing, her campaign would likely implode spectacularly. But Trump who recently observed that he could shoot a person dead in the street and his supporters would stay with him thought it was a good idea.
And so, maddeningly, his poll numbers will probably rise.
Read more: www.theguardian.com