U.S. President Donald Trump signaled he's open to talks with North Korea, even as his advisers expressed skepticism that Kim Jong Un was serious about suspending his nuclear weapons program and engaging in real negotiations.
"They seem to be acting positively. I'd like to be optimistic," Trump told reporters Tuesday, hours after envoys from South Korea said Kim told them he was ready to give up his nuclear weapons if the safety of his regime was guaranteed.
But a top administration official, briefing reporters on condition of anonymity, said North Korea had earned skepticism in Washington through decades of failed peace deals and that Kim's regime would need to do more than temporarily halt weapons tests before the U.S. would agree to talks. Many analysts shared those doubts.
"The North Koreans are looking to buy time. They are looking for some relief just as the sanctions are beginning to bite and they are very worried about all the talk of a military strike," said Sue Mi Terry, a former CIA analyst who's a senior fellow at the Center for Strategic and International Studies in Washington. "I'm highly skeptical that all of a sudden the North Koreans are ready to give up their nuclear weapons and missiles."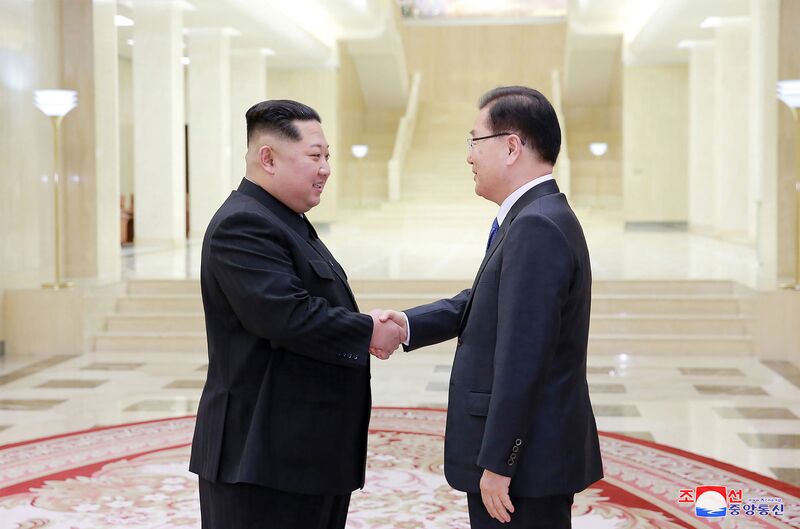 The next step will be some tough questioning of South Korean officials who will travel to Washington later this week to brief the Trump administration on their talks with Kim in Pyongyang, the administration official said. North Korea's state-run news agency said earlier Tuesday that the two sides had reached "a satisfactory agreement," but the isolated nation hasn't yet corroborated the account from Seoul.
South Korean President Moon Jae-in, who agreed to meet Kim for a summit late next month at the border village of Panmunjom, won office pledging to seek conciliation with Kim. He has maintained optimism about the prospects for a diplomatic solution, compared with the U.S.'s less sanguine approach.
China, a traditional North Korean benefactor that has backed sanctions to force Kim back to the negotiating table, issued a Foreign Ministry statement Tuesday welcoming "positive outcomes" from the inter-Korean talks. The key U.S. ally of Japan was more cautious, with Chief Cabinet Secretary Yoshihide Suga telling reporters Wednesday that North Korea must take complete, verifiable and irreversible actions to denuclearize.
"One reason for skepticism is that we are not controlling the process," said Stephen Noerper, senior director for policy at the Korea Society in New York. "In the past, North Korea looked to the U.S., and this time they are going through South Korea. We have to wait for Moon to deliver the package. How the administration handles this requires tact, flexibility and accommodation."
In the meantime, Vice President Mike Pence said that the U.S.'s "maximum pressure" campaign of sanctions against North Korea would continue. Director of National Intelligence Dan Coats said he was "quite skeptical" of North Korea's motives. "Maybe this is a breakthrough," Coats told a Senate committee. "I seriously doubt it."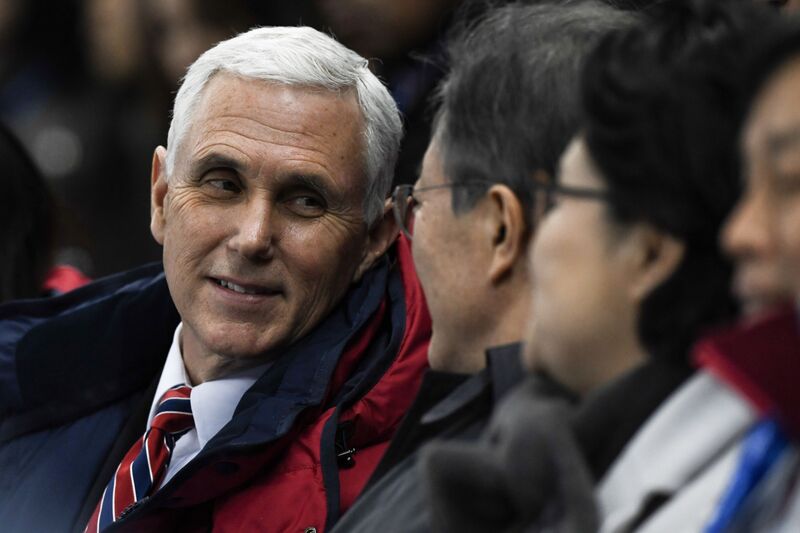 A QuickTake: How North Korea Defied the World With Nuclear Ambitions
The U.S. and North Korea have been at loggerheads since the Korean War ended without a peace treaty almost 65 years ago, and Kim's government has repeatedly said nuclear weapons were necessary to deter any U.S.-led military action. Over the years, the Kim dynasty has raised the prospect of abandoning its nuclear-weapons program if the U.S. gave up its hostile policies.
While tensions on the Korean Peninsula have eased recently as North Korea participated in the Winter Olympics, Trump and Kim have exchanged bellicose taunts in past months. Serious negotiations haven't taken place since so-called six-party talks — also including China, Japan and Russia — broke down in 2009.
Lacking Diplomats
The U.S. faces the prospect of potential talks with North Korea without a full team of diplomats to lead the way. Joseph Yun, the U.S. special representative for North Korea, announced he was stepping down last month for "personal reasons." The State Department also lacks a confirmed secretary for East Asian and Asian Affairs.
Trump will need to fill Yun's position quickly for the U.S. to take advantage of the potential diplomatic opening, said Patrick Cronin, director of the Center for a New America Security's Asia-Pacific security program.
"It's a thankless job even when you have a stable president," Cronin said. "It's a doubly thankless job when you're not sure that the president has your back."
Read more: www.bloomberg.com