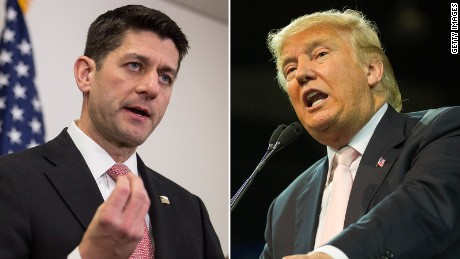 Washington (CNN)Donald Trump said he was "blindsided" by House Speaker Paul Ryan's announcement earlier this week that he was not yet ready to support the presumptive Republican nominee.
"Yeah, I was blindsided a little bit, because he spoke to me three weeks ago, and it was a very nice call, a very encouraging call," Trump told NBC News' Chuck Todd
in an interview set to air Sunday on "Meet the Press."
"He called me, I think, to congratulate me about New York, 'cause I won by massive numbers."
An excerpt of the interview was released late Saturday afternoon.
In perhaps a
preview
of the message he intends to deliver to Ryan, Trump told ABC News' George Stephanopoulos Friday that he doesn't need to earn Ryan's support.
"I'm gonna say, 'Look, this is what the people want,'" Trump told Stephanopoulos.
"I think Paul Ryan will be fine, and if he's not, that's OK," Trump said, adding that he believes if Ryan had it to do over again, he'd simply endorse Trump rather than face backlash from GOP voters and some elected officials for rejecting the party's presumptive nominee.
Read more: www.cnn.com