Republican nominee has said he provides free workplace childcare, but workers say that program is not for them its for paying guests and members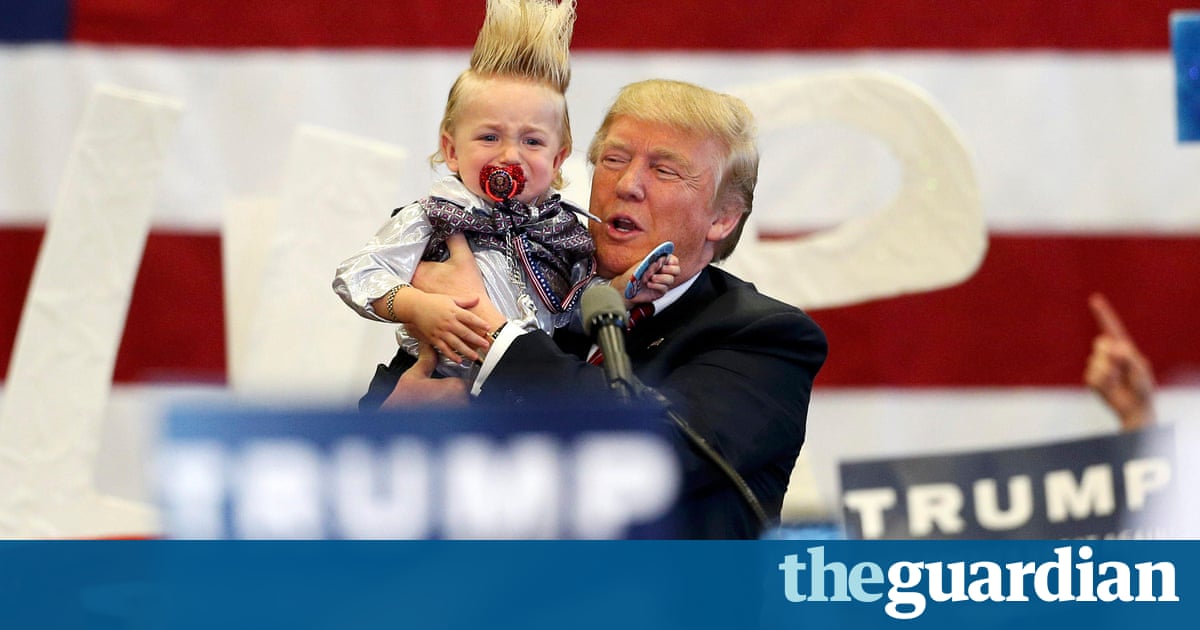 When Donald Trump vowed this week to make childcare more accessible and affordable, it was just the second time during his White House campaign that hes talked about an issue that affects millions of working Americans with young children.
The first came months ago in Iowa, when the eventual Republican nominee touted his own record as a business owner during a candidate Q&A, telling voters he provided on-site childcare service for his employees.
There is no evidence, however, that any such programs exist.
Trump, who previously voiced his opposition to government-funded universal pre-K programs, said in Newton, Iowa, in November 2015 that he had visited many companies that offered workers on-site childcare centers and added that he offered such programs himself.
You know, its not expensive for a company to do it. You need one person or two people, and you need some blocks, and you need some swings and some toys, Trump said. Its not an expensive thing, and I do it all over. And I get great people because of it. Because its a problem with a lot of other companies.
Trump pointed specifically to two programs: They call em Trump Kids. Another one calls it Trumpeteers, if you can believe it. I have em. I actually have em, because I have a lot of different businesses.
Trump went on to describe a room thats a quarter of the size of this. And they have all sorts of you know, its beautiful they have a lot of children there, and we take care of them. And the parent when they leave the job usually in my case its clubs or hotels when they leave the job, they pick up their child and their child is totally safe.
They even come in during the day during lunch to see their child. It really works out well, he said.
But the two programs Trump cited Trump Kids and Trumpeteers are programs catering to patrons of Trumps hotels and golf club. They are not for Trumps employees, according to staff at Trumps hotels and clubs across the country.
Trump Kids is described on the Trump Hotel Collection website as a special travel program designed to help make your next family vacation a big hit. Its offerings include kid-friendly amenities like kiddie cocktails, coloring books and no-tear bath amenities.
The Trumpeteer Program is described on the website of Trump National Golf Club in Charlotte, North Carolina, as a program created specifically for our youngest members, ages three to twelve, which offers daily and evening child care, monthly newsletters and weekly events!
When asked about on-site childcare, employees at Trumps hotels and clubs across the country expressed confusion and explained the two programs are for guests and members only.
No, theres no childcare, said Maria Jaramillo, 36, a housekeeper at Trump International Hotel Las Vegas, where workers have been pushing Trump to sign a union contract.
Jaramillo is a mother of four children who has worked at the hotel for nearly eight years.
It would make it much more easy to take our kids to day care at work, she said and laughed when told of Trumps comments from Iowa about childcare. If they have childcare, at least they should tell us.
A collection of Trump employee handbooks makes no mention of childcare. The online Trump Hotels employee benefits section lists healthcare, tuition reimbursement, paid time off, complimentary golf and an internet cafe, but no on-site childcare services.
In New York, where the Trump Organization is based, the citys health department database of childcare centers has no record of any licensed facilities at any of Trumps properties, aside from a private school that leases space at 40 Wall Street.
Asked directly whether Trumps businesses offered childcare to employees, his presidential campaign responded with a statement from Jill Martin, vice president and assistant general counsel at the Trump Organization.
The Trump Organization is very proud of the family-friendly environment it fosters throughout its portfolio, she said. The policies and practices allowing employees to enjoy a healthy work-life balance vary from property to property. We take an individualized approach to helping employees manage family and work responsibilities.
The campaign did not respond to follow up questions, or agree to make Martin available for an interview.
Trump on Monday proposed new tax exemptions for childcare as part of what his aides say will be a larger push to make childcare more accessible and affordable to working-class families. Childcare is a top expense for many families, surpassing the cost of college and even housing in many states.
Theyre suffering, theyre suffering, Trump said. Were going to get them this much-needed relief.
Trump has credited his embrace of the issue to his daughter Ivanka, who vouched for her fathers treatment of his employees at the Republican national convention last month. When a woman becomes a mother, she is supported, not shut out, she said.
The new policy is a departure from Trumps comments on the issue during the GOP primaries. In an interview with Fox News Business in October, Trump expressed skepticism about paid family leave and said he opposed the idea of free pre-K.
Well, I dont like it, because eventually youre going to have to raise everybodys taxes, he said. There is no such thing as free.
Read more: www.theguardian.com