The Republican says his rival has a bad temperament and indulges conspiracy theories about the electoral system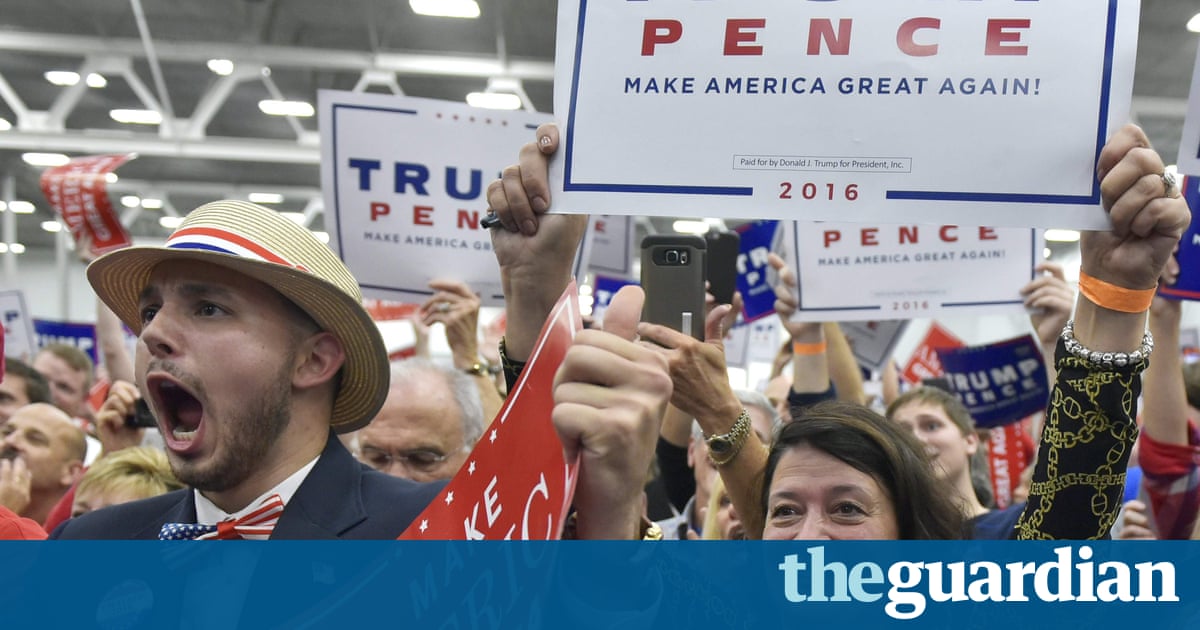 Donald Trump has warned darkly of voter fraud in certain areas and mocked Hillary Clintons health and marriage while suggesting she should be imprisoned.
Speaking to a crowd of nearly 5,000 in Pennsylvania on Saturday night, Trump made some of his wildest accusations yet about his opponent and the integrity of American elections. Trump attacked his Democratic rival in starkly personal terms. He said of her she has bad temperament, she could actually be crazy and went on to imply that she had been unfaithful for her husband. I dont even think shes loyal to Bill, if you want to know the truth. And really folks, why should she be, right, Trump said.
The Republican nominee whose rallies have long included loud chants of lock her up directed towards Clinton, said bluntly on Saturday she should be in prison.
He also mentioned Clintons collapse in September at a ceremony commemorating the victims of the September 11 terrorist attack. She couldnt even make it 15 feet to a car said the Republican nominee of the incident sparked by the Democratic nominee being dehydrated while suffering from pneumonia. In doing so, Trump pretended to stumble and then staggered about the stage.
Trump also warned of the specter of voter fraud without evidence, revisiting accusations he first made in August that there will be voter fraud in certain areas of Pennsylvania, a statement that was a clear dog-whistle about African American areas of Philadelphia. Watch your polling booths, because I hear too many stories about Pennsylvania, certain areas, the Republican nominee told the almost exclusively white crowd in Manheim. He added we cant lose an election because you know what I am talking about.
A popular rightwing conspiracy theory has long been that Mitt Romney was the victim in voter fraud there in 2012. The theory premised on the fact that in 59 precincts in African American neighborhoods, Romney did not receive a single vote. There are 1,687 precincts in the city and Obama received over 85% of the vote there in 2012.
The Republican nominee also complained about what he saw as a rigged debate and insisted that he actually bested Hillary Clinton in Monday nights presidential debate. Trump insisted that he won the debate but also suggested that the non-partisan Commission on Presidential Debates deliberately gave him a defective microphone on purpose in an attempt to sabotage his performance.
Earlier in the day, Trump had already said on Twitter: I won the debate if you decide without watching the totally one-sided spin that followed. This despite the really bad microphone.
While the Republican nominee was on stage, the New York Times reported that New York real estate developer may not have paid taxes for an 18-year period. The Times, which obtained a leaked copy of Trumps 1995 returns, reported that the Republican nominee took a loss of $916m that year. The result of that loss was that Trump potentially could have avoided paying federal income taxes for nearly two decades afterwards. Trump is the first presidential nominee in decades who has not made his tax returns public.
In a statement, a campaign spokesman did not deny the story. The only news here is that the more than 20 year-old alleged tax document was illegally obtained, a further demonstration that the New York Times, like establishment media in general, is an extension of the Clinton campaign, the Democratic party and their global special interests. The statement continued Mr Trump is a highly-skilled businessman who has a fiduciary responsibility to his business, his family and his employees to pay no more tax than legally required.
The Clinton campaign also weighed in on the report. In a statement, Clinton campaign manager Robby Mook said: This bombshell report reveals the colossal nature of Donald Trumps past business failures and just how long he may have avoided paying any federal income taxes whatsoever. The Clinton staffer added: [Trump] apparently got to avoid paying taxes for nearly two decades while tens of millions of working families paid theirs. He calls that smart. Now that the gig is up, why doesnt he go ahead and release his returns to show us all how smart he really is?
The speech had originally been billed as an attempt by Trump to woo former supporters of Bernie Sanders from the Democratic primary. Trump characterized a leaked audio tape of Clinton talking about the motivation of Sanders supporters in a February fundraiser as demeaning and mocking Bernie Sanders. He went on to appeal to former Sanders supporters on the issue of trade while also calling the Vermont senator Crazy Bernie, stating that he drew bigger crowds than Sanders and yet again labeling Sanders endorsement of Clinton as a deal with the devil.
Read more: www.theguardian.com