DETROIT The Trump administrations reported proposal to slash Environmental Protection Agency funding could spell major problems for the Great Lakes.
The Great Lakes initiative started in 2010 and has directed more than $2 billion toward protecting the lakes, the largest surface freshwater source in the world. The EPA partners with more than a dozen other federal agencies and provides local grants for projects like controlling invasive species and managing watersheds to minimize pollution.
The EPA budget cuts were included in aninternal recommendation from theOffice of Management and Budget thatthe National Association of Clean Air Agencies obtained and shared with The Oregonian. The association confirmed the figures to The Huffington Post. TheEPA can still contest the draft cuts, and Congress ultimately approves a final budget. But the proposed massive reduction concerns researchers in the Great Lakes region.
If something happens to the EPA and the Great Lakes Restoration Initiative, its going to be public health that suffers, said Bradley Cardinale, a University of Michigan ecologist. This is going to result in a lot of job loss, a lot of pollution and reverting us back to many of the problems we had when Lake Erie once caught on fire because it was so polluted.
National Oceanic and Atmospheric Administration receives funding through the Great Lakes Restoration Initiative, including money for NOAAs Great Lakes Environmental Research Laboratory in Ann Arbor, Michigan.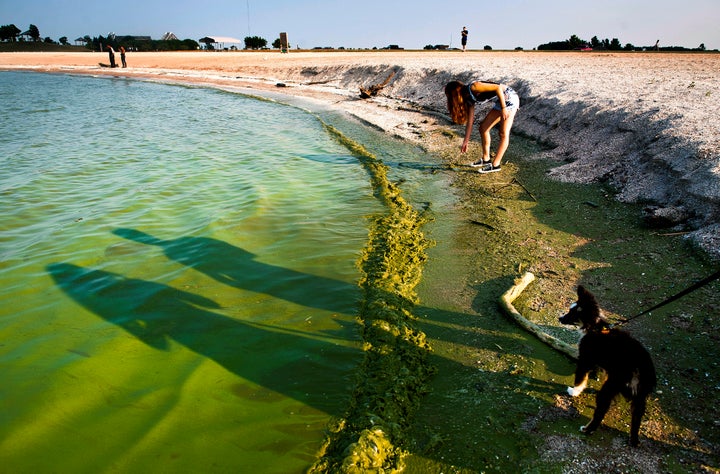 Cardinale, who partners with the NOAA lab, said he fears the facility could be shut down if significant budget cuts are imposed.
NOAA did not return a request for comment. The EPA said in an email that it wasnt commenting at this point in the process.
The loss of Great Lakes Restoration Initiative funding would be devastating to the health of the Great Lakes, said Guy Meadows, director of the Great Lakes Research Center at Michigan Technological University, which has received seven Great Lakes Restoration Initiative grants totaling $2.2 million.
Democrats and Republicans who represent the Great Lakes region also deplored the proposed cuts.
Emily Benavides, spokeswoman for Sen. Rob Portman (R-Ohio), pointed to Congress rejection of former President Barack Obamas 2015 plan to cut $50 million from the Great Lakes restoration funding.
This initiative has been a successful tool in our efforts to help protect and restore Lake Erie, and Rob will continue to fight for it just as he did when the Obama administration proposed cuts to the program, Benavides said in an email.
These reports are alarming, Rep. Fred Upton (R-Mich.) said in a statement. I will be fighting hard alongside colleagues on both sides of the aisle so we can turn this around and make sure our Great Lakes are properly protected.
Cardinale said his chief concern is the impact to the local economy.
Nobody likes to visit places that are polluted and disgusting, he said.
The Great Lakes account for 20 percent of the worlds fresh water and provide drinking water to 40 million people.
Read more: www.huffingtonpost.com