The Republican presidential nominee projected audaciously that millions of new jobs would be created broadly within a two-term Trump presidency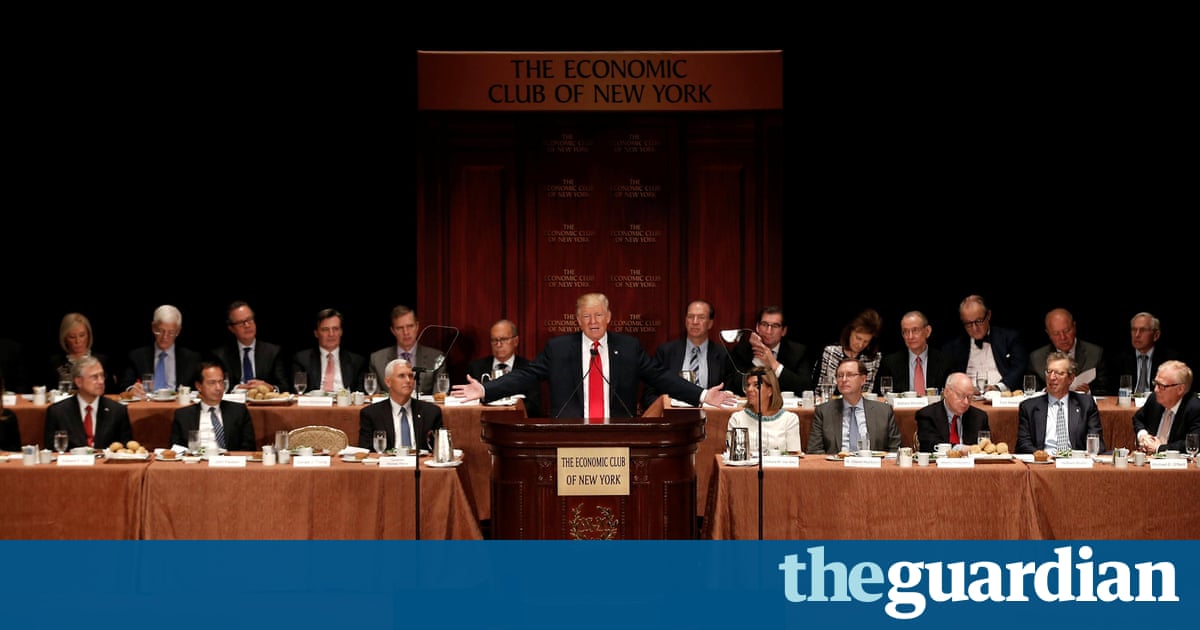 Donald Trump attempted to combat widespread criticism of his sketchy economic policies by setting out what he presented as a new vision for the country that he audaciously claimed would create 25m new jobs in a decade and put the American worker first.
Addressing one of the countrys most august economic debating societies, the Economic Club of New York, the Republican presidential nominee sought to dispel the criticism that has dogged his campaign that his mathematics do not add up in balancing tax cuts and new spending. Sticking closely to a pre-prepared script despite an initial malfunctioning of his teleprompter – he delivered a speech that was billed in advance by his senior advisers as the culmination of his thinking on how to get America back to work.
American cars will travel the roads, he said, American planes will soar the skies, American ships will patrol the seas, American steel will send new skyscrapers into the clouds, American hands will rebuild this nation, and American energy harvested from American sources will power this nation.
Despite the unapologetically populist tone, Trump tried to puncture criticisms that his plan lacked substance by putting figures to his ambitions. He projected 25m new jobs would be created broadly within the timeframe of a two-term Trump presidency, as a result of an average annual growth rate that would rise from current projections of about 2% to 3.5% through his tax-cutting and trade policies.
The audaciousness of that boast is underlined by comparison with previous presidents. It would bring American job creation levels back to the golden days enjoyed by Bill Clinton in the 1990s when the dotcom boom and an expanding global economy saw 21m jobs created under his watch.
By contrast, Barack Obamas two terms in the White House have seen almost 10m jobs created within a sluggish recovery from the 2008 collapse.
Even more audaciously, Trump said he could achieve such a boon to employment while keeping the national budget deficit neutral. If we achieve 4% growth it will reduce the deficit, he said.
Buoyed by new polls showing him in effect tied nationally with his Democratic rival Hillary Clinton, the real estate billionaire said he could pull off such a turnaround in the US economy through a combination of traditional conservative tax cutting and by tearing up trade deals and bringing jobs back to America from Mexico and China. His words were given added poignancy, though he did not make overt reference to the fact, by the setting of his speech in the ballroom of the Waldorf Astoria on Park Avenue, a legendary hotel bought by a Chinese insurance company in 2014.
On taxes, Trump proposed to simplify the tax code into three brackets down from seven, and to take poor earners out of tax altogether with individuals with an income under $25,000 (19,000) and married couples under $50,000 paying no tax.
However, with his tax cuts applying to all earners, no matter how wealthy, they would have a regressive effect. The Tax Policy Center has calculated the richest 0.1% would on average see tax cuts under his plan of $1.3m in 2017 compared with just $5,100 for everybody else.
Trump tried to counter that criticism that he was putting forward policies that would benefit the 1% by modelling how average families would fare under his vision. A married couple earning $5m a year with two children and $12,000 in child care expenses would only get a 3% reduction in their tax bill, he said, compared with a 35% reduction for a similar couple earning $50,000 and with $8,000 in child care.
People earning $5m will receive virtually no change in their tax bill at all, he said.
But in other parts of his address, he underlined reforms that would be to the advantage of wealthy Americans, including his proposed abolition of the estate tax that is only paid on inheritances valued at over $5m. He also repeated his promise to slash the business tax rate from 35% to 15%, earning a robust cheer from the many corporate leaders eating lunch on the ballroom floor in front of him.
Trumps economic manifesto has been widely criticized by analysts. This week the global firm Oxford Economics predicted that the US economy could shrink by $1tn by the end of a single term Trump presidency as a result of his proposed tax cuts, barriers to trade and mass deportation of undocumented immigrants.
That would be the equivalent of 5% of US GDP, with knock-on effects for growth around the world.
One of the specific sticking points with the Trump plan highlighted by experts has been how the sums add up. On the one hand, he wants to see massive tax cuts, greater he said than any time since President Reagan; but on the other he also wants to pump more money into the US military and to preserve spending on social security and medicare.
Independent analysis has calculated that his tax cuts would bring down federal revenues by almost $10tn (trillion) over a decade, leaving even less fat in the system to cover his other ambitions.
The point was raised in a question to Trump after his speech from Martin Feldstein, an economics professor from Harvard, who asked the Republican nominee what assets he would deploy to offset the sharp reduction in federal revenue from tax cuts. The candidate replied that he believed eventually, over time it will work out. The big thing over neutrality is the amount of business we will generate, and how we will stop companies take jobs out of the country.
Despite the new figures that he peppered through his talk, the policy he outlined remained posited on faith that his strong leadership would bring about levels of growth and job creation that have eluded recent incumbents of the Oval Office. This is what our new future will look like, he said. Im going to lower your taxes, Im going to get rid of regulation, Im going to unleash American energy. We are going to put the American worker back to work.
Read more: www.theguardian.com