Protesters and Trump supporters clash verbally at overbooked event as hundreds stand in the rain to catch a glimpse of the businessman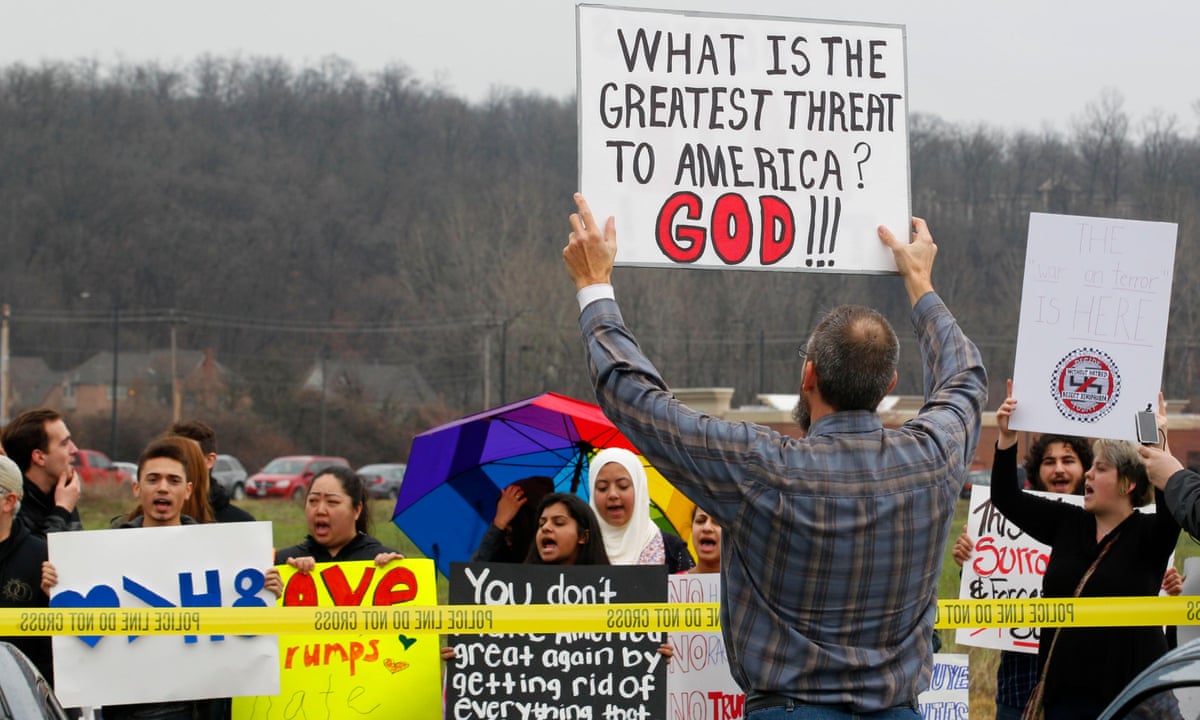 Donald Trumps Sunday afternoon rally outside of Cincinnati, Ohio may have been spared the overt violence of events in the previous days much to the relief, no doubt, of the West Chester police and the Hamilton County sheriff but it was not without its tense moments. Hundreds of protesters were stranded outside the venue, and they faced off with a handful of Trump supporters.
The campaign used only EventBrite to issue tickets and, despite the crowds, was still making those tickets available until the event was scheduled to start. In a venue that can only accommodate 1,200 people, that meant hundreds were forced to stand in the rain for more than 90 minutes, just to catch a glimpse of the Republican frontrunner.
It was, even in the spring rain, a recipe for tense confrontations: while some left early, wet and disappointed, the true diehards and their very committed opponents were there as Trump arrived. They stayed, waiting for him to leave.
The police had marked off a staging area for protesters opposite the east entrance of the venue Trump went in through the north, press through the south. It was directly opposite an awning many would-be participants used to shelter from the intermittent rain.
Under the awning, two men held up a banner reading THE SILENT MAJORITY IS PISSED! A large Donald Trump impersonator posed for pictures. Then a yell went up as the motorcade was spotted and bedraggled fans rushed north, slipping in the mud and jostling for position.
Trump! Trump! Trump! some young men shouted, as people held cellphones and selfie sticks over the heads of the crowd and The Donald, as one older lady called him, waved at his fans before walking inside.
Some more headed for their cars, while others retreated to east entrance wait it out. The real fans stayed, in the rain, around the north entrance, only to eventually be shooed off by police as Trumps speech was ending.
Vendors selling both Trump-specific and general conservative swag worked the scene.
Oh, were local vendors, one older man said. We offered him a donation, but he said he dont want our money, just asked for our votes.
He dont need my money, anyway.
As soon as the Silent Majority guys rolled up their banner and left, they were replaced by vendors hawking more T-shirts, buttons, flags and signs none sanctioned by or benefitting the candidate. The vendors, including an African American man with gold teeth and a large white man with a shaved head and two gauges in each ear, exhorted the crowd not to leave without a souvenir.
Meanwhile, a short, middle-aged woman with a red and white golf umbrella followed a white woman in a hoodie, a white man in a blue T-shirt and duck camouflage cap (a popular Ohio print) and a black man with short dreads around the covered area. Eventually, as they left, the umbrella carrier shouted to the other woman: Yeah, you better put your hoodie up!
The middle-aged woman was one of several roving Trump supporters milling around apparently looking to start trouble. Protesters didnt exactly stay in their designated area, and, as police and secret service agents guarded the entrances and some people listened to a livestream of the speech on their cell phones, the two groups began mingling and exchanging insults.
In the designated protest area, a group of young people suddenly started yelling Dump Trump! at passersby, who sometimes responded with insults.
Fuck you, you commie! Go back to Africa! yelled one man at the most vociferous protester who didnt exactly appear to be of recent African extraction.
Fuck you youre the one voting for a commie! he yelled back.
A group of very young men in American flag-themed clothes walked towards the protest area and started blowing an air horn, earning jeers from the protesters. The woman with the red and white umbrella pointed at the kids and laughed.
A small, middle-aged man started jumping up and down, waving his fists at the protesters from 20ft behind the awning.
Trump! Trump! Trump! he screamed.
The protesters shrugged their shoulders.
Suddenly, a middle-aged lady in a pink T-shirt, with a piece of wet neon pink poster board reading Trump is Hitler on one side and Hillary Clinton 2016 on the other, walked into the crowd of Trump supporters and began yelling at another middle-aged woman, both in English and Spanish, about Trump being a fascist. She was quickly surrounded by Trump fans, waving flags and umbrellas
and shouting: USA, USA, USA.
Soon, she was surrounded on all sides by Trump supporters jostling each other and snickering at one another, sometimes chanting. A man began to record her, laughing.
Hillarys a murderer, someone shouted.
Dont touch me! she said.
No one wants to touch you! a young man yelled.
Maybe if someone did, you wouldnt be here! yelled another.
Build the wall! Build the wall! the crowd chanted.
Hillary kills babies! yelled another woman. As a police officer finally came up to try to get her to move to the designated protest area, the crowded cheered.
Its our party, another guy said, Go back to yours over there.
As Trumps speech, barely audible from peoples cellphone speakers, seemed to be wrapping up, the officers guarding the doors moved to shoo people off.
We need you guys to get off the property, one said. You can be on the sidewalk, dont block traffic, but we cant have you here right now.
Slowly, in the drizzle, the Trump fans walked back to their cars, some pausing only momentarily to heckle the protesters on the way.
Read more: www.theguardian.com