US president nominates Alex Azar, who worked for a decade in the pharmaceutical industry, prompting outcry over big pharma in US Congress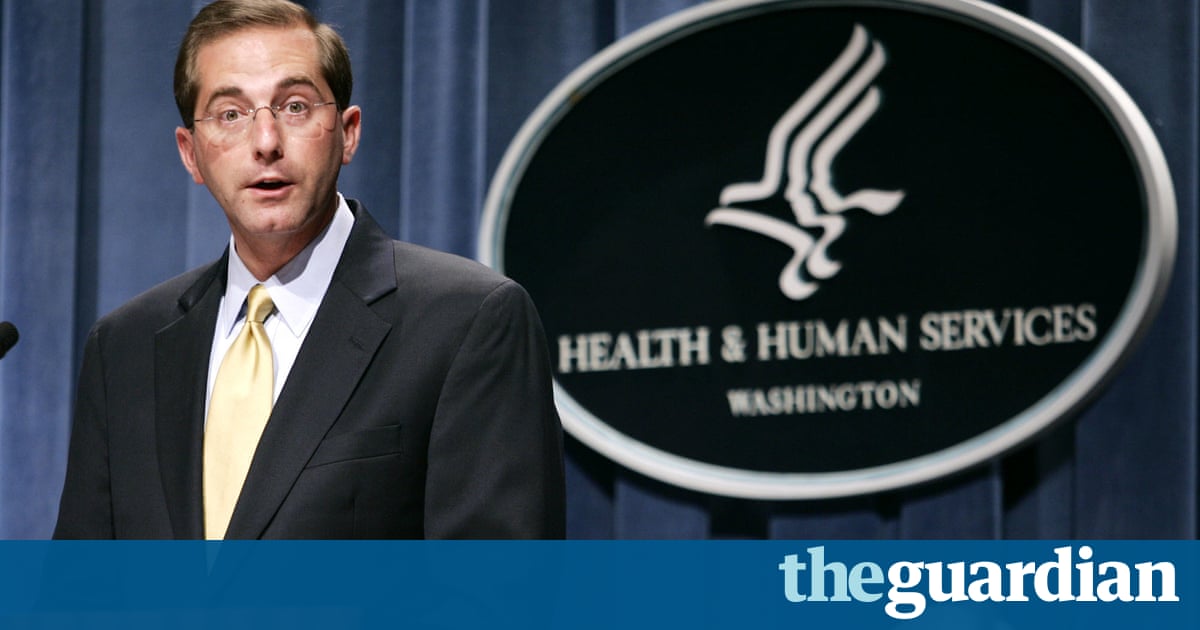 In search of a health secretary after his last one resigned in a scandal over private jets, Donald Trump has turned to the same industry he has frequently criticized for gouging Americans – pharmaceutical giants.
The US president announced in a tweet on Monday that he would nominate former Eli Lilly executive Alex Azar for the position of health and human services secretary.
If confirmed by the Senate, Azar would be tasked with overseeing some of America's most venerated health institutions and the industry he was once a part of, including drug approvals and massive public health programs expanded in recent years by Obamacare.
In a tweet, Trump said Azar would be a "star for better healthcare and lower drug prices!"
As recently as this fall, the president harshly criticized the drug industry.
"The drug companies, frankly, are getting away with murder," the president said at a cabinet meeting last month. Prices were "out of control" and "have gone through the roof", he said.
Azar's industry ties make him an unusual pick for health secretary. The former president of Lilly USA, Eli Lilly's US affiliate, Azar worked in the drug industry for roughly 10 years after leaving a post in George W Bush's health department. Most past heads of the HHS have come from the ranks of elected officials, academics or managers from within the department.
If he is confirmed, Azar would fill a post vacated by Tom Price, a former House Republican who resigned after spending at least $400,000 in taxpayer funds traveling in private jets.
"Just weeks after denouncing 'out-of-control' prescription prices, President Donald Trump shows he doesn't mean it by nominating a former pharmaceutical company executive to run the US Department of Health and Human Services," said Robert Weissman, president of Public Citizen, a consumer advocacy group.
"The swamp only gets worse," said Weissman. "Price supported big pharma in the US Congress. Now, apparently, Trump has decided to cut out the middleman and let a pharmaceutical executive literally run the federal department that protects the health of all Americans."
Currently, pharmaceutical companies spend more lobbying Washington DC than any other industry, including $208m in 2017. Recent scandals have highlighted the industry's influence and its ties to the White House. For instance, Trump's one-time nominee for the Drug Enforcement Agency, Republican Tom Marino, was forced to withdraw his name from consideration after it was revealed he lobbied to protect drugmakers who cashed in on America's opioid epidemic.
Critics were quick to point out that Azar was at Eli Lilly when the price of the company's insulin brand Humalog, a drug millions of diabetics use to regulate blood sugar, was raised 345%, according to Public Citizen. The group called the nomination a completion of the pharmaceutical industry's "coup d'etat in healthcare".
Over the last decade, the price of insulin increased about 240%, according to Kaiser Health News. One vial of the drug can regularly top $300. As of 2011, at least 17.7 million Americans used some kind of diabetic medication, according to the US Centers for Disease Control and Prevention.
Price increases from Eli Lilly, Novo Nordisk and Sanofi have prompted questions from state attorneys general and civil attorneys. The companies have received information requests from state attorneys general in New Mexico, Washington and Minnesota, and that information was shared with attorneys general in Florida and California.
"Trump tells us Azar will be a 'star' who will lower prescription prices," said Peter Maybarduk, director of Public Citizen's Access to Medicines Program. "Eli Lilly is notorious for spiking prices of this century-old isolated hormone."
Azar also found some unlikely advocates. The head of the public health insurance programs Medicare and Medicaid under the Obama administration, an outspoken critic of Trump's policies, said Azar could be, "a good HHS Secretary".
"He is familiar enough with the high quality of the HHS staff, has real world experience enough to be pragmatic, and will hopefully avoid repeating the mistakes of his predecessor in overpoliticizing American's access to healthcare," said former Obama administration official Andy Slavitt.
Azar, 50, a lawyer by training, has spent most of the last 10 years with Eli Lilly before leaving in January to start his own consulting firm, Seraphim Strategies in Indianapolis, Indiana, Vice-President Mike Pence's home state. Azar is seen as an expert on government healthcare regulation.
He also served several years on the board of directors of the Biotechnology Innovation Organization, a drug industry lobbying group, and earlier was general counsel and deputy secretary for health and human Services under Bush.
Azar spent his formative years in Maryland. He got his bachelor's degree in government and economics from another Ivy League institution, Dartmouth. He once clerked for the late supreme court Justice Antonin Scalia, a revered figure for conservatives. During the Bill Clinton years, he served a stint with independent counsel Kenneth Starr.
Read more: www.theguardian.com