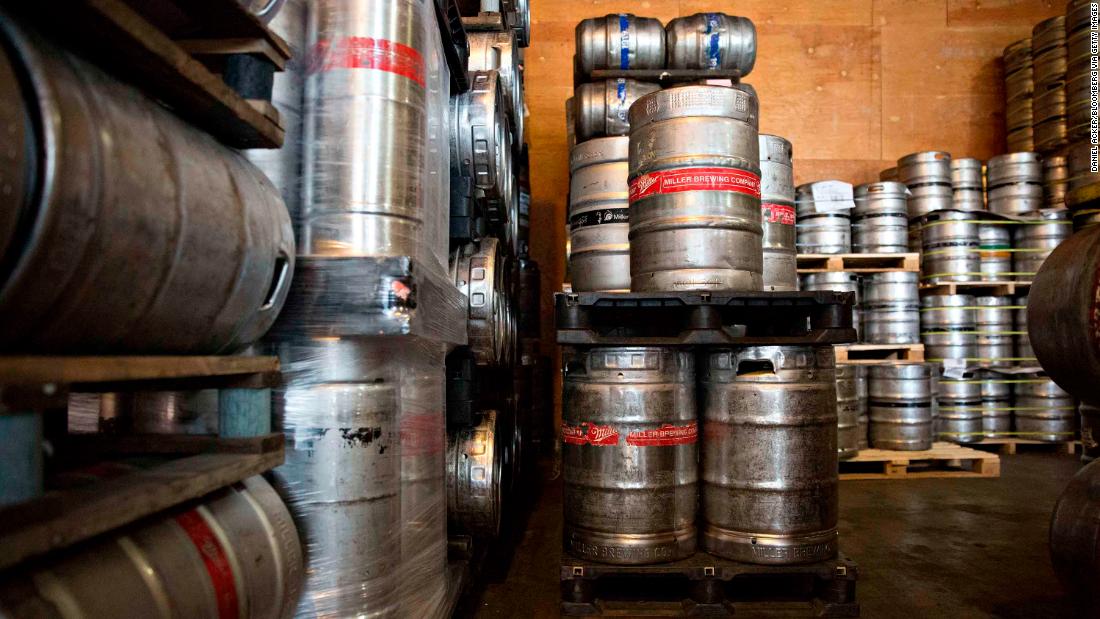 London (CNN Business)1. Trump-Kim summit fizzles: Global stock markets dipped Thursday as investors reacted to negative economic data in Asia and the abrupt end of talks between the United States and North Korea.
Official survey data published by China showed the country's manufacturing sector weakened again in February, raising concerns about the slowdown in the world's second largest economy.
The collapse of nuclear talks between President Donald Trump and North Korean leader Kim Jong Un also contributed to the sour mood among investors, especially in South Korea.
South Korea's benchmark Kospi index closed down 1.8% after the summit in Hanoi ended without a joint agreement on North Korea's nuclear program.
Some investors had bet that improved relations between North Korea and the rest of the world would mean new business for regional infrastructure and mining companies. That now looks less likely.
Shares in Yong Pyong Resorts, which builds ski resorts and gold courses, fell 25% in Seoul. Sungshin Cement stock dropped 20% and Dohwa Engineering dropped 26%.
Mining company Ilshin Stone saw its shares decline 27%.
2. US GDP: The US Bureau of Economic Analysis will release its estimate of fourth-quarter GDP at 8:30 a.m. ET.
The report had been scheduled for last month, but an extended US government shutdown meant the agency wasn't able to gather and analyze all the data that goes into calculating economic growth.
After blockbuster second and third quarters, which came in at 4.2% and 3.4% respectively, economists expect a more subdued number. Forecasts range from 1.4% to roughly 2.4%.
3. AB InBev rockets higher:
Shares in
AB InBev
(BUD)
gained 5% after the world's biggest brewer said it expects strong sales in 2019.
The brewer of Budweiser and Corona said it has taken more steps to diversify its business. One growth area is non-alcoholic and low-alcohol drinks, which made up 8% of its global beer volumes in 2018.
"We continued to increase our focus on this opportunity, leveraging global health and wellness trends and in line with our commitment to smart drinking," the company said in a statement.
AB InBev's biggest rival,
Heineken
(HEINY)
, said earlier this month that the popularity of its non-alcoholic beer Heineken 0.0 was also rising.
4. Earnings and companies:
AMC Networks
(AMCX)
,
Cars.com
(CARS)
,
Houghton Mifflin Harcourt
(HMHC)
,
JCPenney
(JCP)
,
Keurig Dr Pepper
(KDP)
,
Marriot Vacations
(VAC)
,
Nielsen
(NLSN)
and
Sotheby's
(BID)
will release earnings before the open.
Dell
(DELL)
,
Funko
(FNKO)
,
GAP
(GPS)
,
Goldman Sachs BDC
(GSBD)
,
Live Nation
(LYV)
,
Marriott
(MAR)
and
Nordstrom
(JWN)
are set to publish earnings after the close.
California utility company
PG&E
(PCG)
will also report earnings before the open. It filed for bankruptcy protection last month after coming under pressure from billions of dollars in claims tied to deadly wildfires.
German carmakers
BMW
(BMWYY)
and
Daimler
(DDAIF)
announced they will join forces to develop autonomous driving. The rivals said last week they would cooperate on ride sharing and other new technologies.
5. Coming this week:Thursday —
GDP report,
JCPenney
(JCP)
,
PG&E
(PCG)
,
Gap
(GPS)
,
Nordstrom
(JWN)
and
Anheuser-Busch
(BUD)
earnings
Friday —
Marriott
(MAR)
earnings
Read more: www.cnn.com