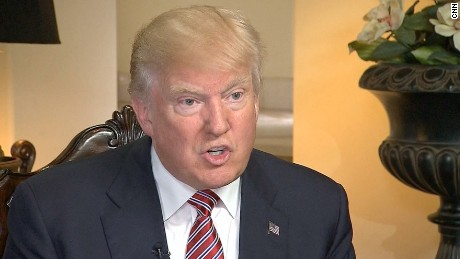 (CNN)Donald Trump's racially-charged comments about federal judge Gonzalo Curiel might have proven to be an embarrassment to top Republican Party officials, but some advisers to the presumptive GOP nominee argue the billionaire businessman is also voicing what many inside the party often keep to themselves.
"He's saying what a good amount of people are thinking and don't want to say," said one Trump adviser.
During two Sunday morning show appearances, Trump refused to back down from his comments that Judge Curiel should recuse himself from handling lawsuits against Trump University due to his Mexican heritage. Curiel is an American citizen, born in Indiana, and is of Mexican descent.
"(Trump) should put a filter there," said one adviser. "I don't think he's inherently racist," the adviser added, noting Trump is "not a practiced politician."
"We're in a politically correct world and he's never been political correct," said another Trump source. But Trump's capacity to stir up a whirlwind of negative media coverage with incendiary rhetoric is weighing on top Republican officials.
One senior GOP leader who has witnessed preparations for the upcoming GOP convention in Cleveland noted there are no signs of Trump inside the halls of the arena where the party's gathering will be held.
"There's not one picture of Donald Trump on the walls," the official said, noting that there were photos and signs of the last two GOP nominees, Mitt Romney and John McCain, inside their convention halls by this point in the campaign in previous cycles.
"Awful," is how the official described the controversy over Curiel. "We are all beside ourselves."
The same official blamed a lack of diversity inside the Trump campaign for the candidate's insensitive remarks.
A source who frequently advises the Trump campaign noted the Manhattan businessman has made efforts to reach out to the minority community, pointing to his meeting last fall with African-American pastors.
During that meeting, the source said, the pastors asked Trump to refer to blacks as African-Americans to avoid sounding insensitive.
Following the meeting with the pastors, Trump declared the gathering a success, telling reporters, "I saw love in that room."
The same source suspects that conversation had made a lasting impact on Trump and explain why he awkwardly referred to
"my African-American"
at his rally in Redding, California last Friday.
"Look at my African-American over here," Trump said.
The Trump source pointed to top African-American officials and advisers who work for Trump as a sign his campaign is diverse, noting national spokeswoman Katrina Pierson and reality TV star Omarosa are frequent surrogates for the presumptive GOP nominee.
As for the comments on Curiel, even staffers inside the campaign understand the remarks could be damaging. The question is for how long.
"It's no reason to celebrate (but) no reason to panic," said one top aide expressing concern about Trump's remarks.
Read more: www.cnn.com