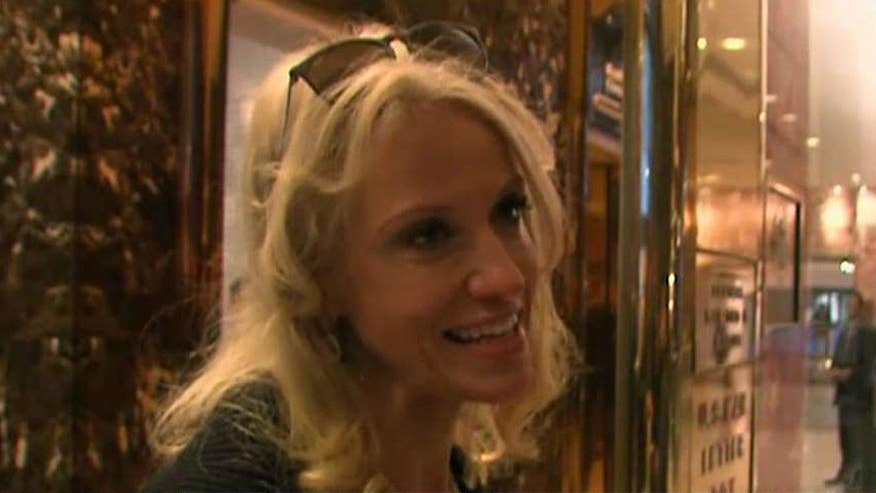 President-elect Donald Trump's appointment of his chief of staff is "imminent," his campaign manager and transition team senior adviser Kellyanne Conway told reporters late Saturday.
TRUMP ADVISERS BACK DEREGULATION, PRIVATIZED SOCIAL SECURITY
A significant White House job, the chief of staff likely will set the tone for Trump's White House and serve as a main communications channel to Capitol Hill and Cabinet agencies.
Conway said the announcement would not come Saturday, but added, "Its imminent. Soon."
Trump is said to be considering Steve Bannon, his campaign chairman and a conservative media executive, and Republican National Committee Chairman Reince Priebus for the job. Neither has significant policy experience, though Priebus is well-liked in Washington and has ties with lawmakers.
TRUMP NOW HAS ACCESS TO NATION'S MOST VALUABLE INTELLIGENCE
See the Fox News 2016 battleground prediction map and make your own election projections. See Predictions Map →
"I think Chairman Priebus has expressed an interest in the position. There are several people being considered. And its Mr. Trumps decision ultimately," Conway said.
Conway is also said to be in the mix for a senior job. She is a veteran Republican pollster who formed a strong rapport with the candidate after taking the helm of his campaign in the general election. Conway said a possible future job in the White House was "not a big priority" for her.
Former New York Mayor Rudy Giuliani, who emerged as Trump's frequent travel partner and close aide, is on the short list for several positions, including attorney general.
Fox News has learned that Trump has had phone conversations with 2012 presidential candidate Mitt Romney, former Florida Gov. Jeb Bush and current Ohio Gov. John Kasich, although it's not clear what roles they could be asked to serve.
Kasich's call was described as cordial and brief. He and Bush called the president-elect. Trump called Romney on Tuesday night.
Trump on Friday announced he'd assigned Vice President-elect Mike Pence to lead the transition team, replacing New Jersey Gov. Chris Christie, a loyal adviser for much of the presidential campaign.
Christie will still be involved in the transition, joining a cluster of other steadfast Trump supporters serving as vice chairmen: former House Speaker Newt Gingrich, retired neurosurgeon Ben Carson, retired Lt. Gen. Michael Flynn, Alabama Sen. Jeff Sessions and Giuliani.
Fox News' Serafin Gomez and The Associated Press contributed to this report.
Read more: www.foxnews.com