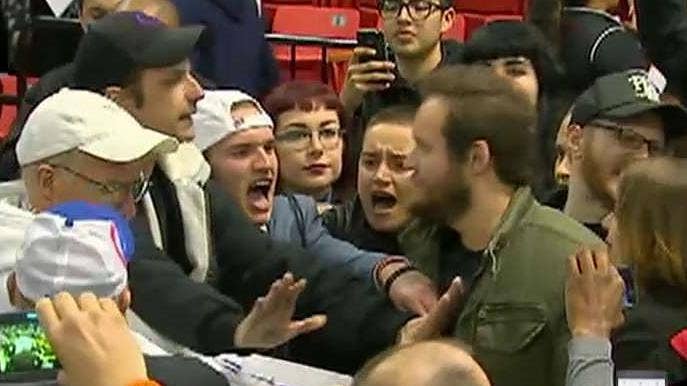 CHICAGO – Republican presidential candidate Donald Trump canceled one of his signature rallies Friday, saying he didn't want to see "people get hurt" after protesters packed into the Chicago arena where it was to take place.
The announcement that the billionaire businessman would postpone the rally until another day led a large portion of the crowd inside the University of Illinois at Chicago Pavilion to break out into raucous cheers. Meanwhile, supporters of the candidate started chanting "We want Trump! We want Trump!"
There were isolated physical confrontations between some members of the crowd after the event was canceled.
Speaking later with Fox News' Greta Van Susteren, Trump said he had arrived in Chicago two hours earlier and about 25,000 people were trying to enter the arena.
After meeting with law enforcement authorities, he said, "I didn't want to see people get hurt (so) I decided to postpone the rally…
"What we did was intelligent," Trump said. "A very good decisiona wise decision."
He also told Van Susteren, "if we had the rally, I think it would not have been a good situation." But, he added, "Our First Amendment rights have been violated."
Texas Sen. Ted Cruz, second in delegates to Trump in the GOP race, said late Friday that the billionaire has created "an environment that encourages this sort of nasty discourse."
"When the candidate urges supporters to engage in physical violence, to punch people in the face, the predictable consequence of that is that is escalates," Cruz said. "Today is unlikely to be the last such incidence."
Trump returned to the First Amendment issue in a later conversation with Fox News' Sean Hannity. "I have the right to speak and they (his supporters) have a right to listen," he said.
He also added that he was "getting a lot of credit for canceling…we did the right thing."
Ohio Gov. John Kasich also took a shot at Trump. He said in a statement that the seeds of division his campaign had planted finally bore fruit, and it was ugly.
Some let their opposition to his views slip beyond protest into violence, but we can never let that happen. I urge people to resist that temptation and rise to a higher level, Kasich added.
There was no sign of Trump inside the arena on the college campus, where dozens of UIC faculty and staff had petitioned university administrators to cancel the rally. They cited concerns it would create a "hostile and physically dangerous environment" for students.
Before the announcement the event wouldn't take place, a handful of intense verbal clashes took place between Trump supporters and protesters as the crowd waited for his arrival.
For the first time during his White House bid, the crowd appeared to be an equal mix of those eager to cheer on the real estate mogul and those overtly opposed to his candidacy.
When one African-American protester was escorted out before the event started, the crowd erupted into chants of "Let them stay!"
Veronica Kowalkowsky, an 18-year-old Trump supporter, said before the event started that she had no ill will toward the protesters but didn't think they felt the same way.
"I feel a lot of hate," she said. "I haven't said anything bad to anyone."
Protesters at the rally for Republican presidential candidate Donald Trump rushed the arena floor in jubilant celebration after the announcement that he was calling off the event due to security concerns.
Many jumped up and down, with arms up in the air, shouting "F— Trump!" "Bernie! Bernie!" and "We stopped Trump!"
Kamran Siddiqui is a 20-year-old student at the University of Illinois at Chicago, where the event was to take place.
He says: "Trump represents everything America is not and everything Chicago is not. We came in here and we wanted to shut this down. Because this is a great city and we don't want to let that person in here."
Siddiqui says he's a supporter of Democratic presidential candidate Bernie Sanders. He says it "feels amazing" to have stopped Trump from speaking at his own rally.
He adds: "Everybody came together. That's what people can do. Now people got to go out and vote because we have the opportunity to stop Trump."
Hours before the event was scheduled to start, hundreds of people lined up outside the arena at the University of Illinois at Chicago a civil and immigrant rights organizing hub with large minority student populations. Trump backers were separated from an equally large crowd of anti-Trump protesters by a heavy police presence and barricades.
Some Trump supporters walking into the area chanted, "USA! USA!" and "Illegal is illegal." One demonstrator shouted back, "Racist!"
One protester, 64-year-old Dede Rottman of Chicago, carried a placard that read: "Build a Wall AroundTrump. I'll Pay for it."
However, 19-year-old Rusty Shackleford of Lombard, in line to attend the Trump rally, said he was there to "support the man who wants to make America great again."
Chicago community activist Quo Vadis said hundreds of protesters had positioned themselves in groups around the arena, and that they intend to demonstrate right after Trump takes the stage. Their goal, he said, is "for Donald to take the stage and to completely interrupt him. The plan is to shut Donald Trump all the way down."
The Associated Press contributed to this report.
Read more: www.foxnews.com